In Dueling Speechs Obama And Boehner Talk Past Each Other, Accomplish Little
Their mouths were moving, but nothing of substance was coming out.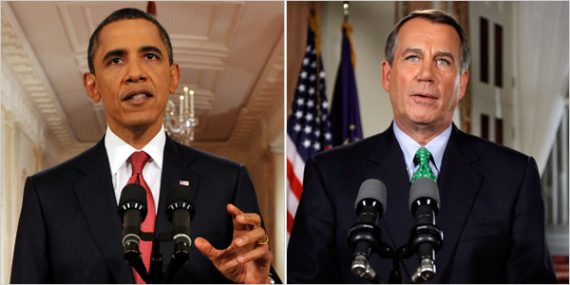 Last night, President Obama and House Speaker John Boehner addressed the nation over the on going debt negotiations, and the looming August 2nd debt ceiling deadline, and, in the end, it's hard to see what either one accomplished:
President Barack Obama elbowed his way back into the debt ceiling debate Monday night, three days after Republicans shoved him out, but he offered no hint of a solution to the escalating political and financial crisis.

If regular citizens — or markets here and overseas — were looking for reassurance in Obama's 15-minute speech or House Speaker John Boehner's five-minute rebuttal, they were out of luck. Instead, the men who hold the fiscal destiny of nearly 312 million people in their hands treated viewers to the unsettling spectacle of two leaders talking past, not to, each other.

With neither Obama nor House Republicans yet willing to make the final compromise necessary to seal a deal, the leader of the free world made a stunning appeal for regular citizens to call or email their representatives to end what he called the "most dangerous game."

"This is no way to run the greatest country on Earth. … We can't allow the American people to become collateral damage to Washington's political warfare," Obama added. "If you want a balanced approach to reducing the deficit, let your member of Congress know."

The tactic seemed to have the desired effect, temporarily overwhelming the website of Boehner (R-Ohio) and other GOP leaders.

Obama did call for unity, quoting Ronald Reagan and citing former presidents from both parties who support a "balanced approach" of spending cuts, revenue increases and entitlement reforms. But he also bashed Republicans, arguing that their tactics "risk sparking a deep economic crisis — one caused almost entirely by Washington" and categorically rejected Boehner's new plan for a short-term debt ceiling hike.

"Defaulting on our obligations is a reckless and irresponsible outcome to this debate," Obama said. "And Republican leaders say that they agree we must avoid default. But the new approach that Speaker Boehner unveiled today, which would temporarily extend the debt ceiling in exchange for spending cuts, would force us to once again face the threat of default just six months from now. In other words, it doesn't solve the problem."

Beyond the I'm-still-here theme of the speech, Obama sought to strike the larger themes of his 2012 campaign, aimed at independent voters who have only now begun tuning into the debt debate: the need for compromise, his disgust with partisan Washington and his determination to make the rich pay their fair share. If his campaign-style rhetoric was persuasive, it came at an awkward time, during the final days when a reasonable debt ceiling compromise can still be struck.
Speaker Boehner, meanwhile, stuck to his guns and through his rhetorical support behind the take-no-prisoners-and-make-no-compromises attitude of the Tea Party wing of his caucus, which doesn't seem to be the position he actually wants to be in:
In an extraordinary contrast, Boehner delivered a response only minutes later from the Capitol. He sought to flip the script on Obama, accusing him of not being able to take "yes for an answer" in bipartisan debt negotiations while accusing the president of trying to hike taxes and avoiding tough decisions on entitlement reform.

"The sad truth is that the president wanted a blank check six months ago, and he wants a blank check today," Boehner said. "That is just not going to happen."

Boehner's decision to deliver his own prime-time rebuttal irked the White House, which had been negotiating quietly with networks for much of Monday. And the open conflict between the two men, just days after they seemed to be on the verge of a $3 trillion-to-$4 trillion "grand bargain," appeared to leave both men feeling a bit like star-crossed Shakespearean characters forced reluctantly into combat.

After all, these were two leaders so eager to avoid the appearance of conflict they opted to play in the same twosome during their famous first round of golf in mid-June. On Monday night, Obama, for his part, went out of his way to praise Boehner's seriousness. And the speaker, a born deal-cutter stymied by his conservative members, was caught quipping, "I didn't sign up for going mano-a-mano with the president of United States," as he walked out of the Capitol after delivering his remarks. The CBS producer who heard him Tweeted Boehner's comments.
And yes, that is the position that Boehner finds himself in.
The speeches themselves struck me as rather pointless. With one week to go before a deadline that his Administration has been warning about for months, the President seemed far too detached from the process and completely behind the times. He spent time talking about the debate over taxes as part of a debt deal, even though yesterday's release of the Reid plan which his White House immediately endorsed completely conceded the tax issue, thus handing the GOP a huge tactical victory in any future debate over the coming days. The President may not realize it, but the discussions about taxes is over, they're done. Now, it's an argument over how big the spending cuts will be, and whether the debt ceiling increase will be a single increase that will push us past the 2012 elections, or a two-step approach that ties a second increase in the debt ceiling to further spending cuts and/or entitlement reform.Perhaps that's why the President looked weak last night. Instead of pushing his own plan, he's reduced to getting behind one developed by Harry Reid, which is perhaps why his endorsement of the Reid Plan was one of the shorter parts of the address.
The President did make a good point about the superiority of a single debt ceiling increase to the two-step approach that the Boehner proposal foresees. As I've said here several times over the past couple days, he's absolutely right on this issue and it's the kind of issue that, properly framed, the President could use to his advantages in a rhetorical battle with the House GOP.  Except the President completely failed to properly framed the debate on even that issue to his advantage.  Most importantly, he stepped back from his previous position and did not say that he would veto a bill that continued a short-term debt increase if one was presented to him. This morning on the morning shoes, his advisers are also refusing to make that commitment. It raises the question of whether there's anything that the President would consider unacceptable at this point, and I'm thinking that the answer is no. As long as he gets a bill that raises the debt ceiling before August 2nd, he'll sign it. The House GOP knows this, and they're proceeding accordingly.
In his speech, meanwhile, Speaker Boehner essentially tried to write the President out of the process. Claiming that Congress had come to the White House with a bipartisan plan that would avoid an a August 2nd default, which apparently involved a short-term increase with cuts and a commission to come up with additional costs, Boehner said that Congress would not go it on its own. What he really meant, of course, is that the House will go on its own, pass some legislative version of the plan that he unveiled yesterday, and send it to the Senate.  Even if he's able to do that, and there's some doubt about that given the conservative House members who have already come out against the plan, it's unclear where things go from there because the Senate does not seem positively disposed toward the Boehner plan. Logically, that means that the solution that comes out of Congress should be some hybrid of the Boehner and Reid plans.  However logic has been sorely lacking in this debate and the only thing that seems likely at this point is more gridlock.
The speeches that President Obama and Speaker Boehner gave last night were not addresses to the nation, they were campaign speeches. President Obama was attempting to rally the people behind him against the House GOP. John Boehner was the, apparently reluctant, spokesman for his base. Neither one of them offered a way out of this crisis, and the President's speech has likely ceded even more ground to the hard-right in the GOP. More importantly, though, neither the President nor the Speaker did little but further politicize this debate, which guarantees that neither side is going to give in, and we're all going to pay for it in the end.
Photo via The New York Times