In Memoir, Condi Rice Reveals Disagreements About Iraq War Policy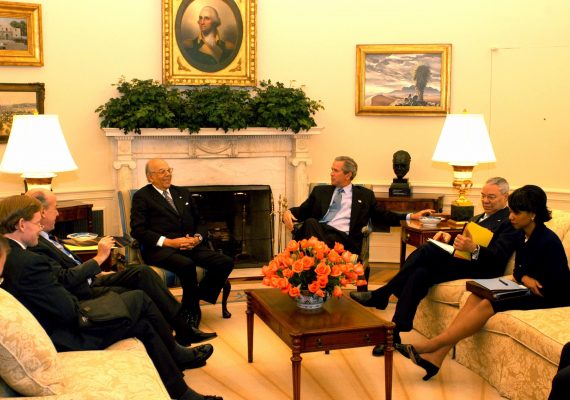 In her new memoir Condoleeza Rice says that there were significant internal disagreements in the Bush White House over Iraq War policy:
Just days after President Obama declared an end to the Iraq war, former Secretary of State Condoleezza Rice is releasing a memoir providing insight into the turmoil over the war within the Bush administration.

From the beginning, Rice wrote in her new book "No Higher Honor," she had concerns about the United States' post-war plans for Iraq. Her attempts to broach the subject before the 2003 invasion "always led to uninformative slides and a rather dismissive handling of the question," she wrote, according to a preview of her book in Newsweek magazine.

"When I finally arranged a briefing on the issue before the President in early February, he started the meeting in a way that completely destroyed any chance of getting an answer," Rice wrote. "'This is something Condi has wanted to talk about,' he said. I could immediately see that the generals no longer thought it to be a serious question."

That incident, Rice wrote, revealed the weakness of her position at the time, as the president's national security adviser. "Authority comes from the President," she wrote. "If he wasn't interested in this issue, why should they care?"

By 2006, when Rice served as secretary of state, she was concerned the U.S. would become mired in Iraq's civil war. According to a review of the memoir in the New York Times, Rice told Mr. Bush she opposed a plan to increase troops there to protect Iraqi civilians.

"So what's your plan, Condi?" the president retorted, Rice wrote. "We'll just let them kill each other, and we'll stand by and try to pick up the pieces?"

She responded, "if they want to have a civil war we're going to have to let them."
A harsh response, but perhaps not the incorrect one. Obviously, as is usually the case with these political memoirs, Rice is likely recounting events in a manner that puts her in a good light. Nonetheless, the fact that she was one of the few people in the Bush Administration in 2003 who was trying to talk about post-war planning, which is largely where the entire war plan fell apart, and that she was basically ignored shows just how tightly controlled the group think within the Administration was back then. It was clear to me, for example, that the decision to go to war had been made some time in 2002 and that all of the pageantry we went through with the Congressional vote, the inspectors, and United Nations hearings and the like was simply window dressing to legitimize something that was going to happen anyway.
Some will criticize Rice for not speaking up sooner, of course, but I'm not sure what that would have accomplished. With the President, Vice-President, and the Secretaries of Defense and State all arguing for war, it doesn't seem likely that the National Security Adviser, more likely former National Security Adviser since dissent on a topic like this would have required resignation, could have changed much of anything.