In the Land of Cognitive Dissonance…
ATVs for liberty!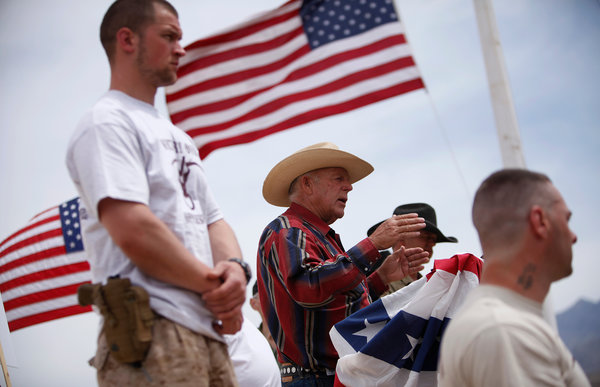 Via the Salt Lake Tribune (Dozens illegally ride ATVs into Utah canyon in lands dispute rally) come more tales of Bundy Ranch inspired law-breaking.
Fed up with federal control over lands their families have used for generations, Blanding residents along with out-of-town supporters on Saturday drove all-terrain vehicles into Recapture Canyon, an area rich in prehistoric sites the Bureau of Land Management closed to motorized use seven years ago.
Because, of course, in the densely populated state of Utah, where else is one going to ride an ATV?
In regards to the cognitive dissonance of the post title:
"We're not proponents of breaking the law," Lyman told reporters at the park, an hour before joining dozens of riders on the closed route. "This was a supervisor's discretionary closure. It's a county road. We claim it. Just because BLM owns the property, that doesn't mean they own the right-of-way that exists."

[…]

"For 130 years people have been using that canyon as a highway," Lyman said. "To see it become a focal point of conflict is very painful for me."
Better yet, the individual quoted above is San Juan County Commissioner Phil Lyman, although he claims he is acting in this case not as a government official, but as a private citizen.  I wonder how Mr. Lyman would react if a group of Mexicans showed up to lay claim to the territory?  After all, it belonged to Mexico and Spain well before anyone named "Bundy" roamed the land.  Or, what if Native Americans decided to transgress state law and claim historic rights to various bits of territory in San Juan County?  After all, if this is just a game of long-term claims, I know we can find some folks who can go back well beyond 130 years (especially in the canyon in question, which is the site of Native American dwellings).
Also, it would appear that some of the participants have peculiar notions of natural law:
"It's not illegal. It's the people of San Juan County's land. It's your god-given right to go down and ride through that canyon and to hell with the media," shouted an armed militia member.
If one is to take these individuals seriously, then law is not the binding force to human existence, but is rather some combination of might and historical claims.  They seem not to understand that if this fight were to, tragically I would add, boil down to might, they will lose.  Further if we were to apply history to the fight (as noted above), they would also lose.
Another more than problematic claim that I have seen from these events is the following:
Also addressing the rally was Bundy's son Ryan, who counseled there is no such thing as federal land.
Several points:
As I have noted before:  the western United States became the United States because of war with Mexico.  In short:  without federal government action, there would be no Utah.  And, further, if the federal government had not secured that land and engaged in policies to populate it, there would be not Utah.
It is rather difficult to have even a passing knowledge of US history and not see that yes, in fact, the US can own land.  To wit:  the Louisiana Purchase, the Gadsden Purchase, and Alaska.
If the US government cannot own land, then why does Article IV, Section 3 say the following? "The Congress shall have Power to dispose of and make all needful Rules and Regulations respecting the Territory or other Property belonging to the United States."
If the US government cannot own land, then why does the Fifth Amendment grant it the power of eminent domain
As  a concluding observation, let me note that civil disobedience is not defined as "doing whatever one wants, including picking and choosing which laws to follow."  Rather, civil disobedience involves confronting laws one find to be unjust and suffering the consequences of the law breaking. So far in these ongoing Bundy-inspired confrontation we have a lot of law breaking without any consequences.