Income Inequality and Economic Consensus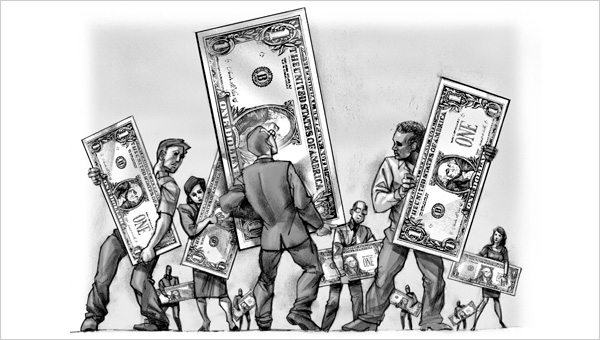 In a forthcoming book, John Quiggin makes the case that the economics profession has embraced market economics almost to the exclusion of competing ideas in recent decades, with unhappy effects on public policy.
Throughout the crisis, the economics profession carried on, for the most part, as if nothing had changed. And now that the immediate crisis has passed, market liberals are trying to pretend that it never happened. As Richard Posner, a rare example of a market liberal who has changed his views and embraced Keynesianism observed in a recent interview 'market correctives work very slowly in dealing with academic markets. Professors have tenure. They have lots of graduate students in the pipeline who need to get their Ph.D.s. They have techniques that they know and are comfortable with. It takes a great deal to drive them out of their accustomed way of doing business.'

An approach to economics that has been dominant for more than three decades will not go away simply because its predictions are inconsistent with the facts. It is necessary to provide an alternative to the zombie economics of market liberalism.

[…]

The prevailing emphasis on logical rigor has given economics an internal consistency that is missing in other social science. But there is little value in being consistently wrong. Economics must move on from the infinitely rational, farsighted and asocial beings whose decisions have been the central topic of analysis in recent decades.
Matt Yglesias concurs and adds,
It's striking to consider the extent to which public policy in the developed world from 1980-2010 has clearly been in better alignment with mainstream thinking about macroeconomic policy than was policy in the 1945-75 era. Either, it seems, this should have brought some clear benefits in terms of improved economic outcomes or it should say something very bad about the basis of these prescriptions. And it seemingly hasn't led to better outcomes—growth in per capita income has not been faster, and the economy hasn't actually gotten more stable.
I don't have any especial insights into the economics profession, although I'm surprised at the suggestion that it's not only monolithic but in a direction that accords with my own policy preferences.  Certainly, the economists who taught the handful of college courses in that discipline I took in the middle 1980s were neither monolithic nor fans of laissez faire.  But there does seem to be a bipartisan consensus among the types of people who would be considered seriously for Treasury Secretary or Fed Chairman in favor of globalization and free flowing capital.
Otherwise, our public policy would seem to have been aimed over recent decades — going back to the New Deal — toward redistribution of income from the haves to the have nots. The main change in federal policy that would seem obviously to have been in the other direction is the move away from confiscatory taxation.  We've gone from a system, as recently as the start of the Kennedy Administration, in which the top marginal rate was over 90 percent.  Kennedy persuaded Congress to cut it to 70 percent and Reagan managed to get it into the mid-30s, a range around which it has fluctuated since.
Presumably, the impact of that is that the very rich can keep most of their money, rather than forking almost all of the "excess" to Uncle Sam.   That strikes me as reasonable enough.   But, certainly, that policy allows  for greater disparity at the top of the economic ladder.
But I'm not sure that there's a tremendous social problem with Bill Gates having, say, $100 billion to devote to his philanthropic pursuits rather than, say, $20 billion.  (Although, perhaps he'd have stayed at Microsoft longer and not started the Gates Foundation?)   It's really play money at some point, from even the perspective of the upper middle class.   What's more meaningful, it seems to me, is how well most of us live, not our relative deprivation compared to the Lives of the Rich and Famous.
On that front, it would seem we're markedly better off than we were at the end of the Carter Administration.   I can still remember when microwave ovens and color televisions were luxury goods and having a telephone in one's car likely meant said car was a Rolls Royce.   For that matter, as recently as the early 1980s, having a second car in the family was unusual.  Going out to dinner was a rare treat.
The average American of today lives better than all but the richest of 1977.  And, because of the march of technology, even the working poor have goods that were simply unavailable at any price in those days.
Update (Steve Verdon):
I haven't read Quiggin's book, but based on what he has written at the above link I'd say that he fails in his argument against markets because he fails to consider the political aspect of economic policy. It isn't merely an academic exercise devoid of politics and this is a crucial mistake, if indeed he has made it.
My view about our current mess is that it is due at least in part to politics. There is a relationship between Wall Street and Washington D.C. that is very harmful. I typically refer to this relationship as being incestuous in that people move back and forth between Wall Street and D.C. pretty regularly. It is not uncommon for the Secretary of Treasury to be from Goldman Sachs (Paulson and Rubin to name two). Given this relationship is it surprising that there are policies that benefit financial firms? I'd argue not at all, it is in fact to be expected. After all, this creates a situation where the interests of many in D.C. are in line with the interests on Wall Street.
This is a bad incentive structure, to say the least. Also, this doesn't lead to policy that is driven by academic considerations such as improving efficiency or higher growth. Instead it is policy that is geared towards helping Wall Street and it is cloaked in free market language. I'm sure if we asked Quiggin he'd likely admit that the influence of Wall Street firms are a problem. But then it isn't really pure market liberalism that is determining policy, but really corporatism.
Now I want to be clear, I'm not making a partisan argument here. I'm not saying Obama is worse than Bush. Bush didn't meet a spending bill he didn't like. The highway bill, the energy bill, Medicare Drug program, and so on and so forth. Special interests were hard at work back in 2000-2008 getting whatever they could then. Same thing back in 1992-2000, and I'm sure they are hard at work right now on the Obama Administration.
I would also argue that Japan's economic policy was characterized by corporatism as well and interestingly enough Japan went through a crisis very much like the one we are in. And the result was Japan's lost decade. And I'm not saying that pure market liberalism will result in a utopia or even an economy without major recessions. I just think it is silly to blame it on market liberalism. After all, the first recorded bubble was the Dutch Tulip Mania of 1637. Adam Smith wouldn't be born for almost another 100 years. And despite lots of attempts at trying to "engineer" the economy we've had some pretty good recessions in the post-WWII era.
And I'm not arguing that there is no role for government either. Part of the problem with activist government is that obtaining an efficient outcome is very difficult even in the setting with a benevolent dictator who doesn't have to worry about being re-elected. One proposed solutions is to have rules such as a rule for the money supply to keep inflation in check. Or course, the problem with rules is that the same force that prevents discretionary policy from obtaining the "optimal" outcome would also be at work when designing these "rules".
Basically, we really haven't tried market liberalism, thus it is rather silly to say it is all wrong.