Infrastructure Projects And Economic Stimulus
Are infrastructure projects the key to turning around the economy? Not really.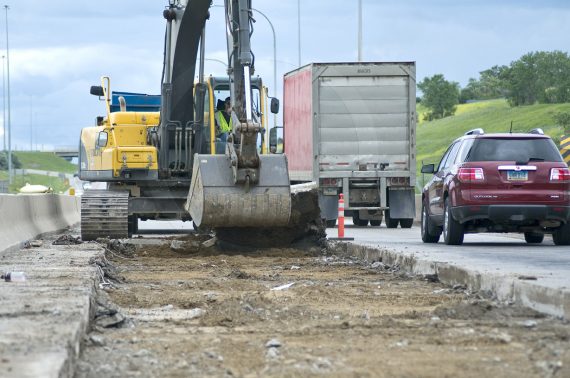 Dave Schuler makes an interesting comment over at his site regarding the argument that one hears very frequently from liberal economists and politicians that one way to deal with our current economic downturn is to ramp up infrastructure spending:
This morning I heard Larry Summers being interviewed, making his case for borrowing money at today's low interest rates and bringing forward maintenance projects which would otherwise be necessarily performed some time in the future, say, rebuilding Kennedy Airport.

The reason that's not done is that there are no plans in place for doing it, it will take years to put together such plans, approve them, and let the contract, and the bidder to whom the contract would ultimately be let is a large, established company with a proven track record and incentives to perform the contract, now five or ten years from today, with the equipment and labor it has on hand rather than purchasing new equipment or hiring new workers. Construction projects aren't performed the way they were during the Depression of the 1930s any more than banks operate the way they did in the 1830s.
The idea that putting money into infrastructure projects would provide immediate economic stimulus to the economy was a central part of the President's 2009 economic stimulus package, of course. While the Administration continues to point to that package as the reason the economy is doing so well today, as dubious an assertion as saying the economy is doing well might be notwithstanding, the reality is that the actual record of law's impact on the economy tends to back up the point that Dave makes in the excerpt above. For one thing, it became clear rather quickly that there really is no such thing as a "shovel ready job," to borrow a term that the Obama Administration and its supporters used quite frequently during the debate over the stimulus three years ago. This is largely true thanks to the same issues that Dave raises in his post, the fact that, in modern America, you cannot just hand money to some authority somewhere and know that they'll be able to use it to build a road within the next year or so. As if that weren't bad enough, we learned after the fact that the jobs supposedly "created or saved" by the stimulus bill cost more that $200,000 per job, a metric that is simply a perfect example of the waste and inefficiency that always seems to accompany a government endeavor. Given this, it's not at all surprising that the actual impact of the stimulus on the economy was minimal at best.
Despite the documented evidence that the infrastructure spending in the economy had little immediate impact on the economy and jobs, we continue to hear calls for more infrastructure spending from the left. Paul Krugrman makes the call on a seemingly daily basis, for example, while his Times colleague Thomas Friedman has had a fetish for China-style infrastructure projects for years now. You hear similar things from the halls of Congress, cable news talking heads, and indeed the White House itself. What none of these people seem to recognize, though, is the reality that Dave points out in his post. Namely, the United States in the 21st Century is not the same as it was in the 1930s, and it certainly isn't the same as China. Even if one were to concede the economic logic of these arguments, which I do not, the fact is that our government is simply not capable of moving quickly on massive projects like this anymore. It took five years to build the Hoover Dam, then one of the biggest engineering projects of its time, does anyone actually think a similar project could get done in a similar amount of time today?
There are many reasons why this is the case. Environmental and health and safety laws mean that projects must go through far longer review processes than they have in the past, for example. Are any of the advocates of increased infrastructure spending suggesting that we suspend those laws so that the projects can move faster? I'm going to guess that the answer to that question is no. Additionally, government contracting and federal labor laws that weren't in existence 70 years ago increase the cost of large scale construction and the labor costs associated therewith. Other federal laws require that certain portions of each contract be awarded to "minority owned" firms, a practice which has resulted in the creation of various front corporations that exist solely for the purpose of getting the bidding benefits associated with being "minority owned." Finally, when it comes to large scale construction projects there are a limited number of companies capable of performing this type of work, and to a large extent they already have labor forces that are moved from job to job. Awarding them a new contract isn't going to necessarily lead them to hire that many new employees.
None of this is to say that there aren't worthwhile infrastructure projects out there. However, even if Congress passed a "repair all the bridges" bill tomorrow, it would still be some time before those projects would get up and running, and even longer before the benefits of those projects would begin to, shall we say, trickle down to the point where they would have a noticeable impact on the economy. There is, no doubt, work to be done, but we need to abandon the idea that these projects are immediate cures for economic troubles and recognize them for what they are, long-term projects whose benefits may not necessarily be felt for some time. What this means, of course, is that the proper why to evaluate infrastructure projects is by determining what needs to get done, determining what you can spend, and prioritizing. Viewing these projects as some quick fix for a stalled economy is a mistake based on fallacies.