Internet Surveillance State
All of us being watched, all the time, and that data being stored forever.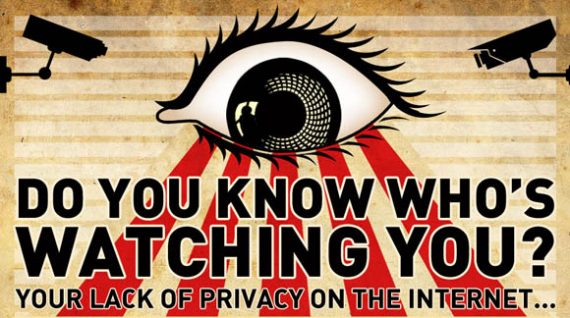 Bruce Schneier argues "The Internet is a surveillance state."
The Internet is a surveillance state. Whether we admit it to ourselves or not, and whether we like it or not, we're being tracked all the time. Google tracks us, both on its pages and on other pages it has access to. Facebook does the same; it even tracks non-Facebook users. Apple tracks us on our iPhones and iPads. One reporter used a tool called Collusion to track who was tracking him; 105 companies tracked his Internet use during one 36-hour period.

[…]

Facebook, for example, correlates your online behavior with your purchasing habits offline. And there's more. There's location data from your cell phone, there's a record of your movements from closed-circuit TVs.

This is ubiquitous surveillance: All of us being watched, all the time, and that data being stored forever. This is what a surveillance state looks like, and it's efficient beyond the wildest dreams of George Orwell.

[…]

Maintaining privacy on the Internet is nearly impossible. If you forget even once to enable your protections, or click on the wrong link, or type the wrong thing, and you've permanently attached your name to whatever anonymous service you're using. Monsegur slipped up once, and the FBI got him. If the director of the CIA can't maintain his privacy on the Internet, we've got no hope.

In today's world, governments and corporations are working together to keep things that way. Governments are happy to use the data corporations collect — occasionally demanding that they collect more and save it longer — to spy on us. And corporations are happy to buy data from governments. Together the powerful spy on the powerless, and they're not going to give up their positions of power, despite what the people want.

[…]

Welcome to a world where Google knows exactly what sort of porn you all like, and more about your interests than your spouse does. Welcome to a world where your cell phone company knows exactly where you are all the time. Welcome to the end of private conversations, because increasingly your conversations are conducted by e-mail, text, or social networking sites.

And welcome to a world where all of this, and everything else that you do or is done on a computer, is saved, correlated, studied, passed around from company to company without your knowledge or consent; and where the government accesses it at will without a warrant.
Those of us who've been paying attention have seen all this coming incrementally. But what hasn't been as apparent is the degree to which all of these individual concessions of privacy would be networked. Because of the mobile web, especially, our Google, Facebook, and other data are now hooked to GPS and rather easily cross-referenced.
To the extent all of this yields the immediate goal of all the tracking—serving web-based ads that are more appealing to the consumer—it's a little creepy but not really a big deal. Indeed, it's arguably a boon for all concerned: advertisers underwrite excellent content on the web and targeted ads are worth more to both advertisers and consumers.
But, for starters, the information we share with one company should stay with that company. It's no use saying that we "volunteer" to give them the right to sell. Companies like Facebook and Google are functional monopolies and the terms of service are so absurdly long and change so often that the notion that we're actually giving meaningful consent when we click "Agree" is a joke.
Further, it's problematic that government has easy access to all this information—often without even obtaining a warrant. While the Supreme Court has always interpreted the 5th Amendment's protection against self-incrimination incredibly narrowly—and the 4th Amendment's guarantees limiting search and seizure haven't fare all too well, either– it strikes me as obvious that one's conversations via email and text messaging should be at least as protected as those via telephone.