Is 2011 Another 2008? Or Another 1931?
Dan Drezner believes those worrying that we're seeing the global meltdown of 2008 repeat itself are kidding themselves.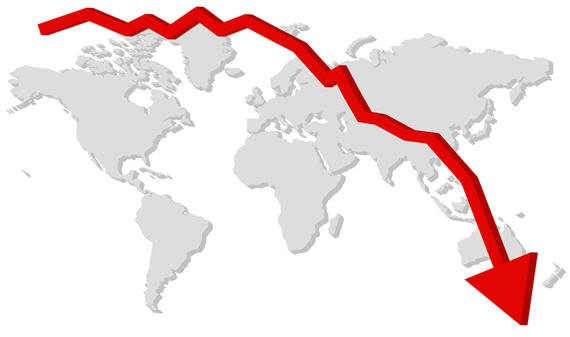 Dan Drezner, a well-regarded expert on international political economy, believes those worrying that we're seeing the global meltdown of 2008 repeat itself are kidding themselves.
This all sounds very 2008, except that it's actually worse for several reasons. First, the governments that bailed out the financial sector are now themselves the object of financial panic and political resentment. Second, the tools used to try and rescue the global economy in 2008 are partially to blame for what's happening right now. Despite all the gnashing of teeth about the Fed twiddling its thumbs, it's far from clear that a QE3 would actually stimulate anything besides a rise in commodity prices.

With both Europe and the United States unable to stimulate their economies, and China seemingly paralyzed into indecision, it's worth asking if we are about to experience a Creditanstalt moment.

The start of the Great Depression is commonly assumed to be the October 1929 stock market crash in the United States. It didn't really become the Great Depression, however, unti 1931, when Austria's Creditanstalt bank desperately needed injections of capital. Essentially, neither France nor England were willing to help unless Germany honored its reparations payments, and the United States refused to help unless France and the UK repaid its World War I debts. Neither of these demands was terribly reasonable, and the result was a wave of bank failures that spread across Europe and the United States.

The particulars of the current sovereign debt crisis are somewhat different from Creditanstalt, and yet it's fascinating how smart people keep referring back to that ignoble moment. The big commonality is that while governments might recognize the virtues of a coordinated response to big crises, they are sufficiently constrained by domestic discontent to not do all that much.

So… is this 1931 all over again?

There are three aspects of the current situation that make me fret about this. The first is the sense that developed country governments have already tapped out all of their politically feasible methods of stimulating their economies. This is the time when both politicians and voters start to ask themselves, "Why not pursue the crazy idea?"
Essentially, we have two mutually-reinforcing problems. First, the most powerful economies in the world are in serious trouble, having come close to running out of ammunition to deal with their own problems. (See: The Fed's announcement that it'll respond to the recent downturn by . . . continuing to do what it's been doing with little effect for the past three years for another two is a strong indication.) Second, the domestic political reaction to this is making it incredibly hard to muster the political will for coordinated action to fix systemic problems. (See: Angela Merkel fighting tooth and nail coming to the rescue of the PIIGS, despite Germany being in the same fiscal boat owing to the ill-advised dumping of the vaunted Deutsche Mark for the make-believe Euro.)
I haven't the foggiest whether we'll manage to avoid another Great Depression, and am inclined to believe that we'll at very least have a double dip. But, hey, at least we're not being attacked by zombies.