Is California Recall Unconstitutional?
A novel but flawed legal argument.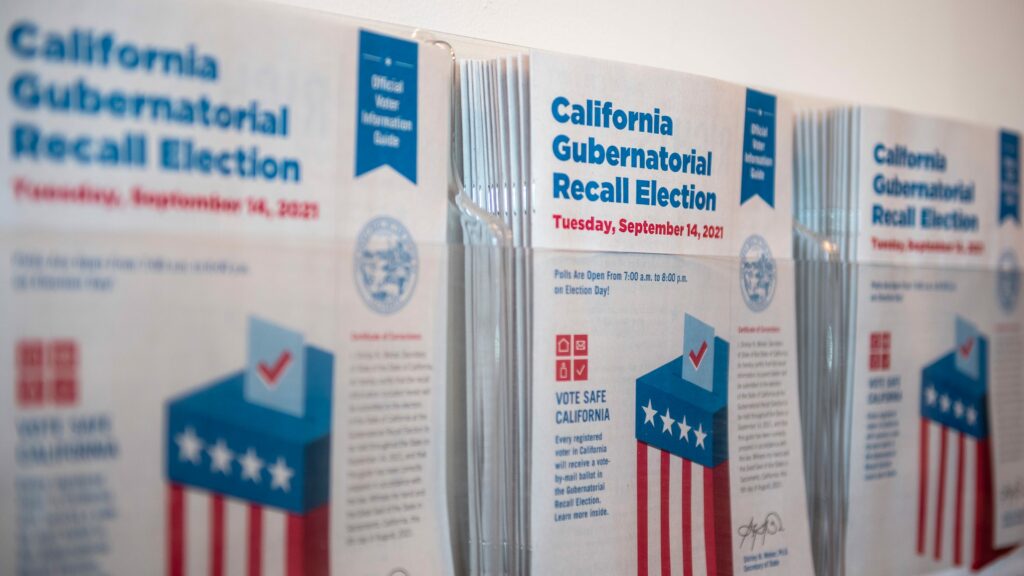 Last week, two Berkley law professors, Erwin Chemerinsky and Aaron S. Edlin, published an op-ed in the NYT titled "There Is a Problem With California's Recall. It's Unconstitutional." The crux:
The most basic principles of democracy are that the candidate who gets the most votes is elected and that every voter gets an equal say in an election's outcome. The California system for voting in a recall election violates these principles and should be declared unconstitutional.

Unless that happens, on Sept. 14, voters will be asked to cast a ballot on two questions: Should Gov. Gavin Newsom be recalled and removed from office? If so, which of the candidates on the ballot should replace him?

The first question is decided by a majority vote. If a majority favors recalling Mr. Newsom, he is removed from office. But the latter question is decided by a plurality, and whichever candidate gets the most votes, even if it is much less than a majority, becomes the next governor. Critically, Mr. Newsom is not on the ballot for the second question.

By conducting the recall election in this way, Mr. Newsom can receive far more votes than any other candidate but still be removed from office. Many focus on how unfair this structure is to the governor, but consider instead how unfair it is to the voters who support him.

[…]

This is not just nonsensical and undemocratic. It is unconstitutional. It violates a core constitutional principle that has been followed for over 60 years: Every voter should have an equal ability to influence the outcome of the election.

The Supreme Court articulated this principle in two 1964 cases, Wesberry v. Sanders and Reynolds v. Sims. 
They add,
This issue was not raised in 2003 before the last recall, when Gray Davis was removed from office after receiving support from 44.6 percent of the voters. But his successor, Arnold Schwarzenegger, was elected to replace him with 48.5 percent of the vote. So Mr. Schwarzenegger was properly elected.
Granting that I'm not a lawyer, but this argument strikes me as absurd. The question in the 1964 cases was the size of Congressional districts and the Court, extending the rationale in 1962's Baker v. Carr, ruled that they must be roughly equal in the number of people represented. It is more than a wee stretch to extend this rationale to the California recall.
Essentially, California voters are being asked two questions. First, Should Gavin Newsome be recalled as governor? Each voter gets an equal say in this question. If a majority of voters vote in the affirmative, then Newsome is recalled and the second question—Who should replace Newsome as governor?—becomes operative. It would be absurd, indeed, to argue that Newsome should replace himself because he got more votes by losing a binary contest to retain his officer than the winner in a multi-candidate race did in a separate contest.
The crux of the matter is that Chemerinsky and Edlin, who are surely very bright fellows, are treating this as one contest when it is two. If, very inefficiently, California held the recall election on September 14 and, if Newsome were recalled, held a contest to see who should replace him on September 21, they surely wouldn't argue that it was an Equal Protection violation if the winner got fewer votes than Newsome had gotten the previous week in a losing contest. It would be as absurd as claiming that George H.W. Bush should have been declared the winner of the 1992 election because Bill Clinton only got 44,909,889 million votes (and 370 Electoral votes) whereas Bush got 48,886,597 votes (and 426 Electoral votes) in 1988.
There's an argument to be made that it's absurd to elect a replacement governor on the basis of a plurality vote in a multi-candidate election. Indeed, I would much prefer a system that forced a majority winner, whether via a run-off between the top two vote-getters or some form of instant runoff voting. But the Constitution rather clearly imposes no requirement to do so.
I bring up a week-old op-ed because, POLITICO reports, someone is using its argument as the basis for a federal lawsuit.
Two California voters are challenging the legality of the state's recall system less than a month before the Sept. 14 election, echoing concerns from constitutional scholars as Gov. Gavin Newsom fights for his political life.

A complaint filed in U.S. District Court for the Central District of California argues that the state's recall provision violates the equal protection clause of the U.S. Constitution by allowing sitting governors to be replaced by candidates who have received fewer votes. The plaintiffs, Rex Julian Beaber and A.W. Clark, want a court order either prohibiting the recall election or adding Newsom's name to the replacement candidate list. Elections officials have already sent millions of ballots ahead of a state deadline today.

[…]

Beaber, a Los Angeles attorney and clinical psychologist, would not say in an interview if he's a Democrat.

"I would prefer not to say, simply because I think it's irrelevant," he said Monday. "To me it would be unfortunate if party politics was the driving force behind the consideration of this lawsuit. This lawsuit seeks on its face to declare a current California remedy as unconstitutional and it would apply regardless of whether it was a Democrat or a Republican already in office."

Elected Democrats have not publicly embraced Chemerinsky's reasoning or backed such a legal challenge. But Attorney General Rob Bonta said Monday that he was monitoring both the lawsuit and the underlying legal debate.

"We're aware of that argument and some of the other concerns and we'll be making sure we stay abreast of this issue and monitoring it," Bonta said, adding of the lawsuit, "We'll be coordinating with the secretary of state's office to determine next steps.
I can't imagine this gets far. It's really not that interesting an argument.