Is College a Scam?
It's the marketing of college as a panacea that's a scam, not college itself.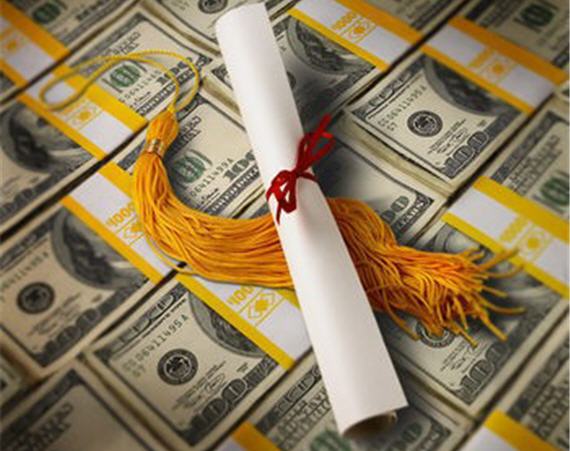 John Stossel has jumped on the higher ed bubble bandwagon with a column titled "The College Scam." He begins with the  the standard examples:
What do Michael Dell, Mark Zuckerberg, Bill Gates and Mark Cuban have in common?

They're all college dropouts.

Richard Branson, Simon Cowell and Peter Jennings have in common?

They never went to college at all.
So, yes, there are people who are enormously successful and don't have college degrees! But what about the aggregate?
Hillary Clinton tells students: "Graduates from four-year colleges earn nearly twice as much as high school graduates, an estimated $1 million more."

We hear that from people who run colleges. And it's true.
Well, there you go. But wait!
But it leaves out some important facts.

That's why I say: For many people, college is a scam.
Uh huh. So, what are the important facts? And how many is "many"?
I spoke with Richard Vedder, author of "Going Broke by Degree: Why College Costs Too Much," and Naomi Schafer Riley, who just published "Faculty Lounges and Other Reasons Why You Won't Get the College Education You Paid For."
Not a promising start. Any book about the ills of higher education that bases its criticisms on the notion of faculty lounges–largely a phenomenon of primary and secondary education–is dubious, at best.
"People that go to college are different kind of people … (more) disciplined … smarter. They did better in high school." They would have made more money even if they never went to college.
That's plausible, if unsupported by anything beyond assertion.
Riley says some college students don't get what they pay for because their professors have little incentive to teach.  "You think you're paying for them to be in the classroom with you, but every hour a professor spends in the classroom, he gets paid less. The incentives are all for more research." The research is often on obscure topics for journals nobody reads.
This is a complicated issue that I've addressed previously. But it's only tangentially germane to the argument here. Regardless of how many hours a given professor teaches, every class on campus is actually taught by someone!
Also, lots of people not suited for higher education get pushed into it. This doesn't do them good. They feel like failures when they don't graduate. Vedder said two out of five students entering four-year programs don't have a bachelor's degree after year six.

"Why do colleges accept (these students) in the first place?"

Because money comes with the student — usually government-guaranteed loans.
Well, remember, some of these people are dropping out to found multi-billion dollar startups! Others leave school because they're not ready to focus, do something else for a few years, and then head back to campus and excel. But, yes, a lot of people simply aren't college material and would benefit from doing something else. I'm not sure why that makes college a scam.
"There are 80,000 bartenders in the United States with bachelor's degrees," Vedder said. He says that 17 percent of baggage porters and bellhops have a college degree, 15 percent of taxi and limo drivers. It's hard to pay off student loans with jobs like those. These days, many students graduate with big debts.
This is some interesting math but it doesn't really tell us anything useful. More than a third (38.54%) of Americans over 25 have at least an associate's degree. There are 221 million Americans aged 21 and over. So, 80,000 bartenders represents a pretty small fraction of them. Of those, how many are part-timers? In graduate or professional school? Of the porters, bellhops, taxi- and limo drivers, what percentage are foreign nationals whose degrees are worthless here? How many are aspiring actors?
Entrepreneur Peter Thiel, who got rich helping to build good things like PayPal and Facebook, is so eager to wake people up to alternatives to college that he's paying students $100,000 each if they drop out of college and do something else, like start a business.
This is fine by me. It may well be that exceptionally smart 20-year-olds who have been thoroughly pre-screened and won a prestigious grant competition would do quite well to quit school and get a head start–especially with that large a chunk of capital. But it's noteworthy that Thiel didn't take his own advice: He has his BA and JD from Stanford. (Indeed, Stossel is a Princeton grad.)
Stossel closes:
Despite the scam, the Obama administration plans to increase the number of students getting Pell grants by 50 percent. And even a darling of conservatives, New Jersey Gov. Chris Christie, says college is a must: "Graduating from high school is just the first step."

We need to wake people up.
Oddly, after two pages of bogus anecdotes and out-of-context data, he winds up on useful grounds for discussion. The problem isn't that we're holding back the future Mark Cubans and Mark Zuckerbergs by prodding them to spend four more years in school but that we're operating under the premise that college is some magic elixir for transforming everyone into smart, productive workers. Higher education of the traditional sort isn't for everyone. Super geniuses probably don't need it unless they're going into applied mathematics and the hard sciences. More importantly, people of below average IQs are unlikely to benefit from studying philosophy, literature, and history.
It's the marketing of college as a panacea that's a scam, not college itself.