Is Discrimination Against Christians Legal?
Can a public university expel a student for a religiously-motivated aversion to homosexuality?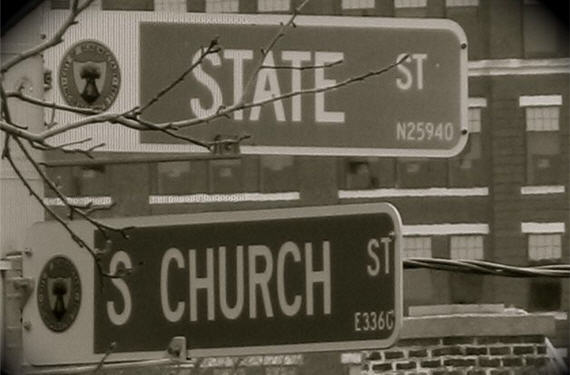 Some conservative blogs are fuming over a Fox News report of a Christian student being punished for believing homosexuality is immoral.   But there's more to the story than anti-religious bigotry.
A federal judge has ruled in favor of a public university that removed a Christian student from its graduate program in school counseling over her belief that homosexuality is morally wrong. Monday's ruling, according to Julea Ward's attorneys, could result in Christian students across the country being expelled from public university for similar views.

"It's a very dangerous precedent," Jeremy Tedesco, legal counsel for the conservative Alliance Defense Fund, told FOX News Radio. "The ruling doesn't say that explicitly, but that's what is going to happen."

U.S. District Judge George Caram Steeh dismissed Ward's lawsuit against Eastern Michigan University. She was removed from the school's counseling program last year because she refused to counsel homosexual clients.

The university contended she violated school policy and the American Counseling Association code of ethics.

"Christian students shouldn't be expelled for holding to and abiding by their beliefs," said ADF senior counsel David French. "To reach its decision, the court had to do something that's never been done in federal court: uphold an extremely broad and vague university speech code."

"We are pleased that the court has upheld our position in this matter," EMU spokesman Walter Kraft said in a written statement. "Julea Ward was not discriminated against because of her religion. To the contrary, Eastern Michigan is deeply committed to the education of our students and welcomes individuals from diverse backgrounds into our community."

In his 48-page opinion, Judge Steeh said the university had a rational basis for adopting the ACA Code of Ethics. "Furthermore, the university had a rational basis for requiring students to counsel clients without imposing their personal values," he wrote in a portion of his ruling posted by The Detroit News. "In the case of Ms. Ward, the university determined that she would never change her behavior and would consistently refuse to counsel clients on matters with which she was personally opposed due to her religious beliefs – including homosexual relationships."

Ward's attorneys claim the university told her she would only be allowed to remain in the program if she went through a "remediation" program so that she could "see the error of her ways" and change her belief system about homosexuality.

The case is similar to a lawsuit the ADF filed against Augusta State University in Georgia. Counseling student Jennifer Keeton was allegedly told to stop sharing her Christian beliefs in order to graduate.
Stacy McCain contends, "Approval of homosexuality is therefore now compulsory in public universities. Christians pay taxes to support universities which forbid Christian students from expressing their beliefs."
Ed Morrissey wonders,
Does this amount to a "thought police"?  A religious test for education?  Or does Keeton's lack of diversity appreciation really make her unqualified for a degree and career in counseling?

It sounds to me like the ACA wants a "don't ask, don't tell" rule for religion.  That runs square into the First Amendment, especially for a state-run school.  The ACA's idea of who comes first doesn't get to trump the restriction on freedom of religious exercise.  If clients get off-put by Keeton's approach to counseling, they can look for another counselor.  Now, the ACA can decide not to certify her; as a private organization, they have that prerogative.  If they do that explicitly based on her religious belief, however, they may have a problem with that in court, especially as it will block Keeton's ability to make a living.

The state-run school has no such leeway.  They cannot impose a religious test for graduation, no matter how they dress it up.
This really isn't complicated:  You're allowed to believe whatever you wish.  Under the 1st Amendment, you're allowed to say or write just about any damned fool thing you please without fear of sanction from your government.  You're also allowed wide berth in the practice of your religious beliefs.
But public institutions are allowed to set policies that conflict with some people's religious beliefs, so long as they have a rational, secular basis for doing so.   In this case, EMU did.  It would be simply absurd to allow students to participate in a program designed to provide counseling credentials who would never be able to get licensure as a counselor.
As Jesse Taylor puts it,
Professional certification guidelines are, generally, constitutional.  One of the requirements of the degree both the Georgia and Michigan students are pursuing is that they treat clients equally and respectfully, and don't impose their personal beliefs on their clients.  It has nothing to do with religion and everything to do with the requirements of the job they voluntarily pursued.
Now, I suppose EMU could offer an academic program in counseling that doesn't lead to licensure.  But that strikes me as a waste of resources; this is, after all, a vo-tech degree. Presumably, Ward would be welcome to pursue, say, a psychology degree?
UPDATE: Commenter Michael Reynolds offers an excellent analogy:
Let's change a couple of the specifics: Kid is in the ROTC program. Decides to take that whole Sermon on the Mount thing seriously. Wants to finish ROTC despite the fact that his beliefs make it impossible for him to ever fight.
That person wouldn't allowed to be in the ROTC Advanced Program, which leads to commissioning. They'd be perfectly welcome, though, to take Basic Program classes in first aid, rappelling, leadership, physical training, and whathaveyou.