Is Donald Trump Really As Vulnerable As He Appears?
Democrats and "Never Trump"ers shouldn't count their chickens before they're hatched.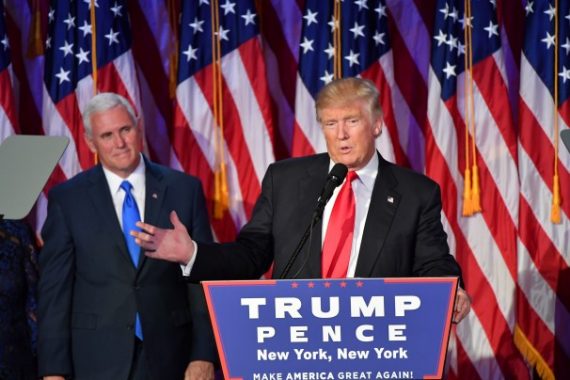 In the wake of yesterday's polling out of Wisconsin, Michigan, and Pennsylvania showing Donald Trump's job approval numbers declining in the three states that handed him the Presidency, as well as other polling and evidence showing that he continues to be historically unpopular for a newly elected President, MSNBC's Steve Kornacki cautions against accepting the notion that Trump cannot recover from his current position and that his Presidency is doomed:
Diagnosing the state of President Donald Trump's political health should be a simple matter. The story that the traditional metrics tell is straightforward.

On a good day for him, Trump's approval rating might crack 40 percent. But a more typical day lately will put him in the mid- to high-30s, while the worst day, so far, had him plunging to 33 percent. Since his inauguration, Trump's approval in Gallup's daily tracker has never exceeded 46 percent, and he only hit that number once — during his first week on the job.

By any historical standard, these numbers are politically catastrophic. And maybe that's just what they are.

What complicates them, though, is how Trump became president in the first place.

Recall some of the dire polling he faced as a candidate. More than 60 percent of voters didn't think he was qualified to be president; not even 20 percent thought he had the temperament and personality to serve; more than half of Republicans said they weren't satisfied with him as their nominee. On Election Day, 60 percent of the electorate said it didn't like him.

By any historical standard, these were also politically catastrophic numbers, and yet, well, Trump is in the White House. In 2016, the numbers didn't mean quite what we thought they did.

As narratives of collapse take shape around Trump's presidency now, the campaign should at least serve as a cautionary tale. It may look like his base is crumbling — and maybe it is — or maybe we're living through a new version of what happened last year.

Consider the newest round of NBC polling from the three states that put Trump over the top. In Michigan, his approval rating is 36 percent, and in both Pennsylvania and Wisconsin it's 33 percent. This looks brutal and it feeds the perception that Trump's base is abandoning him. But is it different from his standing in these states during the campaign?

Obviously, he wasn't president then, so there are no job approval ratings for comparison. But we can look at Trump's personal popularity, and as Ryan Struyk shows, it turns out it's pretty much the same now as it was last fall.

In each state, his favorable rating is in the low to mid-30s, close to where it was during the campaign. Back then, this was taken as a sign Trump would fall short in the Rust Belt; instead, he became the first Republican since the 1980's to win these three states.

Similarly, there's polling now that shows Trump's approval rating slipping among his fellow Republicans. Are they abandoning him? Or is this just another version of what we saw last year when his negative rating among Republicans looked alarmingly high through Election Day — when they snapped back and voted for him at a nearly 90 percent clip.

Among these Republicans, and among a certain type of traditionally Democratic voter in the Rust Belt, there was something that pulled them into Trump's camp when it mattered — despite their misgivings.
Kornacki goes on to suggest that the motivations behind those voters who ended up supporting Trump notwithstanding their misgivings about him could end up becoming a factor as we get further into Trump's Presidency and into the reelection campaign in 2020:
Hugh Hewitt, the venerable conservative radio host (and one of my MSNBC colleagues), got at this possibility in a recent tweetstorm. Essentially, he suggested that contempt for "elite media" is even wider and more intense than generally recognized — so much so that it binds Trump's voters to him even as they grow frustrated with his presidential style.

It's an argument I would have discounted in the past. Resentment toward the media has been a staple of populist conservatism for decades. I'm conditioned to treat it as an aspect of any given Republican's core base of support — not a force that can be harnessed to defy the political laws of gravity as we understand them.

But it's not just that Trump registered terrible poll numbers throughout the campaign and then won. It's also what was going on as he registered those numbers. Simply put, he was at the center of one extinction-level campaign crisis after another: His war of words with the Khan family; remarks about Judge Gonzalo Curiel that were deemed "the textbook definition of a racist comment" by Paul Ryan; the "Access Hollywood" tape. To call his campaign an uninterrupted parade of 13-alarm political fires wouldn't be off the mark.

We assume he won in spite of all of this, but what if he didn't? The controversy, chaos and outrage that Trump stirred also produced a reaction from the media itself. News coverage was withering toward Trump as the election approached, but it went beyond that.

More than we've seen in the past, popular culture took sides during the campaign, vehemently pushing back against Trump. It's hardly new for celebrities to weigh in on behalf of Democrats; but with Trump, the entertainment world was sounding an urgent, existential alarm.

Again, Trump critics will say this was well-deserved; my question here is analytical: Did this kind of reaction from the media and popular culture widen the political divide into a chasm that was not just about Trump and politics but also media and culture?
In addition to the polling data that Kornacki makes note of, there were plenty of other signs that there was a sizable contingency of Republican voters and independents who lean Republican, that ended up supporting Trump notwithstanding their dislike for him. For example, polling throughout the race showed that Libertarian Party nominee was polling in the high single digits in both national and statewide polls and demographic information from those polls indicated that a sizable portion of his support was coming from disaffected Republicans who opposed Trump but could not bring themselves to support Hillary Clinton. In the end, Johnson ended up falling in the polls as Election Day got closer and ended up getting just over four percent of the vote nationwide. While this is far better than any Libertarian nominee had ever done in any national election and far better than any LP nominee other than Johnson is likely to do in the future. To some degree, of course, this weakening in support was a repetition of what we've seen in other campaigns involving third-party candidates as voters end their flirtation with minor party candidates when it comes time to vote. Another reason for the decline could have been the occasional gaffe that Johnson committed that would have otherwise gone unnoticed if he'd gotten the same (lack of) media coverage that third-party candidates. Had Johnson's number stayed where they were in September, it's possible that Trump would not have been able to win the states that he did and that Clinton would have won the 270 Electoral Votes she needed to be elected President.
What Kornacki is effectively suggesting here, it seems, is that it was the overwhelming relentlessness of Trump's critics that led many Republicans who were otherwise critical of Trump to come out and vote for him. This is similar to other arguments that analysts from both the left and the right have made since Election Day who has argued that the reasons for Trump's win are as much cultural as they are political. According to this theory, the fact that virtually the entire media, and large segments of popular culture from the worlds of Hollywood, music, and entertainment industries were opposing Trump is what led many of these people to get into Trump's camp on Election Day. In some sense, then, Trump's election was as much a middle finger to these people as it was an endorsement of Trump and his incendiary, offensive, misogynistic, and xenophobic rhetoric. Donald Trump was, in other words, a method for this segment of the right to send a message to people they perceive as "the elites" that they didn't have the influence they thought they did.
There are other reasons that can be cited for Trump's victory that can be looked to for an explanation of what happened in November, of course. As Steven Taylor has noted here at Outside The Beltway, the structure of our political system and specifically the fact that we elect our President via the Electoral College rather than the popular vote goes a long way toward explaining why we get the results that we do time after time. Additionally, Democrats in particular need to accept the fact that their own candidate likely played a role in how the election unfolded. While Trump did indeed have historically bad favorability numbers for a major party candidate, Hillary Clinton's numbers were no better and, in some cases, worse. Additionally, while her supporters were dismissive of the questions surrounding her candidacy on issues such as her use of a private email server while Secretary of State and handling of classified information that F.B.I. Director James Comey characterized as being "extremely careless," do seem to have been important to some segment of voters. Indeed, polling immediately after Comey's announcement that Clinton would not be charged with a crime for mishandling classified information showed that as many as six in ten voters disapproved of the decision to not charge her with a crime. Finally, in addition to her problems as a candidate, it seems clear in retrospect that Clinton's campaign made many tactical errors that paved the way for Trump, especially in the aforementioned Rust Belt states that handed Trump the Presidency.
Taken together, all of these factors likely combined to lead to Trump's narrow and unexpected win, but the cultural factors I note above, and that Kornacki talks about, are important to pay attention to because they could point to problems for those hoping for political victories in 2018 and 2020 that undercut Trump by giving Democrats control of one or both houses of Congress and, ultimately, defeating him for re-election. While that's still possible, the cultural argument makes the case that there may be more electoral support out there for Trump than polling is indicating right now and that Democrats and other opponents of the Preident shouldn't rest on their laurels.