Is Early Voting A Bad Idea?
Early voting is a still new idea in the United States, but one that has quickly spread to a majority of states. But, is it a good idea?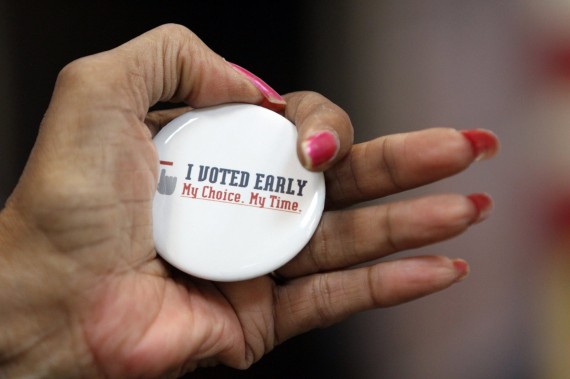 In most states in the United States, it's now possible to engage in some form of early voting prior to the actual General Election on the first Tuesday after the first Monday in November, the date set aside by the Constitution for Federal Elections. A majority of states, thirty-three by my count, now allow some form of in-person early voting in the weeks prior to the election. The mechanics and timing of such early voting varies from state to state, of course, and has been subject to changes by state legislatures that, in cases such as that of Ohio, have led to litigation in Federal Courts alleging that the changes have a disproportionate impact on certain voting groups. In addition to early voting, some twenty-seven states, including many of the early voting states, allow voters to cast an absentee ballot without having to provide an excuse of any kind, while another twenty require voters to provide an excuse (i.e,, age, illness, need to care for a loved one, work commitments, presence outside the state on Election Day, etc) in order to vote absentee. Additionally, three states, Washington, Oregon, and Colorado, have a large vote by mail program that doesn't require any voter to show up to a polling place at all.
When most people think of early voting, though, they are thinking of the relatively new phenomenon of people being able to cast ballots in person before Election Day. In some states, there are multiple locations in a given jurisdiction where voters can go to vote during the early voting period, while others require voters to go to the office that supervises elections for their jurisdiction to cast an early ballot. For Americans who live in states where this is permitted, it appears to be quite popular even though it's unclear just how much early voting increases overall voter turnout. There are some naysayers, though, and one of them is  John Fund at National Review who argues that early voting is harmful, largely because it allows people to vote before they have all available information:
In Florida, a third of the electorate will vote by mail, a third will vote early by going to a voting center, and a third will cast their ballots on Election Day. Nationwide, some 2 million people have already voted, even though scheduled debates haven't even finished in many states. We are seeing an early-voting craze: In 35 states, people can vote early without having to give an excuse for missing Election Day. That's up from 20 states just over a decade ago. Half the states also allow no-excuse absentee-ballot voting by mail. Oregon, Washington, and Colorado have abolished the traditional polling place; in those states almost everyone votes by mail.

"In reality, the days of an actual election 'day' are long gone," Michael McDonald, a political scientist at the University of Florida and director of the United States Election Project, told the Los Angeles Times. "It's a solid election month, if not more in some places, and will continue to expand."

There's no doubt that many people in our increasingly mobile and hectic society want voting to be as easy and convenient as buying fast food. But too much of anything can be bad — just ask someone who has gorged on drive-thru burgers and fries. A new poll by the Huffington Post, conducted by YouGov, found that nearly half of adults say they vote before Election Day at least sometimes, and a third say they do it often. We should listen to what cautionary voices are telling us before we redefine ourselves as a nation of convenience voters and abandon one of the only remaining occasions on which Americans come together as a nation to perform a collective civic duty.

The notion of Election Day isn't just a tradition; it's in the Constitution. Article II, Section 1 states that "Congress may determine the Time of choosing the Electors, and the Day on which they shall give their votes; which day shall be the same throughout the United States." Congress codified this requirement in 1872 by setting a uniform presidential election date. But in a rare bow to the notion of federalism, today's courts have nonetheless been reluctant to invalidate state laws that go against this dictate. In 2002, a panel of the U.S. Court of Appeals for the Ninth Circuit upheld Oregon's vote-by-mail law because of "a long history of congressional tolerance" toward absentee voting. It rejected arguments from the Voting Integrity Project that Oregon's effective end to voting in person represented "the difference between the exception to the rule and the exception that swallows the rule."

(…)

Gans and other observers are also concerned that early voters won't have the same information as those who vote on Election Day. They may miss out on candidate debates or be unable to factor in other late-developing election events. "Those who vote a month in advance are saying they don't care about weighing all the facts," says Adams, the former Justice Department official. One secretary of state I interviewed compared early voting that takes place before debates are finished with jurors in a trial who stand up in the middle of testimony and say they've heard enough and are ready to render a verdict.

(…)

It's past time for the states to reconsider allowing all voters such an easy rush to judgment. Absentee ballots and early voting are certainly here to stay, but reasonable restrictions are not an attempt to suppress the vote. They would be an effort to preserve the notion that Election Day was established for a reason and deserves to be respected. Because if present trends continue, we will become a nation in which less than half of us vote on Election Day and the rest of us vote during Election Month.
Jazz Shaw seems to agree with Fund:
Fund cites a number of studies which highlight problems with early voting. While it's true that some absentee ballots are always required – particularly for the military and those who will be traveling on election day – swamping the system with remote voting counts has already caused issues. For one, the cost of elections, as well as the complexity of managing the ballots, has gone up. And campaigns have to adjust in a very non-traditional way as to how to reach the voters with their message.

Second, there is the issue of low information voters becoming, in effect, no information votersin terms of any late breaking news. Fund lists a number of examples where huge news has broken late in the cycle which might cause voters to reconsider their decisions. But once the ballot has been placed in the mail, it's too late. How is this benefiting anyone who could otherwise go down to the polling station on election day and make their choice?
These are not new arguments against early voting, of course. Many of them were raised in the states that now allow the practice at the time that legislatures were debating the idea, and were rejected. When you examine them in detail, in fact, it seems clear that the are far weaker than they appear at first glance.
For example, the argument that people who vote early may miss out on some late breaking news development during the course of the campaign that significantly changes is one that makes sense at first glance. After all, it would be preferable for people to have all available information in front of them when the step into the voting booth, and the best way to ensure that is if they wait until Election Day, after all the campaigning is over before casting their ballot. In reality, of course, there have been very few elections in recent history that have turned on late breaking news in this manner to the extent that people who were committed to Candidate A suddenly decided to vote for Candidate B, or C, instead. Modern political campaigns are carefully choreographed endeavors, so the likelihood of surprises is fairly low and, especially in the case of elections for national office, the campaigns have been going on for so long that any information about the candidates that was going to be revealed most likely already has been revealed. About the only event that I can see that might have this type of impact would be if a candidate dies in the days before an election, but in that case there are provisions in the law for what would happen if the candidate who wins is dead (typically a new election, or in the case of a Presidential election, the Vice-Presidential running mate would take the place of the Presidential nominee) That doesn't discount the possibility that such an event could happen at some point in the future, of course,  but the fact that it is such a rarity seems to me to negate the power of the argument significantly.
Additionally, people who are likely to vote early are generally likely to be the same people who are likely to be motivated at all. These people are likely to be well-informed about the issues in the election, where the candidates stand on those issues, and which candidate is closes to their views. They are, in other words, the voters that pollsters count as strongly or definitely committed to their chosen candidate and the odds that they are going to change their vote before Election Day is exceedingly low. People who are still undecided in the election, or who are uninformed or unmotivated to vote are not likely at all to making the extra effort needed to go out and vote early. If the people who are in this group are going to vote at all, it will be on Election Day most likely. The early voters are going to be the hard-core supporters of particular candidates who are not going to change their minds in any case, and I don't see any real harm if an individual state allows them the convenience of casting that ballot early.
Fund also argues that early voting is increasing the cost and complexity of political campaigns, forcing campaigns to adjust to the fact that, especially at this point in the campaign, they have to find a way to both appeal to early voters and get their message to people who aren't going to vote until Election Day. There is some truth in this statement, of course, especially when it means that at least some of the people who will be viewing campaign commercials and receiving campaign literature in the mail in the closing weeks of a campaign may have already voted, but this argument doesn't strike me as very compelling. In the end, the cost seems like it would be fairly minimal and campaigns have shown us that they are able to adapt quite well to the new early voting environment quite well. In 2012, for example, the Romney campaign had a very well organized early voting arm to its campaign in Florida that was able to give their candidate an insurmountable edge in the primary that went a long way toward sealing his victory in that state, which itself helped propel him to the nomination. In the General Election, both campaigns concentrated on early voting in states such as Florida and Ohio quite successfully, although it seemed clear at the time that the Obama campaign's early voting campaign was much better organized. Campaign professionals can adapt to these things, and they seem to be doing so quite well. So, this argument doesn't hold water either.
Fund also brings up the issue of voter fraud, specifically as related programs such as Colorado's vote-by-mail program. While this is a valid point, and steps out to be taken to preserve ballot integrity in the early voting and, most especially the absentee voting/vote by mail process, with the later being the area where Voter ID and such other remedies would be completely unable to screen out fraud to begin with, it doesn't seem to me like a reason to ban early voting completely. Obviously, there would be ways to deal with these concerns, and those should be explored. As a general rule, though, Fund's arguments are incredibly weak and unpersuasive. I don't take the position that every state should have early voting, and I think it should be left up to the legislature and the authorities who administer the vote to decide the when, where, and how mechanics of early voting. As a general principle, though, there's nothing wrong at all with early voting and the question of whether or not to implement it should be left to the people of the individual states and their representatives.