Is 'Electability' Measurable?
A WaPo data analyst gives it a shot.
WaPo data analyst David Bylar claims "Want to know which Democrats can actually beat Trump? We don't have to guess." His column defies excerpts. Suffice it to say, it begins with this proposition:
[I]f a candidate did well in major down-ballot elections compared to an appropriate baseline, they're doing something right and might perform strongly in a general election.
And uses this graphic as a jumping off point: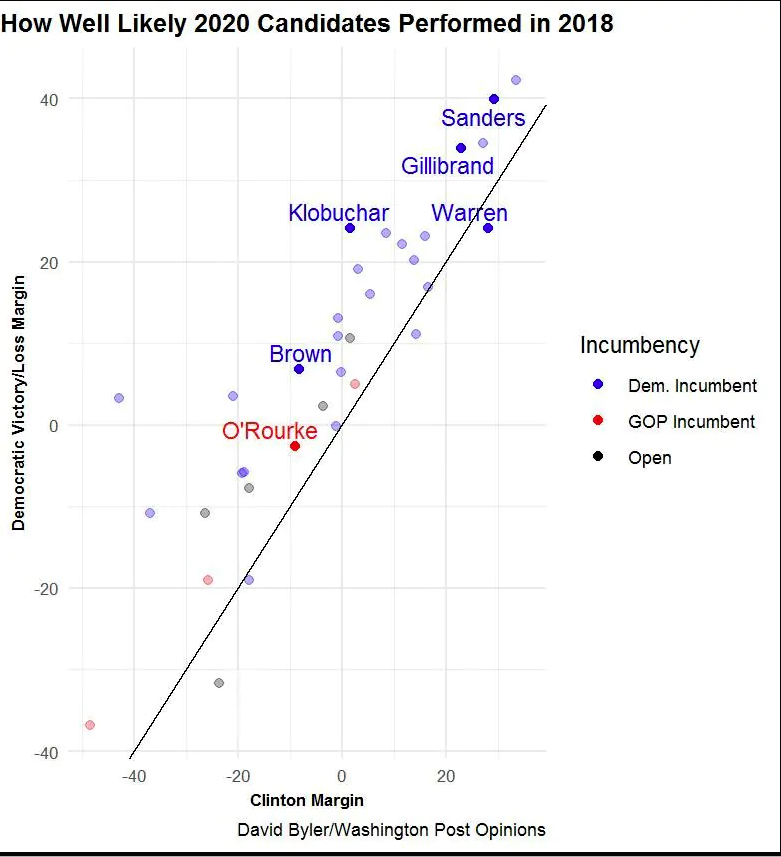 In fairness, this is the first of an intended series of columns. Byers concedes that there are "different aspects of electability" and that these include "past election results, demographics, ideology and style."
In terms of this specific column, though, it's not obvious that one gains much by comparing a series of idiosyncratic races. So, for example, we have this:
Sen. Amy Klobuchar (Minn.) is the obvious queen of this graphic. Clinton won Minnesota by a margin of 1.5 points in 2016, and Klobuchar won the state in 2018 by 24.1 points. Klobuchar had some advantages over Clinton: Public opinion was much better for Democrats in 2018 than 2016, and incumbent senators do get a boost. But it's impossible to explain that gap away without attributing some real electability to her.
I have no real opinion of Klobuchar, of whom I'm not sure I'd heard until her confrontation with Brett Kavanaugh during the latter's Supreme Court confirmation hearing. She seems impressive enough. But I'm not sure what we can glean from a huge margin in a race against a sacrificial lamb. Jim Newberger was a backbench state senator whos only claim to fame seems to be getting repeatedly reprimanded for boneheadedness.
Similarly:
Former congressman Beto O'Rourke also looks pretty good in this graphic despite having a lot of stylistic differences with Klobuchar. He didn't outperform Clinton by as much as Klobuchar (Clinton lost Texas by nine points, O'Rourke lost by less than three), but he was running against Republican incumbent Ted Cruz. If you give Cruz something like a five-point bonus for being a sitting senator (incumbents tend to outperform non-incumbents, though calculating the incumbency bonus is tricky — they change over time and can be calculated more than one way), then O'Rourke's performance starts to look much more impressive.
O'Rourke seems genuinely charismatic and likable compared to Hillary Clinton. But she was running against Donald Trump in a presidential election year while he was running against Ted Cruz in an off year. I happen to think O'Rourke would fare well against Clinton in a Texas Democratic primary, presuming the outcome wasn't sufficiently baked as to encourage strategic voting. But that has as much to do with ideology as likability.
In 2012 (a year not shown in the graphic), Brown won reelection by six points, while President Barack Obama won the state by three. That's not a huge gap — if you give Brown a normal incumbency bonus, you can explain the gap without attributing any extra electability to Brown.

Brown obviously outperformed Clinton by a lot more in 2018 — he won by almost seven points in a state where she lost by eight in 2016. But if you again give Brown an incumbency bonus and account for the big swing in overall public opinion (the GOP won the House popular vote by a point in 2016 and lost it by about nine in 2018), you can explain a significant amount of this gap. Moreover, if you were to use 2012 and 2016 results as the baseline, Brown would look worse, because Obama performed much better in Ohio than Clinton did.

That's not to say that Brown does badly on this graphic. He's a solid politician, and I firmly believe he would be president if he had been nominated in 2016. But on this scale, he doesn't do quite as well as Klobuchar, and some of his competitors are closer to him here than they might be in other categories.
This is probably a more useful comparison that either Klobuchar or O'Rourke, in that Ohio is a swing state whereas neither Minnesota nor Texas are. But, here, Bylar is changing his own rules for no apparent reason. Klobuchar is given full credit for her increased margin over Clinton but Brown's is discounted because of anti-Trump sentiment that resulted in a wave election in House contests. Why?
Sen. Kirsten Gillibrand (N.Y.), for example, won her 2018 race by 34 points after Clinton won her state by 22.5 points. That's not as good as Brown, but electability is a sliding scale with fuzzy categories, so we should think in those terms and not simply categorize Brown as "electable" and Gillibrand as "not."
Again, I'm persuadable that factors other than "electability" are at work in a Gillibrand-Brown comparison. But Bylar established the rules of the contest and seems to have abandoned them after the first two candidates.
Sen. Bernie Sanders (Vt.) is a funkier case. He won his 2018 race by 40 points after Clinton won Vermont in 2016 by 26 points. But we should hold off on the "Bernie would have won!" chants — we're going to have a lot more to say on him in subsequent pieces on ideology and demographics.
This is not "data analysis" in any sense whatsoever.
The only candidate who objectively performs poorly is Sen. Elizabeth Warren (Mass.), who somehow managed to underperform Clinton despite 2018 being a much better year for Democrats than 2016. Massachusetts is a politically complicated state, electing a parade of Republican governors and Democratic senators, but it's hard to look at this performance (or some of the other indicators) and spin it as a great sign.
I tend to agree. Then again, I took Warren's re-election as a fait accompli and didn't pay much attention to the race. Still, while Geoff Diehl was obviously a sacrificial lamb, one presumes he's more appealing to Massachusetts voters than Donald Trump.
Biden is arguably a trickier case. Everyone in the political world feels like they know Biden since he was vice president for eight years, but it has been a decade since he has been on the ballot as an individual. So we don't really know if post-vice-presidency Biden would have a different sort of appeal than pre-vice-presidency Biden. Being vice president obviously improved his primary performance — he's leading in the polls now after flopping in the 1988 and 2008 primaries for president. But the general election is a different animal, and we'll have to tackle him in more detail in future posts.
Fair enough. Biden's "have a beer with" factor is high but we don't have election data for the purpose of this comparison.
Overall, while I applaud Bylar for trying to get beyond fuzzy platitudes and apply data to the question of "electability," I don't believe the particular comparisons made here provide much useful information. Maybe his future articles in the series will reveal some way to meld the election data with analysis about ideology, demographics, and style in a way that's more objective. But I'm skeptical that past performance in specific local races tell us all that much about future national (or, nationally-aggregated local) elections.
Richard Nixon is the last person to win the presidency after having lost a statewide (California governor) race. He's also the last person to win the presidency after having previously lost the race as a major-party nominee. But our electoral process has changed so much since 1960 as to make that example virtually meaningless.
Most recently, Donald Trump won the presidency (if not the national popular vote) after never having been subjected to a previous electoral test.
In between, it's not obvious that Barack Obama's performance in his successful bid for a US Senate seat from Illinois vis-a-vis John McCain's re-election to a US Senate seat from Arizona or Mitt Romney's for the Massachusetts governorship told us much about their respective races. Ditto George W. Bush's re-election as Texas governor vice John Kerry's for Senate in Massachusetts.