Is It All Over But The Blame Game? Or, Why I'm Thinking We're Hosed
I no longer have any confidence that our leaders will act responsibly before the August 2nd debt ceiling deadline.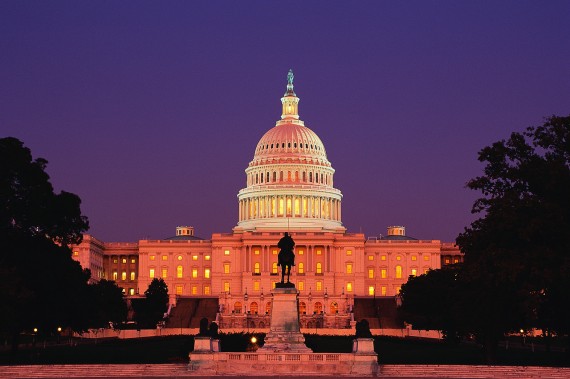 In her post wrapping up last night's Obama/Boehner speeches, Megan McArdle sounded a pessimistic, fatalistic note that I can't really disagree with:
Both sides have given up making a deal, and are now just working on fixing the blame.  Boehner's performance was uncharacteristically forceful, and even displayed a few flashes of personality, which was a nice change from his usual studied blandness.  But personal entertainment aside, this is not the moment when I really wanted to see John Boehner spontaneously generate a backbone.  He wasn't trying to explain his position to a curious public; he was trying to justify the unjustifiable decision to risk the US credit rating rather than agree to a deal that Democrats could also live with.

Obama, meanwhile, seemed to be going out of his way to isolate Boehner from his more militant caucus members–praising Boehner's willingness to cut a deal, if only it weren't for the crazies on the far right.  Perhaps this makes Obama look like a nice guy to people who do't understand the GOP intra-party dynamics, but of course, it poisons an already poisonous relationship between Boehner and the tea-partiers.  If I were feeling uncharitable, I might argue that Obama seems to be willing to lower the chances of getting a deal, as long as he raises the chances that the other guys get the blame.  And frankly, I'm not feeling very charitable right now.

But I'm not even sure what the point of blaming each other is; the public already seems to know who they're going to blame, and mostly, it's the GOP.  Desperate GOP spinning is probably not going to much change this (and yes, I know all the GOP arguments about why this is unfair, and even think that in some cases they're right.  Doesn't matter.  The PR battle is already lost.)  On the other side, twisting the knife just makes a deal less likely, for not much electoral gain.  And I can't quite bring myself to believe that Obama is deliberately trying to foment a crisis because it will redound to his party's electoral advantage.  Was it really worth pre-empting shows that people were willing to watch voluntarily?

These guys are out of ammunition.  They don't even have any good arguments left to fire at each other.  Which I think means we're hosed.
Throughout the six weeks or so that the debt ceiling debate, I've always believed that, in the end, we'd reach the point where the big boys (and girls) would get serious, make a deal that increases the debt ceiling while also cutting spending and, maybe, even increasing revenues by closing some tax loopholes. After all, it's really the only rational thing to do under the circumstances. The consequences of failing to raise the debt ceiling, which has been covered here extensively, are simply too severe for any politician who cares about their country to risk. Moreover, neither party has complete control of the government, they're not going to everything they want, and compromise on the details of legislation is as American as apple pie. Surely, I thought, we wouldn't be sitting a week away from the August 2nd deadline without absolutely not realistic hope that the debt ceiling will be raised in time to avert economic uncertainty and, perhaps, a return to deep recession.
Boy, was I wrong.
I don't need to reiterate the history of what we've seen unfold over the past six weeks or more. We're all aware of it by now, and I'm pretty sure I've already done it more than once in one of my other debt ceiling posts. I'll also admit that it's mostly Republican stubbornness that has gotten us where we are, although, as I said earlier today, the President's weak negotiating style has played into the GOP"s intransigence perfectly, and only encouraged them to become more intransigent. While I tend to agree with McArdle that if there is no deal and we're faced with the unknown world of an America where the government no longer has enough money to pay it's bills it will be the GOP who ends up taking the brunt of the blame, we will have gotten there in no small part because it doesn't seem to be in the President's nature to stand up to his opponents.
Again, though, that's just part of the blame game.
At this point I see no real hope that a deal to raise the debt ceiling will be reached by August 2nd. There is no reason to believe that the hardliners in the House and Senate GOP caucuses, who are already rejecting the Boehner Plan as not good enough, are going to move off their dime. They've been tasting what they believe is victory after victory and the idea that they have to compromise now is likely the last thought in their mind. I do believe that John Boehner wants to get a deal done, but he is so obviously hamstrung by a caucus that has no real loyalty to him that he's been forced to go out on a limb and take an all-or-nothing approach that makes the prospect of a last-minute compromise impossible. If the Boehner Plan is in doubt in the House, what makes anyone think that a compromise hybrid between that and the Reid Plan will do any better? It would only happen if the House Democrats essentially backed Boehner, in which case he'd be even more weakened as Speaker since he would have had to rely on the opposition to deliver a bill he supported.
Perhaps I'm wrong, perhaps after all the voting is done on Thursday or Friday and there is no deal everyone will wise up, get to work, and we'll have a vote Monday night that will avert catastrophe. It's possible, I hope it happens, but after the events of the past four days, I'm going to be very surprised if it happens.