Is It Okay To Lie In Order To Get Amazon Discounts?
If Amazon gives discounts to people with children, is it acceptable to falsely claim you have a child in order to get a discount?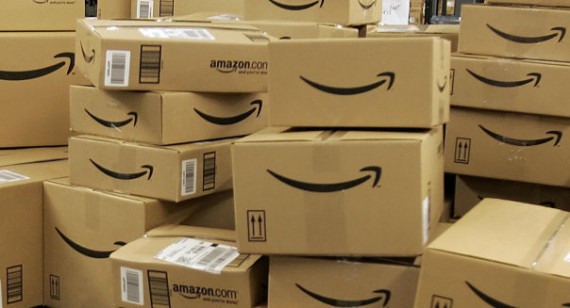 Matthew Yglesias has stumbled across a way to get even bigger discounts at Amazon, and he wants to share it with the rest of us:
Amazon has a program called Amazon Mom that's a pretty neat way to save some money on common household items. But here's the thing. It turns out you don't need to be a mom to sign up. You don't need to be a dad, either. You just need to be a liar. Enrolling in Amazon Mom requires you to offer up some information about your baby, but there's no verification involved whatsoever. You just type in some made-up stuff and suddenly your fake baby is getting you some sweet discounts.

Here's the deal. Suppose you're an Amazon Prime member. If you are, then you perhaps know about Subscribe & Save. With Subscribe & Save, you get a monthly delivery date, and you order various Subscribe & Save items to be scheduled for delivery to your house on a regular basis. That could be once a month, or once every two months, or once every three or four or five or six months. You just need a schedule. You save 5 percent on your Subscribe & Save items relative to the list price, due to the greater convenience for Amazon of scheduled deliveries and presumably due to their hope that you'll overpurchase. Even better, on any month where you have at least five Subscribe & Save items coming to your house, you get a 15 percent discount. So right now I'm on various schedules for delivery of dried pasta, Zevia sodas (delicious if you've never tried them), counter spray, paper towels, toilet paper, laundry detergent, dishwasher detergent, artificial sweetener, Kashi bars, tea bags, hand soap, dish soap, and beans.

(…)

But if you join Amazon Mom, those savings get kicked up a notch to 20 percent. And there's no monthly fee and no extra commitment to buy stuff. You just need to tell Amazon some stuff about your baby—birthday and such—presumably so they can target you with baby-related offers. Except your baby can be fake. My baby, Tim Duncan Crawford, named after my wife's favorite basketball player and given her surname, was born on December 14, 2013. Except he's just a lie I created to get cheaper soap.
A quick perusal of the links that Yglesias provides indicates that it is indeed possible to sign up for this "Amazon Mom" program without actually being a Mom or a Dad simply by providing information about a child that may or may not exist. Amazon doesn't appear to ask for any kind of verification that the child you're claiming as your own actually exists, although outside of a partial Social Security Number (which few people would be willing to supply) or some other form of verification of a child's existence. All that the Terms & Conditions of the program say about the matter is this:
Membership is available to parents and other persons responsible for caring for a baby or young child. To sign up for and use Amazon Mom, you must have an Amazon.com account, tell us if you are a Mom, Dad, Step-Parent, Family Member or other Caregiver and provide additional information about your family. We may accept or refuse membership in our sole discretion. The Amazon Mom membership is for personal use only and not for the purpose of reselling products or services. You may not transfer or assign your Amazon Mom membership or the benefits associated with an Amazon Mom membership. Only one Amazon Mom membership per household.
There don't appear to be any penalties associated with misrepresenting the existence of a child set forth in the terms and conditions that Amazon has set forth here, although it does say that the company reserves the right to change the criteria at any time and to reject any application for any reason. Given that, it's not clear to me that what Yglesias is suggesting here violates the contract that a user is effectively entered into when they sign up for the program. Indeed, Amazon may not care whether there really is a child or not because it's obvious that one of the main purposes of the program is to give them a list of customer to whom they can potentially pitch baby and child-related products to via coupons, discounts, and announcements of special sales that only they would be eligible. Given that, it's possible that they would be okay with the possibility that some portion of their "Amazon Mom" participants aren't parents at all on the theory that, in the long run, they are going to make up the relatively minimal costs associated with the program via additional purchases. Additionally, if Amazon does have a problem with what Yglesias is suggesting, then they could easily change the terms and conditions of the program, or the manner in which one must verify one's status as a caregiver for a child in order to crack down on the people who are falsely claiming to be parents to get additional discounts.
Leaving aside the terms and conditions of the program, though, I do have to wonder whether what Yglesias is suggesting here is ethical. Leaving aside potential liability under the Federal or State laws, what's the difference between what he suggests and someone who falsely claims to be a military veteran in order to, say, get a free or discounted meal on Veterans Day at the many chain restraunts around the country that have been offering such a perk on Veterans Day, or claiming a Senior Citizens Discount to get a 10% of your purchase at a grocery store (although the store I regularly shop at requires someone to show ID to get that particular discount.)? For that matter, and again leaving aside for the sake of argument the legal issues associated with the activity, how is it different from a 20 year old who lies about being 21 in order to buy beer at 7-11?
I'll throw these questions out to the Internet as a whole because I think the responses and ensuing discussion could get interesting. So. feel free to use to comment thread to let your opinions fly on this one, but, as always, let's keep the discussion civil.
As an aside, I'll also mention that there could be potential criminal and civil liability here related to making fraudulent claims in order to receive a benefit, but given that these laws vary from state to state I am not going to make any specific comments about the potential illegality of this behavior.
On a final note, now that Yglesias has admitted that Tim Duncan Crawford does not exist, I have to wonder how much longer Yglesias and his wife will be eligible for discounts as an "Amazon Mom/Dad."