Is iTunes Killing the Album?
The Atlantic's Dave Thier laments that, "The Beatles on iTunes Means Your Kids May Never Hear 'Her Majesty'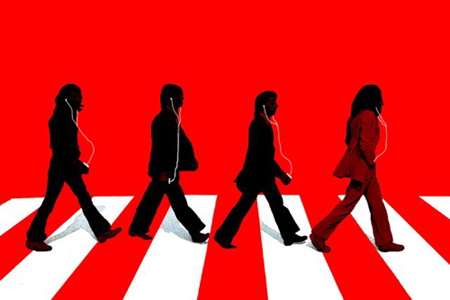 The Atlantic's Dave Thier laments that, "The Beatles on iTunes Means Your Kids May Never Hear 'Her Majesty'."   That Thier is only 23, and thus born not only decades after the band released its final album and years after John Lennon was murdered, makes the lament both amusing and more interesting.
While the easy availability of band's catalog will almost certainly increase the amount of Beatles listened to in the world, and thus make the world a better place, most of that Beatles will probably come in the form of $1.29, single tracks, not albums.

Early songs like "I Wanna Hold Your Hand" are quick, clean, pop masterpieces and they're ready made for insertion into the world's iPod playslists. But in my opinion, Beatles albums, not songs, are their true masterpieces. Later works like Sgt. Pepper's Lonely Hearts Club Band, Let it Be and Abbey Road have great songs on them, of course. But they aren't collections of singles, they're 45-minute-long symphonies.

Abbey Road ends with seven distinct tracks as the iTunes flies, all but one under 2 minutes long. The last track, "Her Majesty," is only 23 seconds long. No savvy iTunes shopper is going to shell out that $1.29 for a 23-second track, but it has to be there. If a new generation of Beatles fans grows up without hearing "Golden Slumbers," "Carry That Weight," "The End" and "Her Majesty" all in a row, then they haven't heard Abbey Road.
Then again, its worth noting that iTune didn't exactly invent the single.   Even when I was a kid, 45's were available.   And, aside from a few album rock stations (do they still exist anymore?) radio has always played singles.   In today's age, most people who buy Beatles CD's for the first time are quite likely ripping them to MP3 format and listening to them in random order on their smart phone shuffle play.
Somehow, this is also amusing:
As it turns out, AC/DC, now the biggest name amongst iTunes holdouts, has kept their music off of Apple's digital marketplace for just that reason.

"We believe the songs on any of our albums belong together. If we were on iTunes, we know a certain percentage of people would only download two or three songs from the album," lead guitarist Angus Young told The Telegraph in 2008. "We don't think that represents us musically."
Now, I happen to like AC/DC, especially their earlier work (High Voltage through For Those About to Rock).  But even their most iconic records, Highway to Hell and Back in Black, don't constitute a symphony when listened to in order.    They're not exactly Tommy.   Or Abbey Road, even.