Is Rep. Anthony Weiner Guilty Or Just Very, Very Stupid?
It's just about time to schedule the piteous press conference.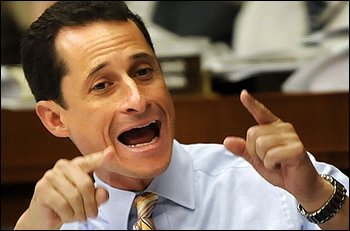 Anthony Weiner's already sputtering jalopy of excuses is about to throw a rod:
As things stand now, the main suspected hacker is saying, in effect, "come investigate me" and Rep. Weiner is clamming up with the traditional 'I can't answer even the simplest question because it would distract from my vital role in our great national debate' defense. The MSM does not seem to be buying Weiner's line. See outright criticism in New York magazine and thinly-veiled skepticism on CNN.
The allegedly media savvy Weiner seems to be taking lessons from the Newt Gingrich School of Media Relations:
Note that those notorious right-wing water carriers at New York magazine make precisely the same point I made in the penultimate update to the previous thread. Having a several minute long meltdown on camera rather than answer an easy question screams "Guilty!" So, if he is a victim here, he's the dumbest victim in the Western Hemisphere.
It isn't the crime; it's the cover-up. When Rep. Weiner finally makes the Sorrowful Apology With Wife Standing Steadfastly But Grimly At His Side everyone not dosed to the gills on Kos Kool Aid must now consider almost inevitable, he'll do so in the full knowledge that he could have done it on Saturday night of a three-day weekend and mostly put this behind him by the time the news cycle was back to full speed Tuesday. Sure, he might have to resign either way, but a mere sex scandal didn't stop Elliot Spitzer. Or, for that matter, keep Jeffrey Toobin from being invited to offer up some Weiner legal analysisdefense on national TV.
As for the estimable Mr. Kaus' last question, I suspect hubris is the answer.
UPDATE (6/1/11): Weiner: It's Possible Lewd Photo Is of Him. And now we know why he wouldn't just say, "No."