Is Richard Lugar Eligible To Represent Indiana?
Dick Lugar sold his Indiana home 35 years ago but still lists it as his official residence.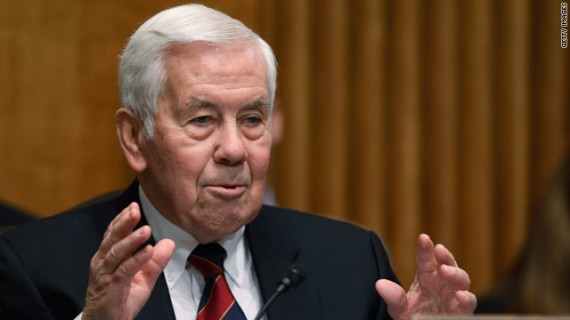 Dick Lugar sold his Indiana home 35 years ago but still lists it as his official residence.
RTV6 ("Lugar Defends Himself On Residency Question–Longtime Senator Says He Meets Requirements"):
Sen. Richard Lugar defended himself during an appearance in Indianapolis on Monday that came days after opponents claimed that he isn't qualified to run for office because he doesn't live in the state.

Lugar said two attorneys general have affirmed his position that the Indianapolis address on his Indiana driver's license is valid, even though he sold that home in 1977.

Lugar said he and his wife sold their house in Indianapolis because the only way they could afford to keep the family together and be part of their sons' school and after-school activities was to move to Washington, D.C. full time and buy a home there.
Apparently, though, the 1982 opinion by the Indiana Attorney General was over whether Lugar had the eligibility to continue to vote in the district where he previously lived. The answer was that he did because he lived in the DC area on official government business representing the state. That's reasonable enough; military personnel and other government employees have similar protections.
But Indiana University law professor John Hill notes that the US Constitution requires that members of Congress "inhabit" the state they represent. This comes from Article I, Section 2, Clause 2 which states:
No Person shall be a Representative who shall not have attained to the Age of twenty five Years, and been seven Years a Citizen of the United States, and who shall not, when elected, be an Inhabitant of that State in which he shall be chosen.
Neither Indiana law nor the opinions of its election officials have any bearing on the question of whether a Member is an "inhabitant" of the state. A series of court decisions have made clear that neither the states nor Congress can neither add to nor take away from the Constitutional requirements. As far as I can determine, however, there is no case law on what constitutes being an "inhabitant." FindLaw's invaluable "Annotated Constitution" provides all manner of case law on the larger question of qualifications but not on this question.
My own sense is that, of course Lugar is an Indiana resident. He pays taxes to Indiana. He was mayor of Indianapolis from 1968 to 1975. He's represented the state in the Senate for 36 years. The fact that he lives in DC's Virginia suburbs–and has for decades–doesn't change that any more than a soldier or diplomat living in a series of overseas assignments takes away their residency.
For that matter, if living outside one's state or district for a number of years serving as a politician in Washington does erode one's ties to home, the mere pretense of keeping a hotel room  (as former President George H.W. Bush did for years) or apartment or even sprawling estate back home wouldn't somehow make him more of a Hoosier.