Is Sean Hannity A Cable News Host Or A Trump Propagandist? Apparently, He's Both.
When do we stop pretending that Fox News Channel is anything other than State Run Media for the Trump Administration?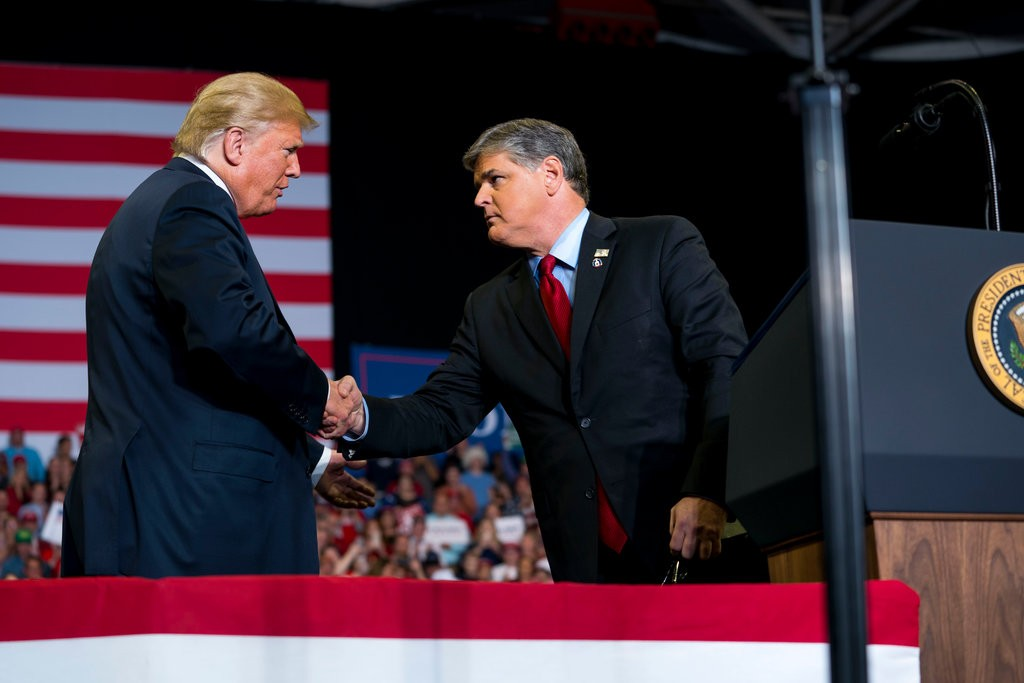 Last night, President Trump ended his campaign push for Republican candidates in Cape Girardeau, Missouri, the hometown of Rush Limbaugh, but the biggest news was who joined him on stage in addition to Limbaugh:
CAPE GIRARDEAU, Mo. — The show onstage might well have been called Fox & Friend. As President Trump wrapped up the midterm election cycle with a late-night rally in southeast Missouri on Monday, he was joined by a trio of conservative media rock stars.

Introducing the president as he stumped for Republican candidates was Rush Limbaugh, the radio host who was born and raised in Cape Girardeau. Then after Mr. Trump took the microphone, he invited two Fox News personalities, Sean Hannity and Jeanine Pirro, to join him on stage, where each also delivered a short speech backing the president.

The line between the Trump White House and Fox has always been a little blurry, but in that moment at least, the fusion of president and network seemed complete.

Mr. Trump has long relied on his favorite network as his outlet of choice for interviews and messages. His vice president, cabinet secretaries and staff members appear with great regularity.

The pipeline also works the other way. The president recruited his current national security adviser, John R. Bolton, from Fox and he is considering naming another former Fox personality, Heather Nauert, as his new ambassador to the United Nations as early as this week. His son Donald Trump Jr. is dating Kimberly Guilfoyle, who left her position as a Fox hostlast summer to "dedicate myself full time" to supporting the president's political activities.

Hanging around backstage on Monday night was Bill Shine, a former Fox co-president now serving as deputy White House chief of staff in charge of communications. As the rally began, Mr. Shine and Mr. Hannity were spotted giving each other a high five not long after Mr. Hannity interviewed Mr. Trump. "I never miss your opening monologue," the president told Mr. Hannity during the interview. "I would never do that."

A few minutes later on stage, Mr. Trump cited Mr. Hannity to the crowd. "I was speaking to Sean Hannity back stage," he said. "Do we love Sean?"

The audience cheered. They loved Sean.

Mr. Hannity's role here was a surprise and yet not. On Sunday, the Trump campaign organization announced that Mr. Hannity and Mr. Limbaugh would join the president at the Cape Girardeau rally as "special guests."

By Monday afternoon, Mr. Hannity was disputing that. "In spite of reports, I will be doing a live show from Cape Girardeau and interviewing President Trump before the rally," he wrote on Twitter. "To be clear, I will not be on stage campaigning with the President. I am covering final rally for my show. Something I have done in every election in the past." The Trump campaign news release was deleted from the web.

Except then he was on stage campaigning with the president. "Sean Hannity, come on up," beseeched Mr. Trump.

Mr. Hannity climbed onto the stage and took the microphone. Referring to the news media pen in the back of the arena, Mr. Hannity echoed one of the president's favorite lines. "By the way," he said, "all those people in the back are fake news." The crowd booed.

Presumably, he did not mean all those people since they included a crew from none other than Fox News with the correspondent Kristin Fisher.

Mr. Hannity expressed surprise at being asked to speak but then launched into a few lines supporting Mr. Trump. "I had no idea you were going to invite me up here," he told the president. "And the one thing that has defined your presidency more than anything else — promises made, promises kept."
Washington Post media critic Erik Wemple comments:
[T]he Fox News hosts continued an ongoing project. They have been campaigning for Trump for quite some time. If there's a prominent critic of Trump, that critic will come in for a battering from Hannity and Pirro. If there's an argument that Trump wants to float, Hannity and Pirro will take care of that formality. And if there's an entire group of people that Trump wants to discredit — such as the mainstream U.S. media — he's assured of help on that front as well.

Appearing before a cheering throng, however, brings greater transparency to the relationship. In the 2016 campaign, for instance, Hannity served as an informal adviser to candidate Trump; he helped fly a vice presidential candidate to meet with Trump; and he even gave a 32-second testimonial in an eight-minute video promotion for Trump on the topic of Second Amendment rights

In the presentation, Hannity says:

One of the reasons I'm supporting Donald Trump this year is No. 1, he's going to put originalists on the Supreme Court, people that believe in fidelity to the Constitution, separation of powers, co-equal branches of government. He's a guy that will vet refugees to keep Americans safe. And of course he's gonna build that wall. He says he's gonna have Mexico pay for it. That's fine, as long as we secure the country and of course we don't want people competing for jobs. He said he will eliminate Obamacare, make us energy-independent. And as somebody who's been a marksman since I'm 11 years old, protecting our Second Amendment rights are paramount to me.

For that bit of boosterism, Hannity received a rebuke from his employer. "We had no knowledge that Sean Hannity was participating in this," said a Fox News spokesperson at the time, "and he will not be doing anything along these lines for the remainder of the election."

Now: If Fox News had a problem with Hannity appearing in some interminable Trump campaign video, wouldn't it stand to reason that it might also have a problem with him appearing onstage at a campaign rally with the president?
Kevin Drum offers his own take:
There has to be a point at which we all stop pretending that Fox News is a news network. I mean, sure, they've got a few real reporters who are trotted out during the late-morning and early-afternoon ratings lulls, but that's about it. The rest of the time it's nonstop agitprop for Donald Trump that's so extravagant I think even Joseph Goebbels might have had second thoughts about whether it could actually work.

But the world moves on and so do the art and technology of propaganda. A century ago state media was at its best when it was broadcasting 5-hour speeches from Dear Leader, whoever that might be. Today's marks get bored by that, so instead Fox supplies them with the current state-of-the-art in propaganda: plenty of pretty blond girls, intriguing conspiracy theories, and outrages of the day aimed at the racial and political opposition, all packaged into short, colorful, mesmerizing 4th-grade level snippets that still leave plenty of time to sell sleep number beds and gold coins.

So is this it? Can we finally stop pretending that FNC is a normal news channel, even if Shep Smith and Bret Baier continue to provide a bit of midday window dressing?
On some level, of course, it's no surprise that Hannity would show up at Trump's final campaign rally, that he would appear on the stage with him, and that he would repeat Trump's condemnation of the reporters covering the rally as "Fake News." This is, after all, the same Sean Hannity who has spent the better part of the past two years as being nothing but a shill for the Trump campaign and later the Trump Administration. He repeatedly repeats the talking points coming out of the White House without question no matter how ridiculous they might sound. He was also one of the primary people spreading false claims about Hillary Clinton, Seth Rich, and the Russia investigation. Not at all unlike most of the rest of the primetime lineup on Fox News Channel, Hannity has been a propagandist for the Trump Administration from the first day it was in office. Additionally, it's been widely reported that Hannity and the President are frequently in contact, often talking on the phone and trading text messages after Hannity's show, which the President apparently watches on a regular basis, and talking late into the night in what can only be described as a bizarre relationship between the septuagenarian real estate executive turned President and the host of a cable news show.
Nonetheless, the entire event was eyebrow-raising if only because of the manner in which Hannity was admonished by his employer for making a video for the Trump campaign during the 2016 campaign. It also brings to mind the fact that other networks have disciplined some of their hosts for things far less obvious than what Hannity did last night. In 2010, for example, MSNBC suspended both Keith Olbermann, who was still with the network at the time and Joe Scarborough when it was discovered that they had made donations to candidates for office in violation of company policy. This happened despite the fact that both Olbermann and Scarborough had long used their shows to express their political opinions, often in blunt language. In Scarborough's case, this has continued over the past eight years to the point where he has become one of President Trump's harshest critics on the political right.
Will Hannity receive any similar admonishment from his employer for what happened last night? Given the extent to which Fox News has become a propagandist for the Trump Administration, the most probable answer to that question is "No."
Update: Shortly after this post was published, Fox News issued a statement regarding last night's rally:
Fox News says it "does not condone" its hosts "participating in campaign events" as Sean Hannity and Jeanine Pirro did during a campaign rally with President Trump in Missouri on Monday night.

A network spokesperson on Tuesday called the event "an unfortunate distraction" that "has been addressed."

"FOX News does not condone any talent participating in campaign events," read a statement to The Hill. "We have an extraordinary team of journalists helming our coverage tonight and we are extremely proud of their work. This was an unfortunate distraction and has been addressed."

Hannity took to Twitter to also address the controversial decision to appear onstage. The host had stated in a tweet earlier on Monday that he would not do so, and wrote on Tuesday afternoon he was surprised but honored by the president's request.

"What I said in my tweet yesterday was 100% truthful," he wrote to his more than 3.8 million followers. "When the POTUS invited me on stage to give a few remarks last night, I was surprised, yet honored by the president's request. This was NOT planned."

Early during his remarks at the Show Me Center in Cape Girardeau, Hannity pointed to the press holding area and said, "All those people in the back are fake news," which included journalists from Fox News covering the event.

"To be clear, I was not referring to my journalist colleagues at FOX News in those remarks," Hannity wrote in a subsequent tweet. "They do amazing work day in and day out in a fair and balanced way and It is an honor to work with such great professionals."
No word on what the network means when it says that the event "has been addressed," but it apparently does not mean that either Hannity or Pirro, who hosts a Saturday evening show on the network, will be suspended.