Is Surfing During Work Stealing?
If you're reading this at the office, are you stealing from your boss?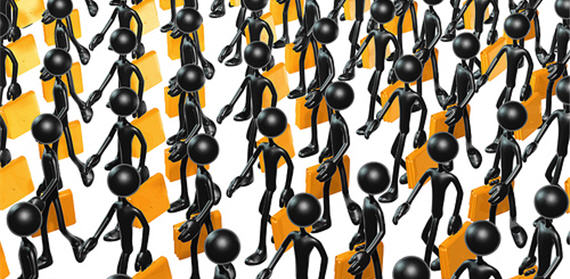 In closing this morning's post, "Newspapers Suck Less Than You Think," I snarked, "Rather than paying for a newspaper and reading it at home, people can now get it for free and get paid to read it on their office computers!"
It was mostly a throwaway line but doubtless one with a large kernel of truth.  Certainly, OTB's traffic spikes during the 9-5 Eastern time period weekdays and plummets thereafter.
Commenter grampagravy retorted,
People who read the paper, online or otherwise, on my dime got walking papers. Personal pursuits while on the clock is stealing. I've always been amazed by the number of "honest" people who think its okay to sell someone an hour and then steal a portion of it back.
To which JKB responded,
An appropriate view if your employees are hourly but veering toward making them non-exempt if they are salaried.
It's an interesting question, really, and one that's becoming increasingly harder to answer in the information-service economy.
For an old-time factory worker, it was pretty obvious what you were supposed to be doing.   You had a highly defined repetitive task and were expected to do that unless you were on an allotted break.
For an office worker in the pre-Internet age, the lines blurred a bit.   Some amount of hanging out by the water cooler, taking smoke breaks (especially once they made it illegal to smoke at your desk) and otherwise goofing off was considered acceptable — even socially desirable to demonstrate being a "team player" — but people were expected to spend the vast majority of their time working on various projects for the firm.
The Internet has made that a little bit more complicated.  Smart managers understand that workers can't be expected to stare at their screens eight hours a day concentrating on their work.    The occasional peek at ESPN or Drudge or YouTube or HuffPo or whatever is not only reasonable but likely to render the worker more productive.   Up to a point, of course.
For those of us in the information business, though, it's off-the-charts complicated.   Pretty much anything that a college professor or writer or journalist reads provides potential insights that are useful for their jobs.
Beyond that, JKB is right:   The personal and professional blur in the "exempt" world. For those of us in jobs where we're expected to be routinely available via email and cell phone evenings, weekends, vacations, holidays, and so forth because others are up against deadlines and need a few minutes of our time occasionally, it's not unreasonable to expect in return some flexibility during working hours.