Is The GOP Ready For The Tea Party ?
Some Republicans in Congress are worried they won't be able to control the future Congressmen and Senators that the Tea Party might be sending to Washington.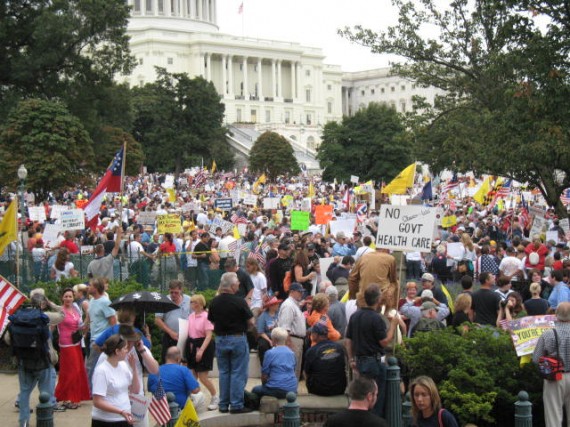 With the prospect of many new faces joining the Republican cacuses in the House and Senate in January, some are beginning to wonder how well the establishment will get along with the Young Turks:
Republican lawmakers see plenty of good in the tea party, but they also see reasons to worry. The movement, which has ignited passion among conservative voters and pushed big government to the forefront of the 2010 election debate, has also stirred quite a bit of controversy. Voters who don't want to privatize Social Security or withdraw from the United Nations could begin to see the tea party and the Republican Party as one and the same.

[Rand] Paul, the GOP Senate nominee in Kentucky, floated the idea of forming an official caucus for tea-party-minded senators in an interview in the National Review as one way he would shake up Washington. Rep. Michele Bachmann (R-Minn.), one of the movement's favorite incumbents, filed paperwork on Thursday to register a similar group in the House "to promote Americans' call for fiscal responsibility, adherence to the Constitution, and limited government."

In six states — Kentucky, Nevada, Florida, Utah, Colorado and Minnesota — tea-party-backed Republican Senate candidates have won nomination or are favored in upcoming primaries. They are attracting outsize attention not only from Democrats and the media, but from conservative leaders such as former Alaska governor Sarah Palin and Fox News host Glenn Beck.

(…)

Yet some Republicans worry that tea-party candidates are settling too comfortably into their roles as unruly insurgents and could prove hard to manage if they get elected. Paul, who beat GOP establishment favorite Trey Grayson in Kentucky's primary, told the National Review that he would seek to join forces with GOP Sens. Jim DeMint (S.C.) and Tom Coburn (Okla.), "who are unafraid to stand up" and who have blocked numerous bills advanced by both parties deemed by the pair as expanding government.

"If we get another loud voice in there, like Mike Lee from Utah or Sharron Angle from Nevada, there will be a new nucleus" to advocate causes such as term limits, a balanced-budget amendment and "having bills point to where they are enumerated in the Constitution," Paul said in the interview.

Former Senate majority leader Trent Lott (R-Miss.), now a D.C. lobbyist, warned that a robust bloc of rabble-rousers spells further Senate dysfunction. "We don't need a lot of Jim DeMint disciples," Lott said in an interview. "As soon as they get here, we need to co-opt them."

But Lott said he's not expecting a tea-party sweep. "I still have faith in the visceral judgment of the American people," he said.

Sen. Robert F. Bennett (R-Utah), who failed to survive his party's nominating process after running afoul of local tea-party activists, told a local Associated Press reporter last week that the GOP had jeopardized its chance to win Senate seats in Republican-leaning states such as Nevada and Kentucky and potentially in Colorado, where tea-party favorite Ken Buck has surged ahead of Lt. Gov. Jane Norton in their primary battle.

Bennett warned that such candidates are stealing attention from top GOP recruits such as Mike Castle in Delaware and John Hoeven in North Dakota, both of whom are favored to win seats held by Democrats. Nor are they helping the Republican Party to resolve its deeper identity problems, he said.

"That's my concern, that at the moment there is not a cohesive Republican strategy of this is what we're going to do," Bennett told the AP. "And certainly among the tea-party types there's clearly no strategy of this is what we're going to do."
So the concern is really two-fold. First, that voters will come to associate the Tea Party movement, and some of it's more controversial views, with the GOP as a whole. Second, that "Tea Party" candidates like Rand Paul, Mike Lee, and Sharron Angle will be "difficult to manage" should they win their elections.
As to the first concern, that's a matter of closing the barn door after the cows have already escaped. For better or worse, the Tea Party is the GOP and the GOP is the Tea Party. There may have been a time when the Tea Party movement was non-partisan, but that pretty much ended after groups like Dick Armey's FreedomWorks and Newt Gingrich got involved. Now, with Sarah Palin quite openly pushing for the movement to reject anything other than Bushian nation-building as a foreign policy, it's quite clear that while the Tea Party may be a grassroots organization is a distinctly Republican grassroots organization. There's nothing wrong with that, but it is time to give up on the illusion that the GOP and the Tea Parties are somehow distinct.
As to the second concern, the impact of the "Tea Party" Congressmen and Senators on their respective institutions depends largely on how many of them there are. On the Senate side, it would seem that they're unlikely to amount to much more than a strong obstructionist bloc within the GOP, which will likely still be the minority party in the Upper House. In the House, it depends on how large any Republican majority turns out to be (if there is one). If the GOP only holds the House by a handful of votes, then the ability of a "Tea Party" Caucus to influence the agenda is going to be hampered by both their relative lack of seniority, and the leaderships need to court Democratic votes on many pieces of legislation.
So, will the Tea Party change Congress ? As we've seen recently, change in that institution is very hard to bring it about. Will it change the GOP ? I would say it already has, the only question is whether that will be for better or worse.