Is The Left Losing Patience With Obama?
Some on the left are upset with the President, but does it really matter?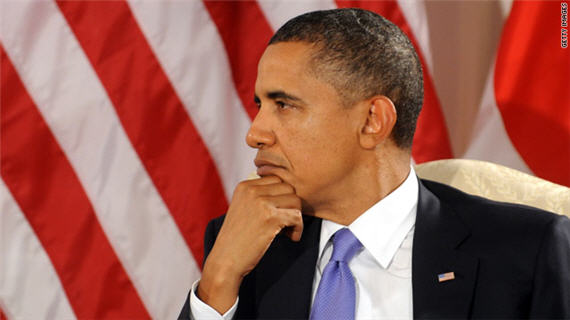 A recurring theme over the past two years has been the sometimes apparently tense relationship between the Obama Administration and self-identified progressives who look at Barack Obama and see a President who's done more to compromise with the GOP than advance the goals that, they believed, he had campaigned on. We saw it during the debate over health care reform when the Administration didn't get behind the calls for a single-payer plan and instead went with a reform package that, in the end, amounts to a huge subsidy to the health insurance industry. We saw it in the growing frustration last year among those trying to repeal Don't Ask, Don't Tell who felt the Administration was moving too slowly. We saw it  again last December when the President undercut House and Senate Democrats and cut a deal with the GOP over the Bush tax cuts, and we are seeing it now in the debt ceiling negotiations which some on the left seem to think is becoming a total capitulation on the President's part.
Is it a real problem for Obama, or just a flash in the pan?
Well, according to a new CNN poll, the President's job approval is taking a dip right now thanks mostly to a drop in support from the left:
President Barack Obama's approval rating is down to 45 percent, driven in part by growing dissatisfaction on the left with the president's track record in office, according to a new national survey.

(…)

According to the poll, the president's 45 percent approval rating is down three points from June. Fifty-four percent of people questioned disapprove of how Obama's handling his duties, up six points from last month. His 54 percent disapproval rating ties the all-time high in CNN polling that the president initially reached just before last year's midterm elections.

"But drill down into that number and you'll see signs of a stirring discontent on the left," says CNN Polling Director Keating Holland. "Thirty-eight percent say they disapprove because President Obama has been too liberal, but 13 percent say they disapprove of Obama because he has not been liberal enough – nearly double what it was in May, when the question was last asked, and the first time that number has hit double digits in Obama's presidency."

Looking at that figure another way, roughly one in four Americans who disapprove of the president say they feel that way because he's not been liberal enough.
Added to that is the news, coming via Jazz Shaw at Hot Air, that Bernie Sanders thinks that someone on the left needs to primary the President:
Today, while appearing on Thom Hartmann's radio show, Sen. Bernie Sanders (I-VT) — who, while being an independent, caucuses with the Democrats — said that one way progressives can make sure Obama does not enact huge cuts to major social programs is to run a primary challenger against him. Sanders told a listener who called in to protest a debt ceiling deal that cuts Social Security that such a challenge would be a "good idea":

SANDERS: Brian, believe me, I wish I had the answer to your question. Let me just suggest this. I think there are millions of Americans who are deeply disappointed in the president; who believe that, with regard to Social Security and a number of other issues, he said one thing as a candidate and is doing something very much else as a president; who cannot believe how weak he has been, for whatever reason, in negotiating with Republicans and there's deep disappointment. So my suggestion is, I think one of the reasons the president has been able to move so far to the right is that there is no primary opposition to him and I think it would do this country a good deal of service if people started thinking about candidates out there to begin contrasting what is a progressive agenda as opposed to what Obama is doing. […] So I would say to Ryan [sic] discouragement is not an option. I think it would be a good idea if President Obama faced some primary opposition.
Of course, Bernie Sanders does not exactly represent the centers of power in the Democratic Party, or on the left generally. The criticisms he makes of Obama are similar to those you hear from the left, however, and he did become something of a folk hero for many on that side of  the political divide when he spent nine hours on the Senate floor in December railing against the idea of extending the Bush tax cuts for "the rich."
Sanders' message may resonate with some on the left, but I honestly don't see this as a serious proposal, or as a sign of a real break between Obama and his most ardent supporters on the left. As I noted back in December, the history of primary challenges to sitting Presidents shows that all they tend to do is weaken the incumbent for the General Election, not teach them a lesson:
In modern times, of course, primary or nomination challenges to incumbent Presidents have rarely been successful. The last time it happened was in 1884 when Chester Alan Arthur was denied the Republican nomination in favor of James G. Blaine. More recently, though, such challenges have manged to cause lasting damages even when they weren't successful. Lyndon Johnson faced such vehement challenges from the left over the Vietnam War in 1968 that he decided not to run for re-election, Ted Kennedy's challenge to Carter proved to be the beginning of the end of Carter's Presidency, and Pat Buchanan's challenge to George H.W. Bush in 1992, which included a surprisingly strong showing in the New Hampshire primary, weakened Bush significantly heading into that year's General Election campaign. Something similar could happen to Obama in 2012, especially if the economy has not recovered or if he continues down his current road of doing everything he can to anger progressives. A challenge from the left may not matter in the end, or it could be the final blow for a President who by then may have taken four long years of blows.
Why the left would want to damage Obama and help the Republicans is beyond me. Additionally, there really isn't anyone on the left with the stature to take on the President. Of the names most frequently mentioned, only Russ Feingold has significant national name recognition. Others, like Alan Grayson, would be little more than the left's version of Pat Buchanan. Nowhere is there a modern equivalent of the stature inside the Democratic Party of a Ted Kennedy. So the idea of a primary challenge this late in the game seems to me to be nothing more than grousing on the part of the left over the fact that they haven't gotten everything they wanted.
More importantly, though, it really doesn't seem like Obama has much to worry about from the likes of Bernie Sanders or Jane Hamsher when you look at numbers like this: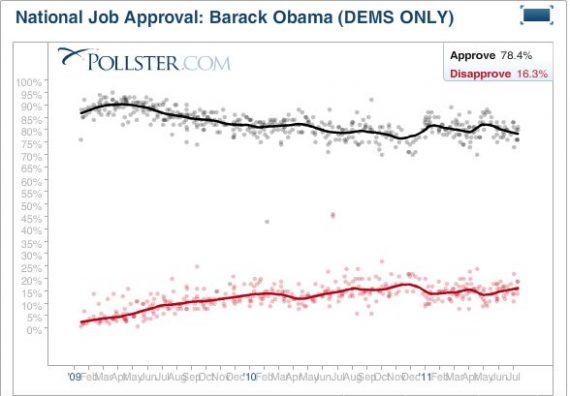 This number has been remarkably steady over the past two and a half years, and it seems unlikely to change.  If Democrats as a whole aren't upset with Obama, and they clearly aren't then I don't think the President really needs to worry about what a few bloggers and pundits on the left are saying.