Is the Race Narrowing?
Trump has pulled ahead in some individual polls but Biden continues to have a commanding lead.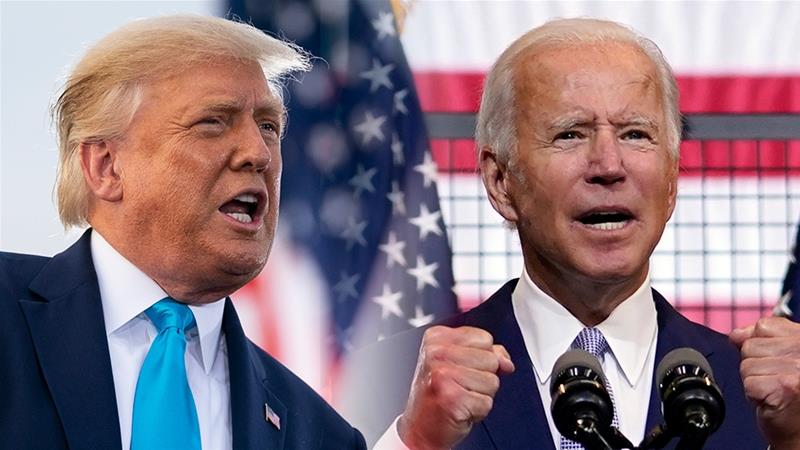 Democrats and Anti-Trump Republicans fearing a repeat of 2016 have added anxiety this morning, as some swing state polls are showing movement in Trump's direction.
The reputable Des Moines Register ("Iowa Poll: Donald Trump takes over lead in Iowa as Joe Biden fades") shows a big change in the Hawkeye State:
Republican President Donald Trump has taken over the lead in Iowa as Democratic former Vice President Joe Biden has faded, a new Des Moines Register/Mediacom Iowa Poll shows just days before Election Day.

The president now leads by 7 percentage points over Biden, 48% to 41%. Three percent say they will vote for someone else, 2% aren't sure and 5% don't want to say for whom they will vote.

In September's Iowa Poll, the candidates were tied at 47% to 47%.
As we've noted here many times, one problem with projecting state outcomes is that there is a relative dearth of polling. The same poll shows a key Senate race swinging back to the incumbent Republican ("Republican Joni Ernst pulls ahead of Democrat Theresa Greenfield in closing days of U.S. Senate race").
Similarly, some polls are showing a tightening in Pennsylvania. The Washington Post ("Democrats grow more anxious about Pennsylvania") notes that the Democrats are definitely concerned about the Keystone State. Still, that's only partly about the polls.
Joe Biden on Saturday prepared to mount a last-minute, two-day blitz of Pennsylvania, amid concern among some local Democrats about a potential late shift that would threaten his narrow advantage there and mirror President Trump's 2016 comeback.

Most Democrats still believe Biden will capture Pennsylvania, and he maintains a modest polling lead there, but their confidence has eroded in recent weeks with emerging signs of a tightening contest in the state, according to elected officials, strategists and party activists. Both sides believe the outcome in Pennsylvania will be crucial in determining who wins the White House.

The causes of Democrats' anxiety are varied. They worry about potential trouble with mail-in ballots during a pandemic. They are concerned about the prospect of a voter surge in White, rural areas favorable to Trump and signs of lower-than-anticipated turnout among the Democratic base.

They are nervous about GOP efforts to place limits on voting. They cringe at the recent looting and violence in Philadelphia, which Trump has seized on to portray Biden as weak on crime and hostile to police. And they harbor lingering concerns about Biden's muddled rhetoric on oil and gas, which has prompted inaccurate attacks that he advocates ending fracking.

"I am worried about Pennsylvania," said Neil Oxman, a veteran Democratic strategist based in the state. Oxman cited several concerns, including the possibility that Trump's base "will come out just a little bit stronger than our base."

Many Democrats acknowledge that their doubts may be exaggerated by what happened four years ago, when Trump shocked analysts by narrowly winning Pennsylvania — a loss that Democrats did not see coming and have yet to fully recover from emotionally. Since then, consistent Democratic electoral gains in Pennsylvania have prompted Republicans' own alarms about the state.
The polling aggregators, however, continue to show an overwhelming Electoral College margin for Biden. The FiveThirtyEight gang gives him a 91% chance of winning: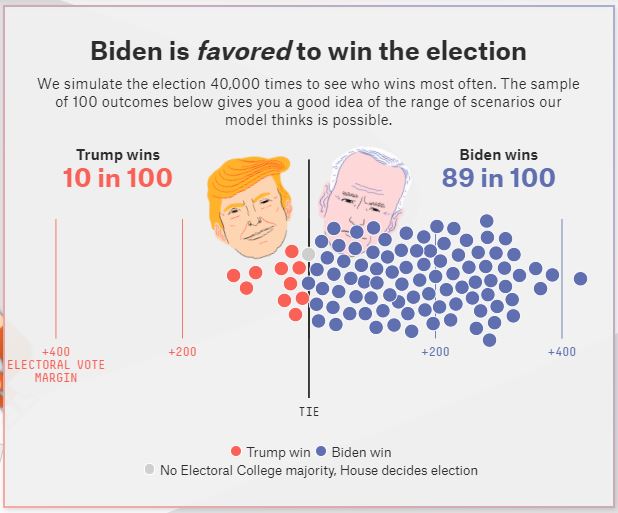 And their Electoral vote projection is actually up slightly, to a whopping 348 (remember, 270 is the threshold to win):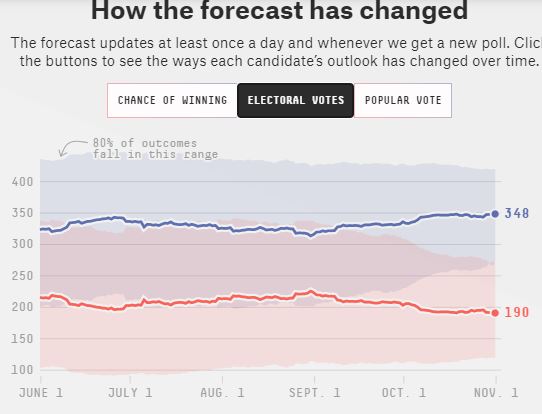 The slightly-Republican-leaning RealClearPolitics actually has it at 350-188 with tossups removed: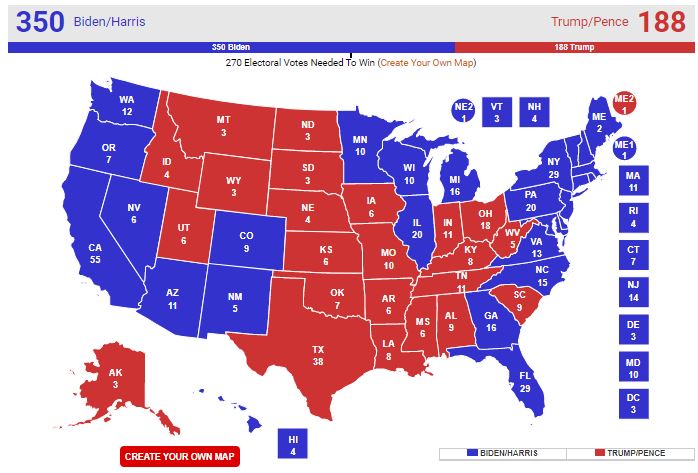 Even with tossups, Trump has to nearly run the table:
The headline of Nate Silver's Halloween post says it all: "Trump Can Still Win, But The Polls Would Have To Be Off By Way More Than In 2016."
No, I don't know who's going to win the election. According to our forecast, President Trump still has a chance at a second term: a 10 percent chance, to be more specific.

But — even though we'll still get a ton of polls on Sunday and Monday — I've seen enough based on the polls we got earlier this week to know that things aren't likely to change all that much in our forecast between now and just after midnight on Tuesday, when we'll freeze it.

There just hasn't been any real sign that the race is tightening. If anything, Joe Biden's margins are expanding slightly in the Upper Midwest. And there isn't any particular reason to expect the race to tighten when more than 90 million people have already voted and the most important news story — that the United States just set a record for the number of COVID-19 cases in a day — is a negative one for Trump.

In fact, in many states, such as North Carolina, we've gotten what are likely to be the final polls of the state from most of the major polling firms. The one important exception is Pennsylvania, which some high-quality pollsters seem to have kept as the last state they're planning to poll. And those polls could matter quite a bit. Pennsylvania is the most likely tipping-point state (it delivers the 270th electoral vote around 37 percent of the time in our forecast), so any deviation from Biden's current 5.1-point lead in the polls there — say, if Biden climbs to a 6-point lead or falls to a 4-point lead — could make a fairly big difference in our forecast.
There's a lot more there but you get the gist.
Looking at the RealClearPolitics no-tossup map again, we see that Biden needs to pick up only 54 Electoral votes, whereas Trump needs 145. Of the tossups, only Ohio, Texas, and Iowa are leaning in Trump's direction—that's only 62 Electors. Let's give him North Carolina, Georgia, and Florida, too. That's another 58 Electors, for a total of 120. He'd still need 25. Even adding Pennsylvania would leave him 5 short. And that's with me flipping five states RealClearPolitics has going to Biden.