Is The Sex In "Game of Thrones" Gratuitous?
HBO's Game of Thrones is violent and full of sex. Is it too much? [FAIR WARNING: SPOILERS]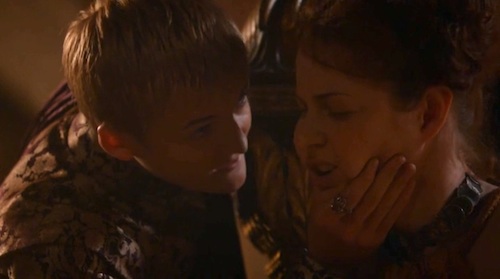 io9 raises the question of whether the "gratuitous sex" in HBO's Game of Thrones is "worse" than the "gratuitous violence." I'm not sure the violence is gratuitous. Westeros is a brutal place, the lands across the Narrow Sea arguably more so (or, perhaps, just differently so). It's possible, though (a la Bart Simpson), that I'm merely desensitized to it. Sex on the show, on the other hand, has always stood out, even by subscription cable show standards.
Merriam-Webster defines gratuitous as "uncalled for; lacking good reason; unwarranted." So, is the sex in Game of Thrones gratuitous? Or, more to io9's point has it become so? io9 states it as fact: "both the sex and the violence have both been more gratuitous lately." I think so, too, though not for everyone.
*** SPOILERS FOLLOW ***
There are several elements in Season 2 of Game of Thrones I could quibble with. But, on the whole, most of the changes they've made are legitimate ones given they're translating a dense book into a mere ten hours of television. To the extent all the sex furthers world building, it's perfectly fine. But Season 1 had already gone past this point and Season 2 is indeed allowing it detract from the story. [It's obligatory, I suppose, that I state here that I don't mind sexual content (regardless of the genders of the participants) in my entertainment. What I is bad storytelling–especially where something as fantastic as A Song of Ice and Fire is concerned. To borrow a phrase from a most unlikely source, the issue is not that I don't want any flavor for my fare but, rather, that HBO seems to have decided to put us all on a straight pepper diet.]
Sometimes superficially "gratuitous" sex serves the story. As io9 notes, Theon's real character is demonstrated quite aptly by how he treats his women. The seeds of what's to come are planted even as he seems, with Robb especially, to be loyal, true, and noble. And Littlefinger's speech while "training" his new prostitutes in "You Win or You Die" (repeated, in a nice turn, almost verbatim by Ros in "The North Remembers") was terrific. It tells us far more about Petyr than an equal amount of direct exposition ever could. What useful information, by contrast, did we glean from watching him spy through a peephole on a man being fellated while watching yet another person (also, presuamably, in flagrante delecto) through yet another peephole? That Littlefinger is slimy? That this culture is decadent beyond belief? That one never knows who's watching one? We already knew those things.
The sexual relationship between Renly and Loras in the show has been overblown (no pun intended) from the start. Season 1 made barely the slightest attempt to build up to it. Season 2 goes to an almost ludicrous extreme by having Margaery (worse, it's pretty much her first major scene) offer to bring her brother in to help Renly get in the mood to make an heir. The relationship between Renly and Loras is handled subtly and intriguingly in the books. It's there to be discovered and the reader gets to decide what it means. The show just bludgeons us with it. It's not gratuitous because it's gay male sex on TV but because there's little, if anything, in it that actually adds to the story. Sure, it does eventually serve to illustrate Margaery's pragmatism quite efficiently. But that, too, is done much more effectively in the books in a single conversation–with Sansa, not a man. So far, the show has made Margaery much less than she is in the books, in part due to the sheer bloodlessness of her sexuality.
Likewise, while there are hints in the books that there's another… element to the relationship between Melisandre and Stannis, the subtle approach is thrown out in the show. Instead, all of 10 minutes after a character whose judgment and perspective we're supposed to trust vouchsafes Stannis' unimpeachable honour, Stannis allows that honour to be casually undone by the most cursory of seductions. Thus Stannis' essential nature–his rigidity, pitiless fairness, and honour–is utterly destroyed, rendering him just one more grasping schemer. Westeros has plenty of those as it is. The only conceivable justification for the lengths Stannis goes to in his quest is that he's right. Strip him of his honour and he's worse than Cersei, who makes no pretensions to having any. Ser Davos Seaworth, meanwhile, is one of the few genuinely honest, steadfast characters in A Song of Ice and Fire. He serves to ground the story and provide a moral compass against which to judge all the wickedness around him. The show all but screams at us here that his judgment is severely flawed.
Joffrey's birthday present scene has disturbed a lot of people, but that one, I think, works. The Joffrey depicted in the show is fully and completely the rash boy who takes Ned Stark's head over his mother's orders to let him take The Black. In the books, he's sadistic and cruel but has somewhat less individual agency. He doesn't sideline Cersei so completely as the TV character who threatens to kill her, for instance. As translations to a different medium go, that's within reason. Sex and violence are inextricably linked in A Song of Ice and Fire and Joffrey is everything that's wrong with Westeros distilled to its essence. So, yes, that scene could have been done with a lighter touch, but it makes sense that it's as extreme as it is, too.
In stark (again, no pun intended) contrast with almost everyone else, Daenerys' sexuality has been handled pretty close to perfectly throughout. Not coincidentally, the show runners haven't strayed much from the source material there. I can't imagine they'll resist the mild lesbianism in the books forever, but I do hope they don't ruin it when Daario Naharis makes his appearance.
Strangest of all, Tyrion–perhaps the most overtly sexual major character in the books–is the one they've chosen to approach with actual subtlety. It makes one wonder if HBO didn't decide that showing a midget having constant sex wouldn't be a shade too big (this pun intended) a step to take. So, with him we get a less-is-more, implied approach to sex. And until I specifically turned my thoughts to it while writing this, I hadn't really noticed. Would that we could have had more of that with Renly and Loras. It would have made for a better show.
I'm still really enjoying the show, though not quite as much as the first season. I just hope they dial it back down at some point or the they'll end up with no ways left to top themselves (as they seem to think they must) that doesn't involve direwolves or The Others.