Is the Syrian Military Fracturing?
It appears that the Syrian military is starting to fracture. Exactly how widespread this is remains to be seen.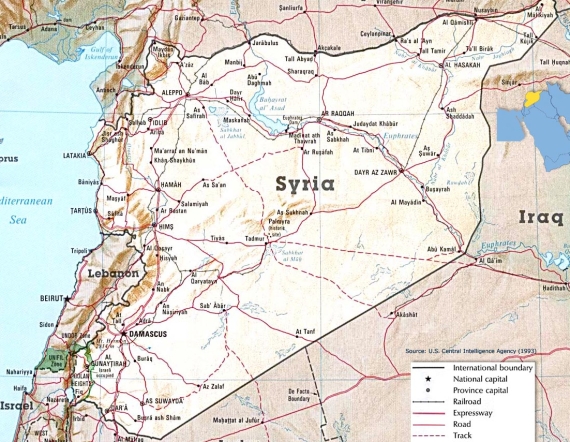 Via al Jazeera English:  Syrian army 'cracking' amid crackdown
The escalating military offensive in northwest Syria began after what corroborating accounts said was a shoot-out between members of the military secret police in Jisr al-Shughur, some of whom refused to open fire on unarmed protesters.

A growing number of first-hand testimonies from defected soldiers give a rare but dramatic insight into the cracks apparently emerging in Syria's security forces as the unrelenting assault on unarmed protesters continues.
The situation appears significant enough that state-run media are having to admit it (after a fashion):
state-run Syria TV admitted that gunmen "in military uniform" were responsible for the killing of the 120 security personnel, with SANA, the official news agency, claiming the assailants had stolen the uniforms and that residents were now pleading for the army to intervene.
The story has a number of specific examples, including the following:
On Saturday, news broke that a lieutenant colonel had defected with a number of his troops and joined residents of Jisr al-Shughur, according to an activist who spoke to Al Jazeera, an account corroborate by reporting from the Local Coordination Committees of Syria (LCC).

The activist said the lieutenant colonel defected during an operation in Bdama village, 10km west of Jisr al-Shughur, taking 150 armed troops with him to support the besieged town.

In a video published on June 10, a man claiming to be officer in the 11th Battalion announced his defection from the army, saying he and other soldiers had joined the uprising after being unable to continue killing unarmed protesters, particularly what he called the "massacre" in Jisr al-Shughur on June 4.

"Our current aim is the protection of the protesters who are asking for freedom and democracy," said the man, giving his name as officer Hussein Harmoush.
Also:
For defector Ali Hassan Satouf, the breaking point came during last month's military assault on the port city of Baniyas.

Unlike most Syrian soldiers, Satouf joined the army voluntarily. As a non-conscripted sergeant major Satouf's loyalty to the defence of his country ran deep, a belief that he was protecting Syria from its enemies abroad, primarily Israel.

So when the young man from the northwest received orders to deploy to Baniyas to battle "terrorist armed groups coming from outside Syria, terrifying people" he did not hesitate to do his duty.

Until he realised he had been lied to.

"When we went to Baniyas we didn't find any terrorist groups. We found only peaceful demonstrations," he said in a video recorded on June 6. "Some of the young men had bare chests. And all the chants were for freedom and reform."
Clearly, widespread defections/unwillingness to attack civilians would be a major development (and a serious threat to the regime).  One of the key questions in any event of this nature is the degree to which the military will be willing to fire on civilian protestors.