Is There Really A "Congressional Exemption" From Obamacare?
The news PPACA controversy appears to be based on a complete misunderstanding of one provision of the law.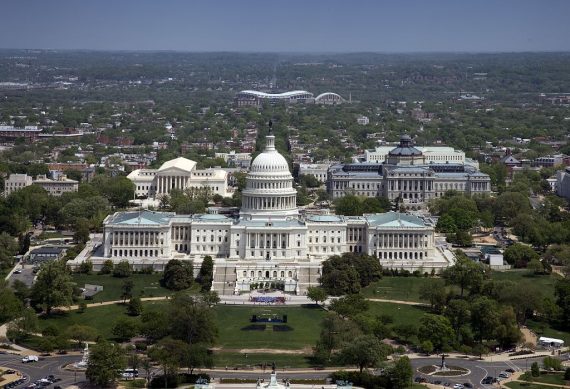 One of the main talking points during last night's back and forth between the House and Senate was the so-called Vitter Amendment which purports to strip from the Affordable Care Act an "exemption" provided to Members of Congress and Congressional staff that is not available to other Americans when it comes to the Affordable Care Act. Last night, Republican after Republican Member of the House cited the unfairness of Congress getting something that the average American wouldn't be getting under the law. As a talking point, it's likely one that resonates well. The only problem, as National Review's Patrick Brennan points out, is that there really isn't a "Congressional Exemption" at all. As Brennan explains, the whole issue has its origins in the fact that, unlike anyone else in America, Members of Congress and Congressional employees were forced onto the exchange via an amendment first introduced by Iowa Senator Chuck Grassley that he now says was vastly re-written from what he originally intended. Because of that mandatory exchange membership, though, Congressional employees were placed at a distinct disadvantage vis a vis other Americans:
The law thus treats Congress and its staff substantially differently than all other Americans. Many Americans who now get insurance coverage from their employer may end up having to go on the exchanges; but only congressional employees are actually forced onto them, with the option of an employer plan prohibited by law. In the private sector, some of the savings from ending employer plans can go to higher wages, which employees can use to buy insurance from the exchanges. (Though that contribution will probably be after-tax earnings, rather than the pre-tax premium contributions employers make now.) It's possible there will be exceptions, but for the most part the market simply won't allow companies to cut an employee's compensation by as much as yanking away their entire employer health-care contribution amounts to.

While Trader Joe's, for instance, is discontinuing its health-insurance plan for part-time employees, the company will be giving each of them $500 a year — which sounds like a pittance, but when it is combined with the subsidies that low-wage employees like these will receive, coverage on the exchanges will actually cost most employees less out-of-pocket than what they got from their employer. There will be no such substitution in congressional offices, because the amendment does not increase the budget for legislative salaries. Some congressional employees would receive tax-credit subsidies on the individual market, like low-wage workers, but most would not.

When you hear about a "congressional exemption" from Obamacare, this refers to the fact that the Office of Personnel Management, part of the executive branch, has chosen to make up for this differential treatment by paying part of congressional employees' health-care premiums on the new exchanges. They haven't been "exempted" from the amendment that forces them onto the exchanges, in a way no other American is.

OPM decided to contribute the same amount to these exchanges that the government now spends on congressional employees' health benefits ($5,000 for individuals, $11,000 for families). This decision was probably illegal, since Congress didn't authorize funds for the plan, as Cato's Michael Cannon explains.

Congressmen and their staff, then, are getting a questionable workaround from the law — but it's from a provision of the law that treated them particularly badly rather than neutrally. The net result of the law and the workaround isn't a "special handout" for congressional employees.
So, the so-called "exemption" isn't an exemption at all, but rather an effort to even the playing field between Congressional employees —- and there are some 16,000 of them not including Members of Congress and the Senate — and ordinary Americans. Doing this through the Office of Personnel Management is questionable legally, I agree, but calling it an exemption simply isn't true. Additionally, it's also untrue to suggest that Congressional employees are getting anything here that ordinary Americans wouldn't be entitled to as well since there is nothing in the PPACA that bars private employers from providing a subsidy, in the form of additional salary, for employees that are being forced to go onto the health insurance exchanges. As Brennan notes, this is what Trader Joe's is doing as, apparently, are other employees, most likely because the private employers believe it will be a money saver for them in the long run. Given this, the entire attempt to turn this into some kind of populist "us v. them" issue simply isn't correct.
Of course, all of this goes back to an idea that has always resonated with the public, namely that Congress should be "forced to live" with the same laws that they pass for the rest of America. That's an idea I can get behind, actually. However, in this case what happened, apparently because of bad law writing, is that Congressional employees have been placed in a situation where they are going to be treated worse than the rest of America because they would not be entitled to any kind of employer subsidy at all for insurance purchased via the exchange. In other words, they'd be punished for working for Congress. If that's not an incentive for some of them to consider jumping ship, I don't know what is.
Brennan wraps it up:
With the destructive effects of Obamacare looming, this punishment may sound appealing. But do we really approve of the idea in other circumstances? Do we believe that Congress and its staffers should pay the highest marginal tax rates, regardless of income; that every congressman must have served in the military to vote to declare war; that congressional offices have to carry out any and all reporting requirements and regulations they impose on a particular industry; and so on? There are probably better ways to prevent Congress from passing bad laws.
There is, it's called holding them accountable at the ballot box.