Is Urban Meyer Worth $26 Million?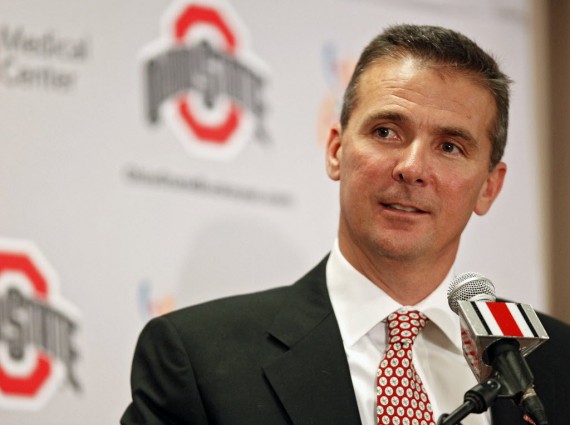 Reacting to Monday's news that The Ohio State University had hired former Florida Gators coach Urban Meyer to be the new Buckeye's Head Coach and given him a 6-year contract worth $26,000,000 not including benefits and bonuses, Bill Press is rather obviously upset:
I'm sorry, but no football coach, no matter how successful, is worth that much. Ohio State President Gordon Gee, who makes a measly $1.32 million a year, defended Meyer's contract as "a mark of our dignity and nobility." Really? If you ask me, it's a mark of their stupidity — and misplaced priorities.

This is hardly the year to be glorifying college sports. Americans were still reeling from disgusting details about Jerry Sandusky's behavior at Penn State when news broke of a similar scandal at Syracuse University. The University of Miami was rocked by reports of a wealthy supporter rewarding players with lavish gifts ranging from cash payouts to entertainment, jewelry and prostitutes. And Meyer's position at Ohio State only opened up after Jim Tressel was fired over players trading memorabilia for cash and tattoos.

Sports columnist Christine Brennan has called this a "watershed moment" for college football. And she's right. Instead of continuing to pump ever more money into sports, this is a time for college officials to step back and do some serious soul-searching about the true purpose of the university — and what role, if any, sports should play.

Sure, football and basketball bring in tons of revenue to college campuses, but to what end? Do they help the university turn out more and better researchers and scientists? Or do they further confirm the reputation of the university as a big-time sports entertainment center?
The answer, really, is quite simple. According to a 2009 Forbes analysis, the Buckeyes are the 8th most valuable College Football team in the country: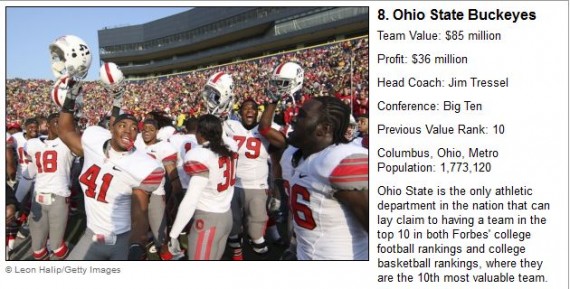 Every bowl appearance, every National Championship, just makes a football program more valuable. If you can hire a coach that makes that possible, then you pay them a lot of money. It's not all that different from the reasons that corporate CEO's end up getting paid large amounts of money. Is it something a University should be doing? That's another question. Eliminating "big time" football altogether would remove a significant revenue stream from the communities of countless numbers of college towns around the country, and that's no small thing I would submit.