ISIS is What it Says it Is
The Atlantic has a fascinating cover story by Graeme Wood titled "What ISIS Really Wants."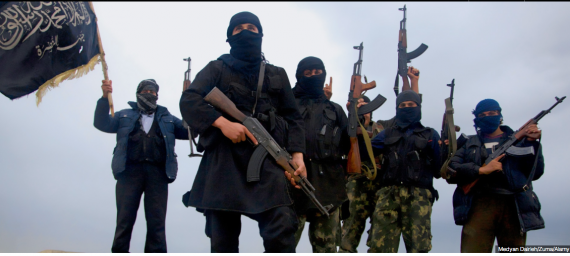 The March issue of The Atlantic has a fascinating cover story by Graeme Wood titled "What ISIS Really Wants." It's a long read but I commend it to you in its entirety. My excerpts below are only a glimpse of the complex argument.
The thesis:
The Islamic State, also known as the Islamic State of Iraq and al-Sham (ISIS), follows a distinctive variety of Islam whose beliefs about the path to the Day of Judgment matter to its strategy, and can help the West know its enemy and predict its behavior. Its rise to power is less like the triumph of the Muslim Brotherhood in Egypt (a group whose leaders the Islamic State considers apostates) than like the realization of a dystopian alternate reality in which David Koresh or Jim Jones survived to wield absolute power over not just a few hundred people, but some 8 million.
A key running theme is that ISIS is not, as President Obama would have it, a "jayvee al Qaeda."
Bin Laden viewed his terrorism as a prologue to a caliphate he did not expect to see in his lifetime. His organization was flexible, operating as a geographically diffuse network of autonomous cells. The Islamic State, by contrast, requires territory to remain legitimate, and a top-down structure to rule it. (Its bureaucracy is divided into civil and military arms, and its territory into provinces.)
Additionally, ISIS is very much a religious movement:
Many mainstream Muslim organizations have gone so far as to say the Islamic State is, in fact, un-Islamic. It is, of course, reassuring to know that the vast majority of Muslims have zero interest in replacing Hollywood movies with public executions as evening entertainment. But Muslims who call the Islamic State un-Islamic are typically, as the Princeton scholar Bernard Haykel, the leading expert on the group's theology, told me, "embarrassed and politically correct, with a cotton-candy view of their own religion" that neglects "what their religion has historically and legally required." Many denials of the Islamic State's religious nature, he said, are rooted in an "interfaith-Christian-nonsense tradition."

Every academic I asked about the Islamic State's ideology sent me to Haykel. Of partial Lebanese descent, Haykel grew up in Lebanon and the United States, and when he talks through his Mephistophelian goatee, there is a hint of an unplaceable foreign accent.

According to Haykel, the ranks of the Islamic State are deeply infused with religious vigor. Koranic quotations are ubiquitous. "Even the foot soldiers spout this stuff constantly," Haykel said. "They mug for their cameras and repeat their basic doctrines in formulaic fashion, and they do it all the time." He regards the claim that the Islamic State has distorted the texts of Islam as preposterous, sustainable only through willful ignorance. "People want to absolve Islam," he said. "It's this 'Islam is a religion of peace' mantra. As if there is such a thing as 'Islam'! It's what Muslims do, and how they interpret their texts." Those texts are shared by all Sunni Muslims, not just the Islamic State. "And these guys have just as much legitimacy as anyone else."

All Muslims acknowledge that Muhammad's earliest conquests were not tidy affairs, and that the laws of war passed down in the Koran and in the narrations of the Prophet's rule were calibrated to fit a turbulent and violent time. In Haykel's estimation, the fighters of the Islamic State are authentic throwbacks to early Islam and are faithfully reproducing its norms of war. This behavior includes a number of practices that modern Muslims tend to prefer not to acknowledge as integral to their sacred texts. "Slavery, crucifixion, and beheadings are not something that freakish [jihadists] are cherry-picking from the medieval tradition," Haykel said. Islamic State fighters "are smack in the middle of the medieval tradition and are bringing it wholesale into the present day."

The Koran specifies crucifixion as one of the only punishments permitted for enemies of Islam. The tax on Christians finds clear endorsement in the Surah Al-Tawba, the Koran's ninth chapter, which instructs Muslims to fight Christians and Jews "until they pay the jizya with willing submission, and feel themselves subdued." The Prophet, whom all Muslims consider exemplary, imposed these rules and owned slaves.

Leaders of the Islamic State have taken emulation of Muhammad as strict duty, and have revived traditions that have been dormant for hundreds of years. "What's striking about them is not just the literalism, but also the seriousness with which they read these texts," Haykel said. "There is an assiduous, obsessive seriousness that Muslims don't normally have."
The proclamation of a caliphate has some very big advantages:
To be the caliph, one must meet conditions outlined in Sunni law—being a Muslim adult man of Quraysh descent; exhibiting moral probity and physical and mental integrity; and having 'amr, or authority. This last criterion, Cerantonio said, is the hardest to fulfill, and requires that the caliph have territory in which he can enforce Islamic law. Baghdadi's Islamic State achieved that long before June 29, Cerantonio said, and as soon as it did, a Western convert within the group's ranks—Cerantonio described him as "something of a leader"—began murmuring about the religious obligation to declare a caliphate. He and others spoke quietly to those in power and told them that further delay would be sinful.

[…]

Before the caliphate, "maybe 85 percent of the Sharia was absent from our lives," Choudary told me. "These laws are in abeyance until we havekhilafa"—a caliphate—"and now we have one." Without a caliphate, for example, individual vigilantes are not obliged to amputate the hands of thieves they catch in the act. But create a caliphate, and this law, along with a huge body of other jurisprudence, suddenly awakens. In theory, all Muslims are obliged to immigrate to the territory where the caliph is applying these laws.

[…]

The caliph is required to implement Sharia. Any deviation will compel those who have pledged allegiance to inform the caliph in private of his error and, in extreme cases, to excommunicate and replace him if he persists. ("I have been plagued with this great matter, plagued with this responsibility, and it is a heavy responsibility," Baghdadi said in his sermon.) In return, the caliph commands obedience—and those who persist in supporting non-Muslim governments, after being duly warned and educated about their sin, are considered apostates.

[…]

The Islamic State differs from nearly every other current jihadist movement in believing that it is written into God's script as a central character. It is in this casting that the Islamic State is most boldly distinctive from its predecessors, and clearest in the religious nature of its mission.
That mission, alas, is apocalyptic:
In broad strokes, al-Qaeda acts like an underground political movement, with worldly goals in sight at all times—the expulsion of non-Muslims from the Arabian peninsula, the abolishment of the state of Israel, the end of support for dictatorships in Muslim lands. The Islamic State has its share of worldly concerns (including, in the places it controls, collecting garbage and keeping the water running), but the End of Days is a leitmotif of its propaganda. Bin Laden rarely mentioned the apocalypse, and when he did, he seemed to presume that he would be long dead when the glorious moment of divine comeuppance finally arrived. "Bin Laden and Zawahiri are from elite Sunni families who look down on this kind of speculation and think it's something the masses engage in," says Will McCants of the Brookings Institution, who is writing a book about the Islamic State's apocalyptic thought.

[…]

The Islamic State has attached great importance to the Syrian city of Dabiq, near Aleppo. It named its propaganda magazine after the town, and celebrated madly when (at great cost) it conquered Dabiq's strategically unimportant plains. It is here, the Prophet reportedly said, that the armies of Rome will set up their camp. The armies of Islam will meet them, and Dabiq will be Rome's Waterloo or its Antietam.

"Dabiq is basically all farmland," one Islamic State supporter recently tweeted. "You could imagine large battles taking place there." The Islamic State's propagandists drool with anticipation of this event, and constantly imply that it will come soon. The state's magazine quotes Zarqawi as saying, "The spark has been lit here in Iraq, and its heat will continue to intensify … until it burns the crusader armies in Dabiq." A recent propaganda video shows clips from Hollywood war movies set in medieval times—perhaps because many of the prophecies specify that the armies will be on horseback or carrying ancient weapons.

Now that it has taken Dabiq, the Islamic State awaits the arrival of an enemy army there, whose defeat will initiate the countdown to the apocalypse. Western media frequently miss references to Dabiq in the Islamic State's videos, and focus instead on lurid scenes of beheading. "Here we are, burying the first American crusader in Dabiq, eagerly waiting for the remainder of your armies to arrive," said a masked executioner in a November video, showing the severed head of Peter (Abdul Rahman) Kassig, the aid worker who'd been held captive for more than a year. During fighting in Iraq in December, after mujahideen (perhaps inaccurately) reported having seen American soldiers in battle, Islamic State Twitter accounts erupted in spasms of pleasure, like overenthusiastic hosts or hostesses upon the arrival of the first guests at a party.
In important ways, this all makes ISIS much harder to defeat than al Qaeda:
Choudary's colleague Abu Baraa explained that Islamic law permits only temporary peace treaties, lasting no longer than a decade. Similarly, accepting any border is anathema, as stated by the Prophet and echoed in the Islamic State's propaganda videos. If the caliph consents to a longer-term peace or permanent border, he will be in error. Temporary peace treaties are renewable, but may not be applied to all enemies at once: the caliph must wage jihad at least once a year. He may not rest, or he will fall into a state of sin.

One comparison to the Islamic State is the Khmer Rouge, which killed about a third of the population of Cambodia. But the Khmer Rouge occupied Cambodia's seat at the United Nations. "This is not permitted," Abu Baraa said. "To send an ambassador to the UN is to recognize an authority other than God's." This form of diplomacy is shirk, or polytheism, he argued, and would be immediate cause to hereticize and replace Baghdadi. Even to hasten the arrival of a caliphate by democratic means—for example by voting for political candidates who favor a caliphate—is shirk.

It's hard to overstate how hamstrung the Islamic State will be by its radicalism. The modern international system, born of the 1648 Peace of Westphalia, relies on each state's willingness to recognize borders, however grudgingly. For the Islamic State, that recognition is ideological suicide. Other Islamist groups, such as the Muslim Brotherhood and Hamas, have succumbed to the blandishments of democracy and the potential for an invitation to the community of nations, complete with a UN seat. Negotiation and accommodation have worked, at times, for the Taliban as well. (Under Taliban rule, Afghanistan exchanged ambassadors with Saudi Arabia, Pakistan, and the United Arab Emirates, an act that invalidated the Taliban's authority in the Islamic State's eyes.) To the Islamic State these are not options, but acts of apostasy.

[…]

Our failure to appreciate the split between the Islamic State and al-Qaeda, and the essential differences between the two, has led to dangerous decisions. Last fall, to take one example, the U.S. government consented to a desperate plan to save Peter Kassig's life. The plan facilitated—indeed, required—the interaction of some of the founding figures of the Islamic State and al-Qaeda, and could hardly have looked more hastily improvised.

[…]

Kassig's death was a tragedy, but the plan's success would have been a bigger one. A reconciliation between Maqdisi and Binali would have begun to heal the main rift between the world's two largest jihadist organizations. It's possible that the government wanted only to draw out Binali for intelligence purposes or assassination. (Multiple attempts to elicit comment from the FBI were unsuccessful.) Regardless, the decision to play matchmaker for America's two main terrorist antagonists reveals astonishingly poor judgment.
So, what, then, should we do instead?
Some observers have called for escalation, including several predictable voices from the interventionist right (Max Boot, Frederick Kagan), who have urged the deployment of tens of thousands of American soldiers. These calls should not be dismissed too quickly: an avowedly genocidal organization is on its potential victims' front lawn, and it is committing daily atrocities in the territory it already controls.

One way to un-cast the Islamic State's spell over its adherents would be to overpower it militarily and occupy the parts of Syria and Iraq now under caliphate rule. Al‑Qaeda is ineradicable because it can survive, cockroach-like, by going underground. The Islamic State cannot. If it loses its grip on its territory in Syria and Iraq, it will cease to be a caliphate. Caliphates cannot exist as underground movements, because territorial authority is a requirement: take away its command of territory, and all those oaths of allegiance are no longer binding. Former pledges could of course continue to attack the West and behead their enemies, as freelancers. But the propaganda value of the caliphate would disappear, and with it the supposed religious duty to immigrate and serve it. If the United States were to invade, the Islamic State's obsession with battle at Dabiq suggests that it might send vast resources there, as if in a conventional battle. If the state musters at Dabiq in full force, only to be routed, it might never recover.

And yet the risks of escalation are enormous. The biggest proponent of an American invasion is the Islamic State itself. The provocative videos, in which a black-hooded executioner addresses President Obama by name, are clearly made to draw America into the fight. An invasion would be a huge propaganda victory for jihadists worldwide: irrespective of whether they have givenbaya'a to the caliph, they all believe that the United States wants to embark on a modern-day Crusade and kill Muslims. Yet another invasion and occupation would confirm that suspicion, and bolster recruitment. Add the incompetence of our previous efforts as occupiers, and we have reason for reluctance. The rise of ISIS, after all, happened only because our previous occupation created space for Zarqawi and his followers. Who knows the consequences of another botched job?
But this actually all leads back to where I've been on this for months: That President Obama's policy, while awful in many ways, is probably the best available course of action:
Given everything we know about the Islamic State, continuing to slowly bleed it, through air strikes and proxy warfare, appears the best of bad military options. Neither the Kurds nor the Shia will ever subdue and control the whole Sunni heartland of Syria and Iraq—they are hated there, and have no appetite for such an adventure anyway. But they can keep the Islamic State from fulfilling its duty to expand. And with every month that it fails to expand, it resembles less the conquering state of the Prophet Muhammad than yet another Middle Eastern government failing to bring prosperity to its people.

The humanitarian cost of the Islamic State's existence is high. But its threat to the United States is smaller than its all too frequent conflation with al-Qaeda would suggest. Al-Qaeda's core is rare among jihadist groups for its focus on the "far enemy" (the West); most jihadist groups' main concerns lie closer to home. That's especially true of the Islamic State, precisely because of its ideology. It sees enemies everywhere around it, and while its leadership wishes ill on the United States, the application of Sharia in the caliphate and the expansion to contiguous lands are paramount. Baghdadi has said as much directly: in November he told his Saudi agents to "deal with the rafida [Shia] first … then al-Sulul [Sunni supporters of the Saudi monarchy] … before the crusaders and their bases."

[…]

Properly contained, the Islamic State is likely to be its own undoing. No country is its ally, and its ideology ensures that this will remain the case. The land it controls, while expansive, is mostly uninhabited and poor. As it stagnates or slowly shrinks, its claim that it is the engine of God's will and the agent of apocalypse will weaken, and fewer believers will arrive. And as more reports of misery within it leak out, radical Islamist movements elsewhere will be discredited: No one has tried harder to implement strict Sharia by violence. This is what it looks like.

Even so, the death of the Islamic State is unlikely to be quick, and things could still go badly wrong: if the Islamic State obtained the allegiance of al‑Qaeda—increasing, in one swoop, the unity of its base—it could wax into a worse foe than we've yet seen. The rift between the Islamic State and al-Qaeda has, if anything, grown in the past few months; the December issue of Dabiq featured a long account of an al‑Qaeda defector who described his old group as corrupt and ineffectual, and Zawahiri as a distant and unfit leader. But we should watch carefully for a rapprochement.

Without a catastrophe such as this, however, or perhaps the threat of the Islamic State's storming Erbil, a vast ground invasion would certainly make the situation worse.
We're almost certainly not going to be able to defeat these guys in the classic Western sense. Unlike al Qaeda or even the Soviet Union, whose leadership mostly manipulated religious or secular ideology to gain support for secular, political goals, Bagdadi and company are true believers. They literally can't compromise. So, short of killing every last one of them—which is perhaps a futile exercise, given the nature of martyrdom, the best we can hope for is to help them fail at their own game while keeping the lightest footprint possible.