Israeli Soldier Freed After Five Years Capitivity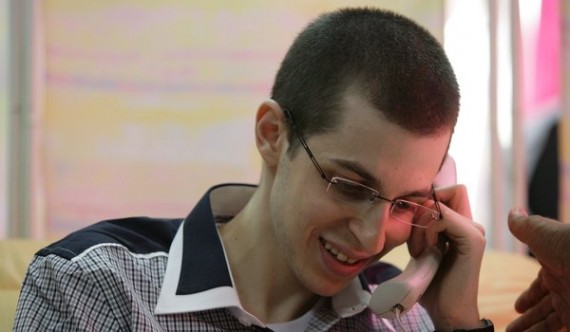 An Israeli solider that has held by Hamas for five years has been released after negotiations that also resulted in the freeing of thousands of Palestinian prisoners:
JERUSALEM — An Israeli soldier held for more than five years by the militant Palestinian group Hamaswas traded on Tuesday for hundreds of Palestinian prisoners in Israeli jails in an elaborate exchange that could shake up regional politics.

Buses containing the Palestinian prisoners — the first group of what will eventually be more than 1,000 — made their way into Egypt and from there to the West Bank and Gaza Strip where jubilant relatives awaited and celebrations were planned.

The soldier, Sergeant First Class Gilad Shalit, was taken from Gaza, where he had been held since being abducted in a cross-border raid in 2006, into Egypt and from there to Israel, where he was given a quick medical check and declared in good health. He changed into a military uniform before being flown by helicopter to an Israeli military base where he met with Prime Minister Benjamin Netanyahu and was reunited with his family.

"Today we are all united in joy and in pain," Mr. Netanyahu said in a televised address from the air base shortly after.

Sergeant Shalit was interviewed on Egyptian television before being handed over to Israel. Sitting in a blue checked shirt and speaking Hebrew, he smiled and reflected on the questions before answering them. He looked thin and pale but appeared otherwise healthy.

Asked if he had feared that he would never get out, Sergeant Shalit answered that he worried it would take many more years although in the past month he suspected a deal was in the works. He said he was told of his release a week ago.

Asked what he missed most in prison, he replied, "My family and my friends and seeing and talking with people. The worst was having to do the same thing every day over and over."

He was told that Israel still had thousands of prisoners and was asked if he would like them released. "I will be happy for them to be released if they don't return to fight us," he said. "I very much hope that this deal will advance peace."

The chief spokesman of the Israeli military, Brig. Gen. Yoav Mordechai, told reporters after Sergeant Shalit was handed over to Israelis, "Not far from here, Gilad's tank was attacked and two armored corps soldiers were killed. In the same area, Gilad Shalit, accompanied by the commander of the south is at this moment being brought to the Amitai base. There he will have medical checks but before that he will talk with his family."

Egyptian television showed Sergeant Shalit being rushed through the Rafah crossing terminal from Gaza into Egypt accompanied by Hamas and Egyptian officials.

Soon afterward, an Israeli military statement said: "Gilad Shalit crossed the border into Israel, ending over five years in captivity."
One can question the wisdom of releasing some 1000 criminals, many of whom had been convicted of terrorist attacks, but it seems hard to me to argue that the government of Benjamin Netenyahu is being soft on terrorism. In fact, the thought occurs that the fact that these parties were able to negotiate this prisoner swap means that they can negotiate after all. But, of course, a prisoner exchange is a far more simple matter than the fundamental disagreements that exist between Israelis and Palestinians so I wouldn't hold out much hope on that end.