Italy's Unelected Government
Italy's new government is comprised exclusively of un-elected experts.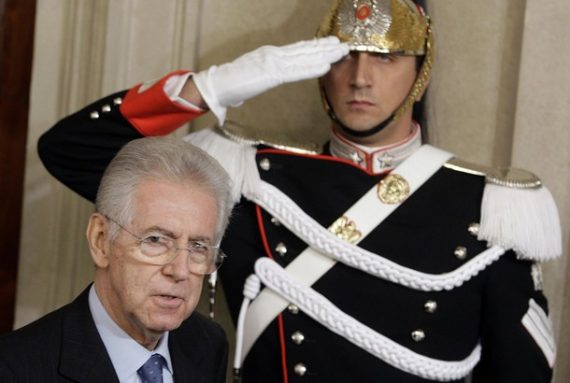 Italy's new government is comprised exclusively of un-elected experts.
FT ("Italy forms cabinet of technocrats"):
Mario Monti will serve as both prime minister and finance minister in Italy's caretaker government of technocrats that was sworn in on Wednesday.

The new cabinet also includes Corrado Passera, head of bank Intesa SanPaolo, in the key post of minister for economic development and infrastructure.

[…]

Mr Monti, appointed last week as senator for life, unveiled a cabinet list made up exclusively of un-elected technocrats after the main political parties refused to take up cabinet posts on offer. The new slimmed-down team includes three women and is dominated by academics and civil servants.

Mr Monti said the main political parties had expressed a clear preference to support the government without taking part in it. He said he reached the conclusion after two days of talks with party leaders that the absence of politicians in the cabinet would "ease" the work of government rather than present an obstacle.
"The strength of a government depends on the capacity to act incisively and explaining to citizens and parliament the meaning and scope of its actions," Mr Monti said.
Now, these are unusual times. And Monti is by all accounts a man of extraordinary talents and ability to inspire confidence. Still, there's something not quite right about trying to save the Eurozone by entirely bypassing the democratic process.
Reuters photo