It's Putin's World, We're Just Living In It
Notwithstanding Russia's weak position vis a vis the west, It's Putin who seems to be winning.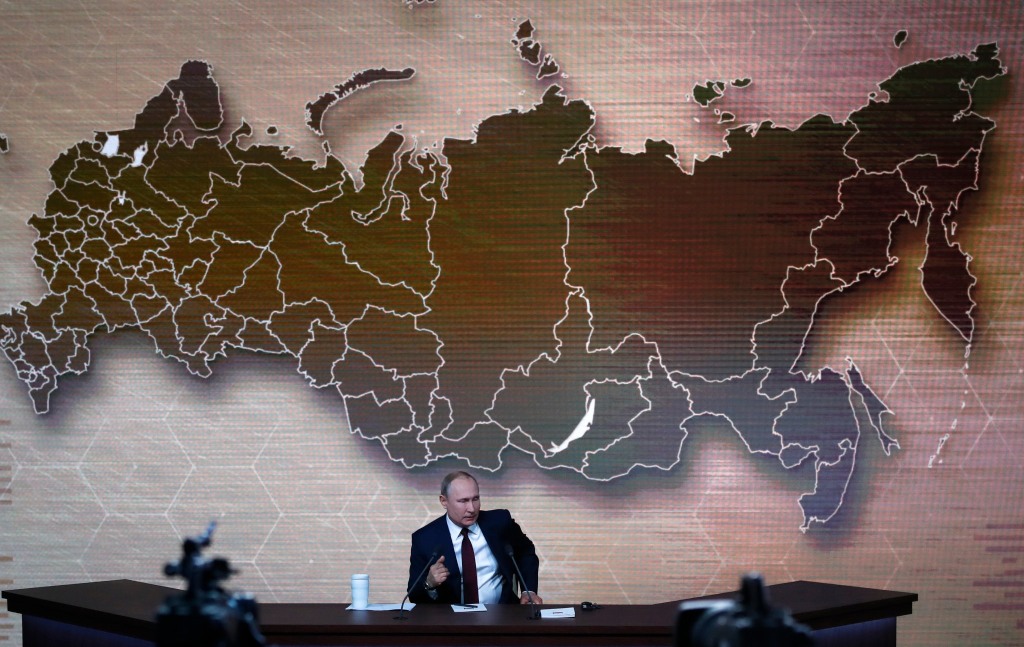 Looking at the numbers, Russia is hardly an imposing figure on the world stage. Yes, it has nuclear weapons and a military large enough to intimidate its neighbors and wage war inside nations such as Ukraine and Georgia. It's also been able to project force to protect its long-standing ally in Syria. Economically speaking, though, it remains very much the"second world nation with nuclear weapons" and "regional power." Absent its oil and natural gas reserves, the nation produces next to nothing of value to the rest of the world. A a result, its economy is especially vulnerable to a drop in the price of oil and natural gas, or to the possibility that current large customers such a the nations of Western Europe could find energy sources from a more trustworthy supplier. Despite all of that, it has proven to be quite adept at moving the chess pieces of the world to its advantage while thoroughly confusing its adversaries in the west:
The United States, an implacable foe during the Cold War but now presided over by a president determined to "get along with Russia," is convulsed and distracted by impeachment; Britain, the other main pillar of a trans-Atlantic alliance that Mr. Putin has worked for years to undermine, is also turning inward and just voted for a government that vows to exit the European Union by the end of January.

The Middle East, where American and British influence once reigned supreme, has increasingly tilted toward Moscow as it turned the tide of war in Syria, provided Turkey, a member of NATO, with advanced missile systems, and signed contracts worth billions of dollars with Saudi Arabia, America's closest ally in the Arab world. Russia has also drawn close to Egypt, another longtime American ally, become a key player in Libya's civil war, and moved toward what looks more and more like an alliance with China.

It has been barely five years since President Barack Obama's dismissive 2014 judgment of Russia as a "regional power" capable only of threatening its neighbors "not out of strength but out of weakness." Its successes raise a mystifying question: How has a country like Russia, huge in size — it has 11 time zones — but puny when measured by economic and other important metrics, become such a potent force?

"When the Soviet Union collapsed, everyone was asking the same question," recalled Nina Khrushcheva, granddaughter of the Soviet leader Nikita Khrushchev and a Russia expert at the New School in New York: "How is it that such a rotten system punched so far above its weight?"

The West, Ms. Khrushcheva said, has repeatedly misread a country whose ambitions are as immense as its territory — it stretches from the Pacific Ocean to the Baltic Sea — and that is often untethered from what looks like reality. Mr. Putin, she said, "is at once a technocrat and a religious zealot, an exhibitionist and a master of secrets. You expect one thing, linearly, and suddenly it's entirely something else, smoke and mirrors."

Under Mr. Putin, Vladislav Surkov, a longtime Kremlin adviser, wrote in Nezavisimaya Gazeta, a Moscow newspaper, earlier this year, Russia "is playing with the West's minds."
Judged by this standard, of course, Putin's plan has arguably been more successful than he probably thought it would be. The past eighteen months have seen partisanship in the United States become even more bitter and divisive than it was during the Obama Era, and given the wide disparity between the way that Democrats and Independents judge the President's performance on the job compared to Republicans, that's only likely to continue. We've also seen this divide in the twin issues of the Russia investigation and the Ukraine scandal that led to the President's impeachment. Poll after poll has shown that Democrats and Independent voters are far more likely to take these matters seriously than Republican voters are. For the latter group, the only thing that matters is defending the President even if it involves accepting as true things such as the ridiculous conspiracy theories regarding Ukraine's involvement in 2016 election interference. Given that, one could say that Putin has already succeeded even if there is no further interference in our electoral process.
In other words, the outcome of the election doesn't really matter to the Russians or other nations that may be involved in such campaigns. What matters is taking advantage of the already existing hyperpartisanship and the political divide to create chaos in the targeted nation and give people like Putin something to point to when they argue that there is nothing about western representative democracy that makes it superior to the way things are done in Russia. Such chaos also has the advantage of distracting Americans and their leaders from what Russia is up to in nations such as Ukraine and other areas of the so-called "near abroad", as well as nations such as Syria and allows Putin to get away with whatever it is he has in mind there.
All of this is happening at the same time that the President continues to drive a wedge between the United States and our traditional allies in western Europe and elsewhere, as I have discussed here, here, and here among other places. This, combined with the chaos in Europe created by Brexit and its future implications for the United Kingdom and European Union, are all serving to help Putin achieve his goal of creating chaos throughout the Western world. All of this was done with a minimal investment of resources, and with seemingly little objection to the rest of the world. No wonder Vladimir Putin is in such a good mood as the decade comes to an end.