James Bond Actor Roger Moore Dead At 89
Roger Moore, who played James Bond for a longer period and in more films than any other actor to date, has died at the age of 89.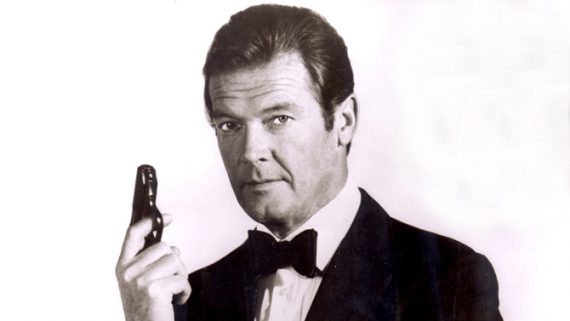 Roger Moore, who played James Bond in seven films from the 1970s through the 1980s, has died at the age of 89:
Roger Moore, the dapper British actor who brought tongue-in-cheek humor to the James Bond persona in seven films, eclipsing his television career, which had included starring roles in at least five series, died on Tuesday in Switzerland. He was 89.

The death, attributed to cancer, was confirmed in a family statement on Twitter. It did not say where in Switzerland he died.

Mr. Moore was the oldest Bond ever hired for films in the canon, taking on the role when he was 46. (Sean Connery, who originated the film character and with whom Mr. Moore was constantly compared, was 33, although in the spoof "Casino Royale," David Niven was in his 50s.) Mr. Moore also had the longest run in the role, beginning in 1973 with "Live and Let Die" and winding up in 1985 with "A View to a Kill."

When he became 007, the author Ian Fleming's sexy secret agent with a license to kill, Mr. Moore was already well known to American audiences. After playing the title role in a British medieval-adventure series, "Ivanhoe," shown in the United States in syndication in 1958, and starring in "The Alaskans," a short-lived (1959-60) ABC gold-rush series, he replaced the departing James Garner in the fourth season (1960-61) of the western hit "Maverick." His decidedly non-Western accent was explained away by the British education of his character, Beauregard Maverick, the original hero's cousin.

From 1962 to 1969 Mr. Moore was Simon Templar, the title character of "The Saint," a wildly popular British series about an adventurous, smooth-talking thief. It did so well in syndication in America that NBC adopted it for its prime-time schedule from 1967 to 1969. Two years later, Mr. Moore and Tony Curtis starred in ABC's one-season series "The Persuaders" as playboy partners solving glamorous European crimes

After surrendering the Bond role to Timothy Dalton, Mr. Moore appeared in a half-dozen largely unexceptional movies, made a few television appearances and did voice work in animated films. Mostly, however, he turned his attention elsewhere, becoming a Unicef good-will ambassador in 1991. He was made a Commander of the British Empire in 1999 and was knighted in 2003.

Roger George Moore was born on Oct. 14, 1927, in Stockwell, South London, the only child of George Alfred Moore, a London police officer who dabbled in amateur theater, and the former Lily Pope. Early on Roger expressed interest in becoming a commercial artist and worked while a teenager at an animation company. But he fell into movie extra work, was encouraged by a director to pursue acting and entered the Royal Academy of Dramatic Art in 1944.

He was drafted during the final year of World War II, serving as a second lieutenant in the Royal Army Service Corps. After the war he did stage work in London and Cambridge, England, and appeared in mostly uncredited movie parts. He left for the United States in 1953.

Mr. Moore made his American television debut that year playing a French diplomat on an episode of NBC's "Robert Montgomery Presents." His film debut was a small role as a tennis pro in "The Last Time I Saw Paris" (1954), starring a young Elizabeth Taylor. His second movie was the romantic melodrama "Interrupted Melody" (1955), with Eleanor Parker. But he soon returned to Britain and spent the rest of his career doing a mix of British, American and European projects.

During his tenure as James Bond, Mr. Moore played almost a score of unrelated acting roles, most notably "The Cannonball Run" (1981), the car-race comedy with Burt Reynolds, and the television movie "Sherlock Holmes in New York" (1976), in which he starred as Holmes and John Huston played Professor Moriarty.

Mr. Moore's only visits to Broadway were brief and, in different ways, unpleasant. In 1953 he had a small role in the British drama "A Pin to See the Peepshow," which opened and closed on the same night. Exactly 50 years later he appeared as the mystery guest star in Hamish McColl and Sean Foley's comedy "The Play What I Wrote" and collapsed onstage. He received a pacemaker at a New York hospital the next day. (He was already a 10-year survivor of prostate cancer.)

In between, Andrew Lloyd Webber cast him in his 1989 musical, "Aspects of Love," in London, but Mr. Moore dropped out a month before the opening, unhappy with his singing voice.

His last film appearance was a supporting role in "The Carer" (2016), about an aging and ailing British actor (Brian Cox).

Mr. Moore married four times and was divorced three. He met his first wife (1946-53), Doorn Van Steyn, at acting school in London. He married Dorothy Squires in 1953 and left her in the early '60s for Luisa Mattioli, whom he had met making an Italian film, but their divorce was not final until 1968. He married Ms. Mattioli the next year and had three children with her. They divorced in 1996, and in 2002 he married the Swedish-born Kristina Tholstrup, who survives him.

He is also survived by his sons, Geoffrey and Christian; a daughter, Deborah; and grandchildren.
More from Variety:
Roger Moore, the handsome English actor who appeared in seven films as James Bond — the most of any Bond actor — and as Simon Templar on "The Saint" TV series, has died in Switzerland after a short battle with cancer. He was 89.

His family issued an announcement on Twitter: "It is with the heaviest of hearts, we must share the awful news that our father, Sir Roger Moore, passed away today. We are all devastated."

Moore appeared in more official Bond pics than his friend Sean Connery over a longer period of time, and while Connery's fans were fiercely loyal, polls showed that many others favored Moore's lighter, more humorous take on 007.

In 1972, Moore was asked to join Her Majesty's Secret Service. He took on the mantle of 007 for 1973's "Live and Let Die," which would lead to six more turns as England's top spy. In addition to reviving the franchise at the B.O. after waning prospects at the end of Connery's run, the new James Bond relied on more humor in stories that cranked up the camp.

Moore as Bond began to shake off the Connery comparisons and pick up speed after 1977's "The Spy Who Loved Me" launched the series into super-blockbuster status, raking in $185.4 million worldwide. Next up, the outer space-traveling "Moonraker" (1979) cumed $202 million and 1981's "For Your Eyes Only" took $194 million.

His next roles were in "Octopussy" (1983) and 1985's "A View to a Kill," in which he surrendered his license to kill.

The young actor came to the U.S. in 1953. MGM signed him to a contract and he received supporting work on several pictures. He played a tennis pro in 1954's "The Last Time I Saw Paris," with Elizabeth Taylor. The role was one of several in the '50s that hinged on his tall, athletic good looks. He would often play royalty or military characters.

Moore had his first taste of smallscreen stardom from 1956-58 as the lead, Sir Winfred, in ITV's "Ivanhoe." While still drawing film roles, he would continue to star in TV programs, following "Ivanhoe" with short-lived ABC Western "The Alaskans" and replacing James Garner in "Maverick" in 1960-61 (Moore played British cousin Beau Maverick). By the time he arrived on "Maverick," its popularity was waning, but Moore won over the cast and crew with his good humor and charm, on-set qualities for which the actor would be known throughout his career.

In 1962, Moore began playing one of the roles that would define his celebrity, dashing thief Simon Templar, who would steal from rich villains each week on "The Saint." The show ran 118 episodes, transitioning from B&W to color and finally wrapping in 1969. The British skein initially ran in syndication in the States but was part of NBC's primetime schedule from 1967-69.

(…)

During his 13 years as 007, Moore landed feature roles in other action films, but none that would compete with the Bond franchise. Movies from that period include 1978's "The Wild Geese," with Richard Burton and Richard Harris, and 1980's "ffolkes" with James Mason and David Hedison, who played CIA agent Felix Leiter in "Live and Let Die."

The actor took great fun in skewering his slick image offscreen and on-, including appearances in "Cannonball Run" and TV's "The Muppet Show," in which he struck out with Miss Piggy; in the 2002 comedy "Boat Trip," he played a flamboyant homosexual with some Bond-like elements, and in 2004 he lent his voice to animated short "The Fly Who Loved Me."

He also occasionally appeared both on the big and small screen. He appeared in the Spice Girls feature "Spice World," provided a voice for "The Saint" feature in 1997, appeared in an episode of "Alias" in 2003 and had a role in the 2013 telepic version of "The Saint" starring Eliza Dushku.

Moore did quite a bit of voice work in the 2000s in pics including "Here Comes Peter Cottontail," "Agent Crush," "Gnomes and Trolls: The Forest Trial," "De vilde svaner" and 2010's "Cats and Dogs: The Revenge of Kitty Galore," whose title was an allusion to Bond girl Pussy Galore of "Goldfinger"; his "Cats and Dogs" character was Tab Lazenby.

He became a UNICEF goodwill ambassador in 1991 and had been an active advocate for children's causes. In 1999, he was honored by the British government with the title Commander of the British Empire.
Although he wasn't a direct successor, Moore played the role of 007, and appeared in more "official" Bond films, than any other actor to have the role, Moore was often compared to the Sean Connery, and one can find people on both sides of the argument as to which actor was better in the role. Connery generally gets the better of that argument, but it's arguably the case that he is in an advantageous position in that argument because he was the actor who had the opportunity to first define the role. Additionally, Connery was younger than Moore during the period that he was playing Bond and brought a different kind of perspective to the role. In reality, the two actors, who were friends away from the camera, brought their own personalities to the role in ways that make them both enjoyable. Connery was the early prototype for the action-adventure hero that we would later see in far more fast-paced films that would come decades later, while Moore was often the more deliberate, suave, charming type of character that he played in The Saint and other roles.
Additionally, the fact that the two actors played the role during different times helped to shape how they portrayed Ian Fleming's iconic character. Connery's Bond films were far more reflective of the Cold War consciousness of the 1960's, especially the era before the cynicism of the Vietnam War set in. Moore, on the other hand, brought more of a sense of humor to the role, in part thanks to the often over the top plots of many of Bond films during the time he played the role. One of the movies that stand out in this regard, of course, is Moonraker, which involved taking James Bond into space in what was possibly the funniest Bond picture to date. Try as hard as you might, it's hard to picture either Sean Connery or Daniel Craig, whose portrayal of Bond in four films over the past twelve years has been equated to Connery, playing that James Bond or the one who appeared in another Moore film in the Bond series, Octopussy. Indeed, more than any other actor who has played the role, Moore brought a sense of fun to the role that made many of his films funny without turning them into satire or comedy. So, in a debate over which Bond is better Connery or Moore, my response would be "both."
One of the more notable things about Moore's time as Bond, as well as Connery's, is the amount of money they were paid for the role. During the time he played the role in six Bond films, Sean Connery was paid less than  $1,000,000 for each film, although he did get either a percentage of the gross or the merchandising revenue for You Only Live Twice and Diamonds Are Forever. For his return to the role in 1983's Never Say Never Again, Connery received $3,000,000 plus some percentage of the profits. (Source) For his seven turns at the role, Moore received a salary that ranged from $100,000 for his first movie to $5,000,000 for A View To A Kill, his final turn at the role. (Source) By contrast, Daniel Craig received $3,400,000 for his first take on the role in Casino Royale and $39,000,000 for his most recent take on the character in Skyfall. (Source) To some extent, of course, this is a reflection of the fact that movies earn much more money in gross terms than they did when Connery and Moore played the role, but it stands at an interesting reflection of how things have changed in the intervening fifty years.
In any event, Moore may not have been the best actor to play James Bond, but for many, including people of my generation who weren't around when Connery's Bond films were released, he was probably the most memorable. He will be missed.
Photo via Variety