James Comey Will Testify Before Congress, And Confirm Pressure By Trump To Drop Investigation
Former F.B.I. Director James Comey is now expected to testify before Congress next week, and will reportedly confirm previous reports that the President pressured him to end the Bureau's Russia investigation.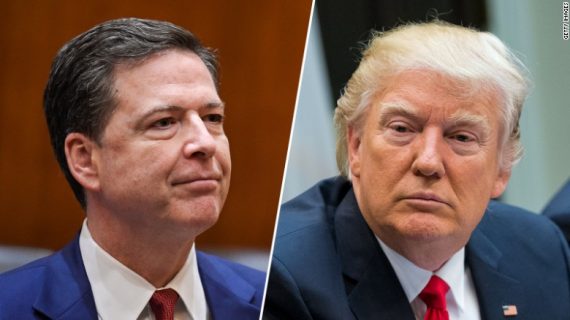 Former F.B.I. Director James Comey has agreed to testify before a Congressional committee regarding his conversations with President Trump about the Bureau's investigation of Russian attempts to interfere with the 2016 election and related matters, and will reportedly confirm the reports that Trump pressured him to drop the investigation:
Former FBI Director James Comey is planning to testify publicly before the Senate Intelligence Committee as soon as next week about his conversations with President Donald Trump about the Russia investigation, a Comey friend confirmed to POLITICO.

As of Wednesday morning, Comey's testimony in front of the committee had not yet been scheduled, though there are talks that the appearance could happen next week, according to a second source familiar with the matter.

Trump abruptly fired Comey in May, as the FBI was apparently ramping up its investigation into Russian interference in the election and possible collusion between Russian officials and the Trump campaign. Comey publicly announced the investigation in March

(…)

The Senate testimony would mark Comey's first public comments since his firing. The news of the timing of Comey's testimony was first reported by CNN.

Comey's appearance would come as Mueller's investigation and staff is starting to take shape.

Mueller's team is expected to include Andrew Weissmann, a longtime DOJ and FBI veteran who helped spearhead the government's prosecutions involving Enron and multiple Mafia crime families, according to two sources who are closely tracking the unfolding investigation. The sources said Weissmann will be on detail to Mueller's special counsel team from his current position as chief of DOJ's criminal division fraud section.
CNN also has the news and reports that Comey will confirm the previous reports about the contents of his conversations with the President:
Fired FBI director James Comey plans to testify publicly in the Senate as early as next week to confirm bombshell accusations that President Donald Trump pressured him to end his investigation into a top Trump aide's ties to Russia, a source close to the issue said Wednesday.

Final details are still being worked out and no official date for his testimony has been set. Comey is expected to appear before the Senate Intelligence Committee, which is investigating possible connections between the Trump campaign and Russia during last year's presidential election.
Comey has spoken privately with Special Counsel Robert Mueller III to work out the parameters for his testimony to ensure there are no legal entanglements as a result of his public account, a source said. Comey will likely sit down with Mueller, a longtime colleague at the Justice Department, for a formal interview only after his public testimony.

When he testifies, Comey is unlikely to be willing to discuss in any detail the FBI's investigation into the charges of possible collusion between Russia and the Trump campaign — the centerpiece of the probe, this source said. But he appears eager to discuss his tense interactions with Trump before his firing, which have now spurred allegations that the president may have tried to obstruct the investigation. If it happens, Comey's public testimony promises to be a dramatic chapter in the months-long controversy, and it will likely bring even more intense scrutiny to an investigation that Trump has repeatedly denounced as a "witch hunt."
When Comey does testify, it would cap off a month of revelations that began with the President's decision to fire Comey which came just days after Comey confirmed in testimony before the Senate Judiciary Committee that the Bureau was investigating both Russian interference in the election and reports about contacts between Trump campaign officials and Russian officials. In the beginning, the Administration claimed that Comey was fired because of his handling of the investigation into Hillary Clinton's private email server, which was discussed at length in a memorandum prepared by Deputy Attorney General Rod Rosenstein. That memorandum focused on the press conference Comey held last July in which he announced that the investigation would be closed without charges being brought and the letter he sent to Congress in October regarding reopening the investigation due to the apparent discovery of new emails. After a few days, though, it became apparent that Comey may have been fired due to the President's frustration with the Russia investigation, something that Trump seemed to confirm. Trump topped off this seeming admission with what appeared to be a threat directed at Comey with 'tapes' of conversations between the two men, implying that he had some kind of taping system in the White House. After that, we learned that Trump asked Comey to drop the investigation into former National Security Adviser Lt. General Michael Flynn and that the White House had learned that Flynn was under investigation prior to naming him National Security Adviser. Finally, roughly two weeks after Comey was fired it was reported that Trump had told the Russian Foreign Minister and Russian Ambassador to the United States that he had fired Comey due to the Russia investigation when he met with them in the Oval Office the day after he fired Comey. Given all of this, the idea that Comey was fired for any reason other than the President's obvious frustration with the ongoing Russia investigation is simply contrary to all of the available evidence.
While no date has been formally set for Comey's testimony, reports are indicating that it is likely to come next Wednesday morning before the Senate Intelligence Committee, which has largely taken the lead in investigating the allegations regarding both Russian interference in the election and the allegations about contact between people close to Trump and Russian officials during the campaign and afterward. Presumably, the testimony will also include production of at least some portion of the memoranda that Comey is said to have written after each of his conversations with the President, although it's possible that portions of those memoranda may be redacted if they contain references to classified material or matters that pertain directly to the ongoing investigation now in the hands of special counsel Robert Mueller. Assuming the testimony goes forward, it's likely to be covered by all the major cable news outlets, and perhaps broadcast live on the broadcast networks as well. After all, it's not every day that a former F.B.I. Director publicly accuses the President of the United States of what seems to be a fairly clear case of attempted obstruction of justice.