James Franco Does It All
James Franco is a film director, screenwriter, painter, author, performance artist and actor. And working on a PhD at Yale.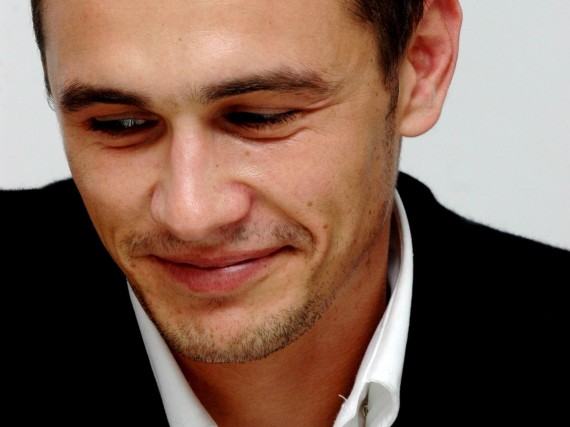 I learned from his recent appearance on one of the late-night comedy shows that actor James Franco was pursuing a PhD in English at Yale. A feature article in yesterday's NYT ("James Franco Straddles Two Roles at Yale") shows just how impressive this is.
On Sunday night he was in Hollywood, as co-host of the Oscar telecast in black tie. At 9 the next morning, he was in a Starbucks in New Haven, hunched over a book and barely recognizable in a gray sweatshirt, but still wearing his tuxedo pants. James Franco, movie star, had rushed back on the red-eye to play his other big role: Yale doctoral student. By 9:25, he was at his seat in a seminar on medieval manuscripts. "I was surprised and delighted that he made it to class," said Jessica Brantley, an associate professor of English. "He's a dedicated student."

[…]

Yale has had its share of screen-star students, including Jodie Foster and Claire Danes, who have walked a delicate line between visibility and aloofness. But by all accounts, Mr. Franco, 32, who arrived last fall as a full-time student in Yale's Ph.D. program in English, has straddled the line like no one else — at once the retiring scholar and the focus of attention.

In campus interviews this week, several people said he had worked to keep his new role more of an intense character part than a lead."He's very good at not attracting attention to himself and blending in," said Michael Warner, chairman of Yale's English department, whose graduate course on Walt Whitman Mr. Franco took last semester. "He goes down in his charisma, and he looks with thoughtful attention at the people around him and doesn't display the Hollywood wattage."

But Mr. Franco, who declined to be interviewed, has hardly escaped the glare of publicity. Student journalists chronicle his every move. Twitter messages breathlessly report sighting him in his habitual hoodie and shades. A student-generated blog, James Franco Has Fun, lampoons all things Franco, soliciting pictures of "James being a crazy dude."

And the fascination is fed by Mr. Franco himself, a self-promoting — and often self-mocking — polymath who is a film director, screenwriter, painter, author, performance artist and actor, with several film projects under way. In addition to the Yale program, which could take several years, he is on track to earn a master's degree in film from New York University this spring. ("It's a full-time program," an N.Y.U. spokesman said. "You can't do it any other way.")

Last year, Mr. Franco received a master's degree in writing from Brooklyn College, and this semester he is co-teaching a course on film editing at Columbia College Hollywood, a private school in Los Angeles. It is called "Master Class: Editing James Franco — With James Franco."

Even at Yale, home of overachievers, he stands out. He has found time to undertake a multimedia musical production with about four dozen undergraduates that will open on campus in April. He is listed as a producer, but has worked with students on all aspects of the show, "The Stargazer," including casting, making script revisions and acting in the film elements.

"We're all really fascinated and awed," said Cokey Cohen, the columnist at The Yale Daily News who drew Mr. Franco's ire. "To see someone who has what we all consider to have an ideal life — with a fun, successful career — to be voluntarily doing so much schoolwork all the time is both really admirable and something I can't even comprehend."

Dr. Warner said the actor's academic ambitions were impressive. "We have had experience before with students pursuing parallel degrees," he said, "although the scale of his obligations is something that we've never seen before — but who has?"
So, let's review: he's been steadily employed as an actor since 1997, including roles in the blockbuster Spider-Man trilogy and; has 10 director credits, 8 writer credits, and 3 producer credits. In his spare time, he's picked up a master's degree, is working on another one and a PhD–and he's teaching a class. All at different institutions separated by, oh, 3000 miles.
He is, let's just say, a rarity. Having the talent to do all these things is unusual enough. Mustering the discipline and willpower to do it all in such a short span even more so. And, frankly, simply being interested enough in all these things to spread himself so thin–he certainly doesn't need a PhD, much less a few bucks from adjunct teaching, after all–may be the most impressive thing of all.
While people tend to think of celebrities as people blessed with good looks and some particular gift, a surprising number of them seem to be good at everything.
Hugh Laurie, the star of House, won the British national title as a junior rower and had a stellar athletic career at Cambridge. In his spare time, he was president of the Footlights comedy troupe and wrote a revue that won the most prestigious comedy prize in the UK.  He also plays the piano, guitar, drums, harmonica, and saxophone.
Danica McKellar, the actress who played Winnie Cooper in the "Wonder Years," is a math genius with a theorem to her credit.
Skunk Baxter, the virtuoso guitarist of Doobie Brothers and Steely Dan fame, is a self-taught engineer and defense guru. He came up with the idea of turning the Aegis ship-based anti-aircraft missile into a ground-based missile defense system. He's been a top DoD consultant for more than two decades, has chaired the Civilian Advisory Board for Ballistic Missile Defense, and serves on NASA'sExploration Systems Advisory Committee (ESAC). Oh, and his music career continues unabated.
Almost all the members of the Monty Python troupe have had enormous success in a wide variety of endeavors. Graham Chapman was a licensed physician, although he never practiced medicine.  John Cleese is a lawyer by training.
And, while Mike Huckabee might not approve of  Natalie Portman, she was a semi-finalist in the Intel Science Talent Search and studied neuroscience at Harvard. The same article notes that Hedy Lamarr was a rocket scientist who came up with several major defense innovations during WWII and the Mayim Bialik of "Blossum" fame has a PhD from UCLA in neurobiology.
There are probably dozens of others who commenters will name.
None of this is to say that everyone–or even most people–who are successful in the entertainment industry are geniuses. But a surprising number of them are.
UPDATE: UCLA's Matthew Kahn notes that Brian May, lead guitarist and prolific songwriter for Queen, recently completed his PhD in astrophysics.