Jay Rosen Retires From Criticizing CNN
The prominent media critic will no longer bother criticizing CNN for not living up to the standards of the profession.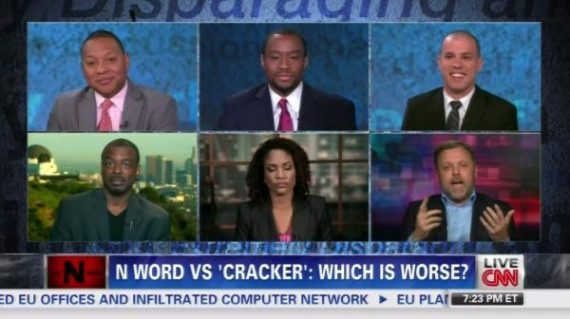 NYU journalism professor and media critic Jay Rosen will no longer bother criticizing CNN for not living up to the standards of the profession.
He begins by quoting Dan Gilmore: "CNN's transition is now complete. The entire channel is basically a version of the Nancy Grace show."
He continues,
As of today, I have retired from criticism of CNN for falling short of some sort of journalistic standard that news providers should maintain. That activity no longer makes sense. Let someone else receive the "ratings, you idiot" replies on Twitter. I'm done. I'm pretty sure you don't care about this announcement, either. Which nicely illustrates why I'm done.

The immediate cause of action is an amusing but also telling column by Jack Shafer of Reuters: In praise of tabloid TV, which explains why critics of CNN are absurd creatures. If you want coverage of Egypt instead of the Zimmerman trial there's plenty of places to find it and besides audiences have always loved murder trials, so who are you to tell them they shouldn't?

[…]

What I was trying to accomplish by criticizing CNN has been overridden by Jeff Zucker. Here's what I mean. CNN's problems were well stated a few years ago by a competitor, Phil Griffin, head of MSNBC, who asked: "What do they stand for?" That is the million dollar question.

[…]

Zucker has ended that by giving his own answer to Phil Griffin's question: what do they stand for? The same thing Entertainment Tonight stands for! Television that occupies your attention, not for a purpose but merely for a while. Another answer might be "drama without dramatists," meaning: drama where the plots and characters are provided by the people unlucky enough to be caught up in tabloid-ish or flashpoint events. Trials are ideal for that, but so is the poop ship. Criticism of these tactics actually tells Zucker that he is on the right track. Now the ratings are up relative to his competitors, and nothing ends the conversation like an uptick in the numbers. Unless it's bringing back Crossfire, which is like saying, CNN: brain dead and proud of it.

David Carr, media columnist for the New York Times, once wrote: "By marketing itself as the most trusted name in news, CNN is and should be held to a higher standard." I once thought that way too. But now I realize that not enough people join in Carr's belief, inside or outside CNN. And without it there's no traction.

So I'm saying farewell. I used to say: I criticize because I care. But I no longer do.
The natural response, presumably, is that Fox and MSNBC are worse. But I think Rosen's right. At least those networks tacitly admit that they're in the business of catering to a specific ideological subset of the news market. CNN pretends that they're the "straight news" alternative when they're simply infotainment.
To be sure, CNN didn't invent this model. Sensationalist news aimed at a mass audience goes back at least to the days of the penny press in the 1830s.  Even the most prestige outlets, including the New York Times and the Economist, over-cover scandals, natural disasters, and other titillating stories. Even the best foreign affairs sites, such as ForeignPolicy.com, rely on absurd linkbait to boost pageviews.
Shafer is right: journalism is a first and foremost a business and ignoring the wants of the audience is a surefire way to go out of business. But, at some point, you're no longer in the news business at all. And it's quite possible CNN has reached that tipping point.