Jazz Legend Dave Brubeck Dies At 91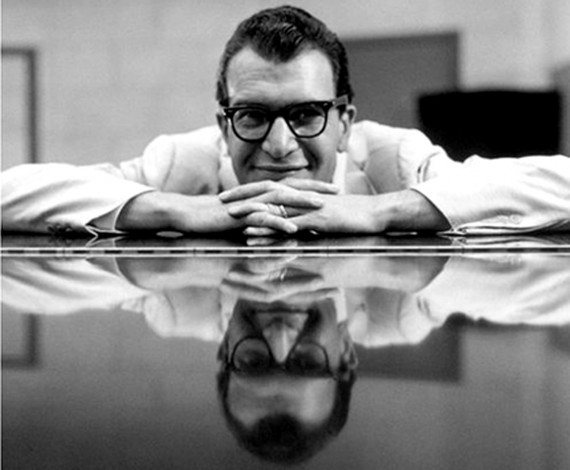 One of the most prolific performers of what many have called America's native musical art form has passed away at the age of 91:
Dave Brubeck, a pianist and composer whose distinctive mixture of experimentation and accessibility made him one of the most popular jazz musicians of the 1950s and '60s, died Wednesday morning in Norwalk, Conn. He would have turned 92 on Thursday.

He died while on his way to a cardiology appointment, Russell Gloyd, his producer, conductor and manager for 36 years, said. Mr. Brubeck lived in Wilton, Conn.

In a long and successful career, Mr. Brubeck helped repopularize jazz at a time when younger listeners had been trained to the sonic dimensions of the three-minute pop single. His quartet's 1959 recording of "Take Five" was the first jazz single to sell a million copies.

Mr. Brubeck experimented with time signatures and polytonality and explored musical theater and the oratorio, baroque compositional devices and foreign modes. But he did not always please the critics, who often described his music as schematic, bombastic and — a word he particularly disliked — stolid. His very stubbornness and strangeness — the polytonality, the blockiness of his playing, the oppositional push-and-pull between his piano and Paul Desmond's alto saxophone — makes the Brubeck quartet's best work still sound original.

Outside of the group's most famous originals, which had the charm and durability of pop songs ("Time Out," "Blue Rondo à la Turk," "It's a Raggy Waltz"), some of its best work was in its overhauls of standards like "You Go to My Head," "All the Things You Are" and "Pennies From Heaven."

(….)

Mr. Brubeck had met his most important musical colleague, Paul Desmond, in an Army band in 1943. Mr. Desmond was a perfect foil; his lovely, impassive tone was as ethereal as Mr. Brubeck's style was densely chorded. In 1947 they met again and found instant musical rapport, fascinated by the challenge of using counterpoint in jazz.

Mr. Brubeck's first group, an octet formed in 1946, contained five of Milhaud's students and played pieces influenced by his teachings, using canonlike elements. The group's earliest recorded work predated a much more famous set of similarly temperate jazz recordings, the 1948-50 Miles Davis Nonet work later packaged as "Birth of the Cool."

In the late 1940s and early '50s Mr. Brubeck also led a trio with Ron Crotty on bass and Cal Tjader on drums. It was around this time that he started to develop an audience. He was given an initial boost by the San Francisco disc jockey Jimmy Lyons, later the founder of the Monterey Jazz Festival, who plugged the band on KNBC radio and helped secure it a record deal with the Coronet label.

In 1951 the trio expanded to a quartet, with Mr. Desmond returning. (The permanent lineup change was perhaps inevitable, as Mr. Desmond was desperate to join his old friend's increasingly popular band, but it may also have had to do with physical necessity: Mr. Brubeck had suffered a serious neck injury while swimming in Hawaii, limiting his dexterity, and he needed another soloist to help carry the music.)

Quickly the constitutionally different men — Mr. Brubeck open, ambitious and imposing; Mr. Desmond private, profligate and self-effacing — developed their lines of musical communication. By the time of an engagement in Boston in the fall of 1952 they had become one of jazz's greatest combinations.

The next part of the equation was a record label, and for that Mr. Brubeck had found another booster: Fantasy Records, just started by the brothers Max and Sol Weiss, who owned a record-pressing plant and had little interest in jazz apart from wanting to make a profit from it.

They did, eventually, with Mr. Brubeck. But Iola Brubeck also played a role in the growth of his audience. Before Mr. Brubeck became a client of the prominent manager Joe Glaser, she handled his business affairs. In 1953 she wrote to more than a hundred universities, suggesting that the quartet would be willing to play for student associations. The college circuit became the group's bread and butter, and by the end of the 1950s it had sold hundreds of thousands of copies of its albums "Jazz at Oberlin" and "Jazz Goes to College."

In 1954 Mr. Brubeck was the first jazz musician to be featured on the cover of Time magazine. That same year he signed with Columbia Records, promising to deliver two albums a year, and built a house in Oakland.

For all his conceptualizing, Mr. Brubeck often seemed more guileless and stubborn country boy than intellectual. It is often noted that his piece "The Duke" — famously recorded by Miles Davis and Gil Evans in 1959 on their collaborative album "Miles Ahead" — runs through all 12 keys in the first eight bars. But Mr. Brubeck contended that he never realized that until a music professor told him.

Mr. Brubeck's very personal musical language situated him far from the Bud Powell school of bebop rhythm and harmony; he relied much more on chords, lots and lots of them, than on sizzling, hornlike right-hand lines. (He may have come by this outsiderness naturally, as a function of his background: jazz by way of rural isolation and modernist academia. He was, Ted Gioia wrote in his book "West Coast Jazz," "inspired by the process of improvisation rather than by its history.")

It took a little while for Mr. Brubeck to capitalize on the greater visibility his deal with Columbia gave him, and as he accommodated success a certain segment of the jazz audience began to turn against him. (The 1957 album "Dave Digs Disney," on which he played songs from Walt Disney movies, didn't help his credibility among critics and connoisseurs.) Still, by the end of the decade he had broken through with mainstream audiences in a bigger way than almost any jazz musician since World War II.

In 1958, as part of a State Department program that brought jazz as an offer of good will during the cold war, his quartet traveled in the Middle East and India, and Mr. Brubeck became intrigued by musical languages that didn't stick to 4/4 time — what he called "march-style jazz," the meter that had been the music's bedrock. The result was the album "Time Out," recorded in 1959. With the hits "Take Five" (composed by Mr. Desmond in 5/4 meter and prominently featuring the quartet's gifted drummer, Joe Morello) and "Blue Rondo à la Turk" (composed by Mr. Brubeck in 9/8), the album propelled Mr. Brubeck onto the pop charts.

Initially, Mr. Brubeck said, the album was released without high expectations from the record company. But when disc jockeys in the Midwest started playing "Take Five," the song became a national phenomenon. After the album had been out for 18 months, Columbia released "Take Five" as a 45 r.p.m. single, edited for radio, with "Blue Rondo" on the B side. Both album and single became hits; "Time Out" has since sold close to two million copies.
Brubeck continued performing and recording long after the Quarter with Desmond, who died in the 1970s, broke up, and over the years performed with everyone from Louis Armstrong to Gerry Mulligan. He also released a series of solo albums. Brubeck's last concert was less than a month ago in Germany.