Jeb Bush Running for President
The former Florida Governor announced that he's taking the first step towards running for president in 2016.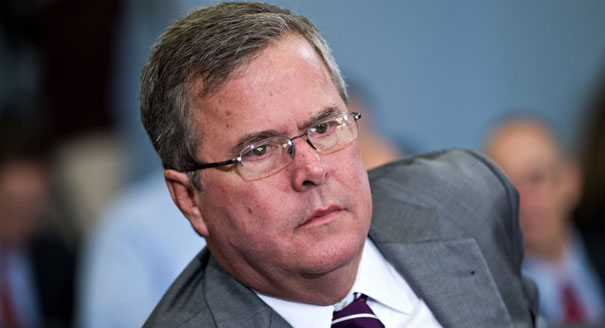 Former Florida Governor Jeb Bush took to Facebook to announce that he's taking the first step towards running for president in 2016:
As a result of these conversations and thoughtful consideration of the kind of strong leadership I think America needs, I have decided to actively explore the possibility of running for President of the United States.

In January, I also plan to establish a Leadership PAC that will help me facilitate conversations with citizens across America to discuss the most critical challenges facing our exceptional nation. The PAC's purpose will be to support leaders, ideas and policies that will expand opportunity and prosperity for all Americans.

In the coming months, I hope to visit with many of you and have a conversation about restoring the promise of America.
The distinction between "actively explor[ing] the possibility of running for President of the United States" and "running for President of the United States" is a legal fiction, dictated by the vagaries of well-intentioned but doomed-to-fail attempts to regulate the flow of money into politics. A 61-year-old man who's been a two-term governor and whose father was the 41st president and whose brother was the 43rd president has a pretty good idea of whether he'd like to be president. At this stage, he's just trying to figure out whether he can raise enough money and garner enough support to make a run worthwhile.
My longstanding sense has been that Jeb lacked the fire in the belly to run, particularly in light of some minor scandals surrounding his immediate family years back. The fact that his brother left office with such low approval numbers (a whopping 67% disapproving of his performance in the final Gallup poll of his tenure) further complicated his decision, making his name recognition as much a negative as a positive.
I haven't the foggiest how this will go. There's no obvious frontrunner in the GOP field this year. It's not anybody's "turn" this go-round. Mitt Romney ran away with the nomination in 2012; only Rick Santorum and Newt Gingrich had any significant wins but both were marginal candidates. Nor did vice presidential nominee Paul Ryan enhance his standing.
But it's not obvious where Bush's base of support is, either. He'll have been out of office nine years by Election Day, so his governorship will be a distant memory. While his reputation for competence and calm leadership make him an asset with party elites—and Old School Republicans like myself—they're probably a turnoff to the most animated part of the base and thus a liability in the primaries.
That said, while the Republican Party has moved to the right at the state and local level, they've continued to nominate moderates for president. Romney beat back a field of much more ideological candidates in 2012, as did McCain in 2008. And, in the last seriously-contested primary before that, "compassionate conservative" George W. Bush beat out "moderate maverick" McCain. There's a pretty decent chance, then, that Jeb Bush would be quite competitive.