Jedi Mind-Meld: Not the Sequester You Were Looking For
So, this happened today:
Yes, the old Jedi Mind-Meld. Steve Saideman captures some of the better Twitter reax to that one.
Some others from my feed:
RT @fpbaron: Spock, set course for Alderaan. #FAIL

— James Joyner (@DrJJoyner) March 1, 2013
RT @fpbaron: Obama: I find your lack of faith disturbing, Scotty.

— James Joyner (@DrJJoyner) March 1, 2013
RT @mattyglesias: "Spock, trust your feelings." / "But I don't have any feelings!" #franchisemeld

— James Joyner (@DrJJoyner) March 1, 2013
The White House has released this mashup to leverage the gaffe: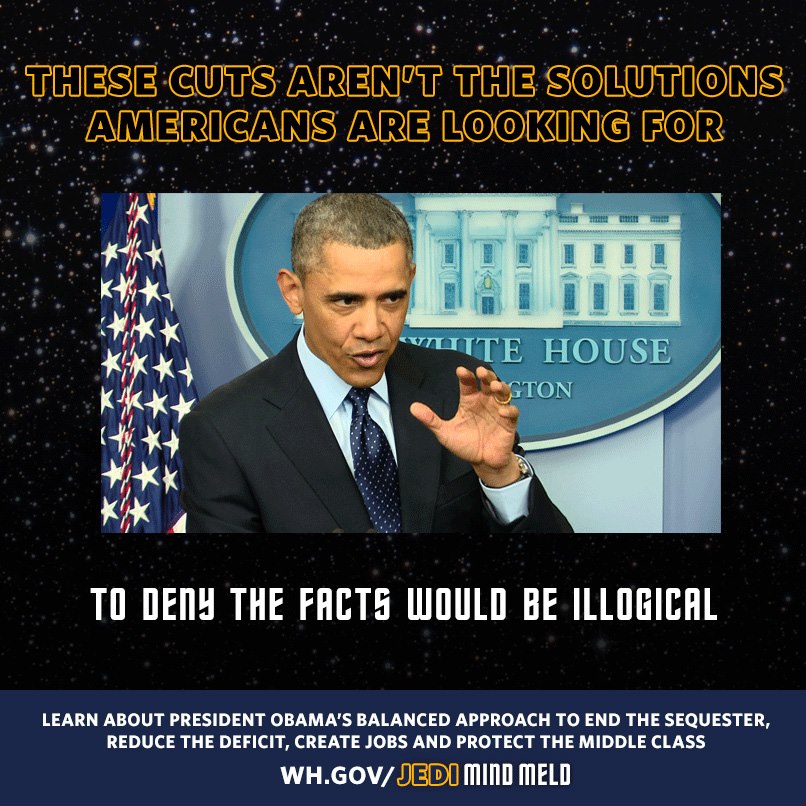 UPDATE: The experts weigh in.
George Takei (Sulu):
But actor, director and activist George Takei, who played Lt. Hikaru Sulu on Star Trek: The Original Series, insists the president actually got it exactly right.

"Jedis are the guardians of peace and justice. And mind meld is the Vulcan way of having the force of pure, clean communication between one mind and the another," Takei said on "The Ed Show" on Friday. "Well, that's what the president is trying to do-bring those two forces together."

Takei also compared Republicans with Klingons, recurring villains in the Star Trek franchise, but predicted "the force of the mind meld and the force of Jedi power" will eventually produce the common ground that'll be required for a resolution.
Leonard Nimoy (Spock):
Only a Vulcan mind meld will help with this congress. LLAP

— Leonard Nimoy (@TheRealNimoy) March 1, 2013