Jerry Brown For President?
Fourth time's the charm? Probably not.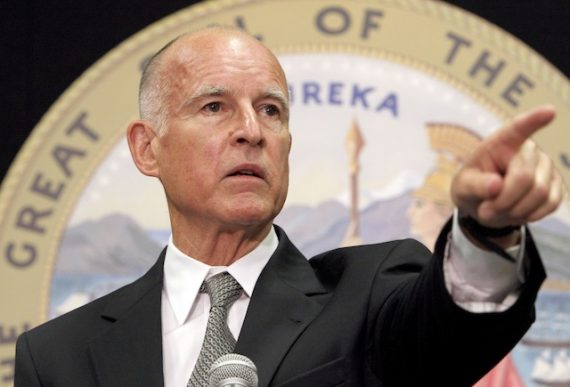 California Governor Jerry Brown, who has run for President three times in the past, isn't ruling out a run in 2016:
If he weren't the nation's oldest governor, a ripe 75, Jerry Brown would automatically be counted among serious Democratic candidates for president in 2016.
He boasts a household name, an impressive list of accomplishments in the country's most populous state — a state some once deemed ungovernable — glowing national media coverage and a deep familiarity with the pitfalls and rigors of a White House bid, having run three times before.

Now, some are pushing Brown to consider another try for the White House, even if it means taking on Hillary Rodham Clinton, the prohibitive, if still undeclared, Democratic favorite.

"I think Jerry is precisely what America needs," said Rose Ann DeMoro, the leader of a national nurses union and a strong political ally of Brown. "He has the courage of his convictions, which we haven't seen in a very long while."

Brown, who is up for reelection in 2014, has not yet stated his intention to seek another term, though he has raised millions of dollars for what would appear to be an easy campaign.

Asked if Brown would categorically rule out another presidential bid in 2016, a spokesman, Jim Evans, referred to a statement Brown made in May at a California Chamber of Commerce breakfast. Citing his past primary victories, Brown said "time is kind of running out on that."

"I guess I'll just have to stay and do the work of being the governor, which I actually enjoy because I have some perspective that I didn't used to have," Brown said
Indeed, Brown has been a far different Governor than he was when he first served in the office between 1975 and 1983. Gone is much of the left-wing rhetoric and policies and the somehow hippie reputation that had developed around him at the time, for example. Instead, he's proven to be a fairly competent manager and someone who has managed to use the powers of his office to push back against members of his own party as part of an effort to get California's finances back under control:
The governor has widely touted California's comeback and his record as a model for the rest of the country and, especially, a dysfunctional Washington, D.C. With support from an overwhelmingly Democratic legislature — and a combination of spending cuts and voter-approved tax hikes — Brown has brought the state's deficit-ridden budget under control, overhauled the education finance system to benefit poorer students, pushed through major environmental initiatives and reaped the benefits — job growth, an improved housing market — of a slow but steady economic recovery.

"Things happen in California that are not happening in Washington," Brown said during an October appearance at an electric-vehicle expo in San Francisco. "We can do a lot of things in California to shift the [political] climate throughout the whole country."

In a victory lap a few weeks later, he traveled to the nation's capital and ticked off the bills he had signed, including immigration-friendly legislation and laws promoting green energy. "We didn't wait for the federal government," he crowed.

At the same time, Brown has established himself as a moderating force in Sacramento, pushing back against liberals on issues such as gun control and business regulation, which, to some, suggests an effort to shed the kooky Left Coast image of his first time as governor, more than 20 years ago, and craft a more centrist profile ahead of 2016.

"Every move he's making is the move of a presidential candidate," said Ralph Nader, the consumer advocate, who has run several times himself and would like to see Brown make another try for the White House in two years. "It's almost a blueprint."
Thanks in no small part to Brown's efforts, California has largely eliminated the large and seemingly insurmountable annual deficits that the state was running and brought the state's budget into balance. There still remains a ton public debt out there that remains as a legacy of the recent past, of course, but stopping the bleeding is an accomplishment in and of itself. The question that the state now faces is how it's going to pay off that debt, and what its going to do to prevent the loss of small businesses to neighboring states with lower tax levels that still seems to be an ongoing problem.  Nonetheless, as the article notes, Brown has been a surprise in office in many ways and, ordinarily would be considered a top tier candidate for President even in an era when Hillary Clinton seems to be dominating the race for the nomination.
The caveats against Brown, though, are many. First of all, there's a national reputation from his time on the national scene in the 70s and 80s that still seems to exist in many people's minds. This reputation was an issue when he was only one of three serious candidates for the Democratic nomination along with Bill Clinton and Massachusetts Senator Paul Tsongas. More importantly, though, is Brown's age. He's 75 now, and he'd be 77 when the Presidential race starts in earnest in 2015, and 79 when  the next President takes office. That's a full ten years older than Hillary Clinton and it strikes me as perhaps being too far down the line for him to be considered a serious candidate.
Leaving all that aside, though, it is somewhat amusing to see the guy once best known for being Linda Ronstadt's boyfriend and who earned the moniker "Governor Moonbeam" for his seeming association with the 70s California counter-culture being touted as the serious business-oriented manager candidate. Times have indeed changed.