Jerry Brown Goebbels Comparison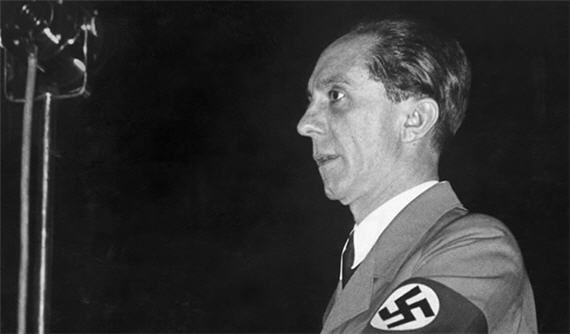 Concerned over Meg Whitman's ability to use her enormous personal wealth to flood the market with advertising to beat him in the California gubernatorial race, Jerry Brown likened her to Nazi propagandist Joseph Goebbels.
Brown boasted about his legendary frugality. "I've only spent $200,000 so far. I have 20 million in the bank. I'm saving up for her." It's true — his stay-on-the-sidelines, bare-bones primary run cost him almost nothing, at least in California political terms. But he also fretted about the impact of all those eBay dollars in Whitman's very deep pockets. "You know, by the time she's done with me, two months from now, I'll be a child-molesting…" He let the line trail off. "She'll have people believing whatever she wants about me." Then he went off on a riff I didn't expect.

"It's like Goebbels," referring to Hitler's notorious Minister of Propaganda. "Goebbels invented this kind of propaganda. He took control of the whole world. She wants to be president. That's her ambition, the first woman president. That's what this is all about."
Alternate accounts have this conversation taking place on a "bike ride" or a "jog" with KCBS radio reporter Doug Sovern.     Regardless, the Whitman campaign is naturally milking this for what it's worth, saying,  "Jerry Brown's statements comparing our campaign to a propagator of the Holocaust is deeply offensive and entirely unacceptable."
This is a really silly thing for a seasoned politician like Brown to say.   The backlash — and, ironically, propaganda value — is entirely predictable.  Because the Nazi regime was so reprehensible, any comparison with an opponent in a democratic election is deemed beyond the pale.  Godwin's Law and all that.
But should it be?  There are more artful ways of saying this, and Brown should have chosen one.   But, certainly, "Goebbels" is a very effective shorthand.
Brown isn't insinuating that Whitman is evil or like Goebbels in any way other than the ability to dominate the media in a way to make people believe things that aren't true.   And Goebbels did essentially invent the concept of propaganda and, particularly, the "Big Lie" technique of flooding the zone with false information, repeating it so often that people come to believe it.   And it's at least arguable that Whitman, who has already spent $71 million just to win the Republican primary, will have the ability to frame Brown's record pretty much any way she wants.