Jerry Lee Lewis, 1935-2022
A member of the inaugural Rock and Roll Hall of Fame class and the most recent Country Music Hall of Fame class is gone at 87.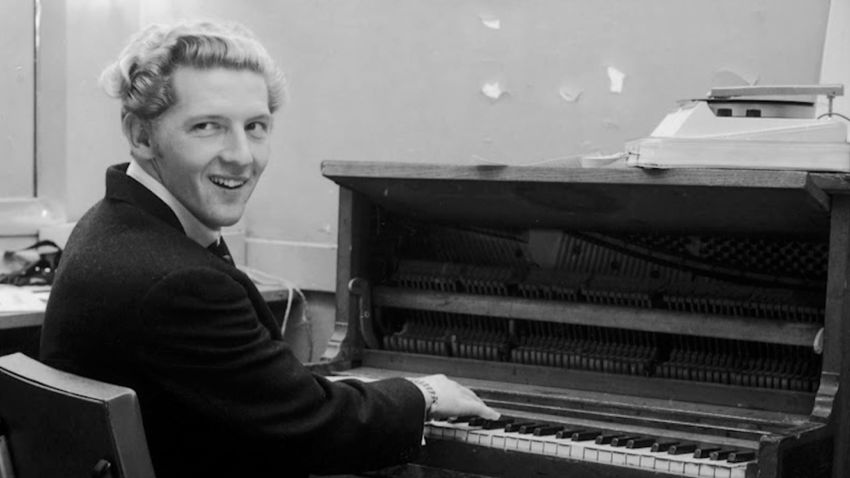 Rolling Stone, "Jerry Lee Lewis, Influential and Condemned Rock & Roll Pioneer, Dead at 87"
Jerry Lee Lewis, whose hammering boogie-woogie piano, unleashed-tomcat voice, and unapologetic bad-boy persona made him an architect of rock & roll and an early rival of Elvis Presley, has died. Lewis' publicist confirmed his death to Rolling Stone, but a cause of death was not immediately available; he was 87.

Lewis died at his home in Desoto County, Mississippi, with his seventh wife, Judith Coghlan, by his side.

Lewis' two 1957 singles, "Whole Lotta Shakin' Goin' On" and "Great Balls of Fire," were some of rock's earliest and most primal hits: howling, whooping, libidinous performances that announced, as defiantly as any other records of the period, that a new style of music had arrived and would take zero prisoners. "I had created rock & roll before they ever thought about having rock & roll," Lewis told Rolling Stone in 2014. "When Elvis come out, he was rockabilly. When I come out with 'Whole Lotta Shakin' Goin' On,' that was rock & roll. That's when the name 'rock & roll' was put in front."

"He's the best rock & roll pianist ever," Elton John said in 2007. "I couldn't play like him because he's too fast."

Offstage, Lewis personified the perceived dangers of rock music too. "I'm the toughest son of a bitch that ever shat out of a meat ass," he bragged to Rolling Stone in 1979. Throughout much of his life, he fought addictions to alcohol and pills, once accidentally shot a member of his band, and famously burned a piano onstage when he was asked to play before headliner Chuck Berry. "Burned it to the ground," Lewis said in 1979. "I was supposed to be the star of the show."

But it was a notorious scandal that killed his career, at least momentarily — the revelation that Lewis, then 22, had married his 13-year-old cousin Myra Gale Brown. The pair would be married from 1957 to 1970, and the illicit marriage (one of seven for Lewis) would cast a lifelong pall over the musician's legacy.

[…]

Lewis' life, though, was completely altered when he and his father drove to Sun Records in Memphis (to afford the trip, the elder Lewis sold 33-dozen eggs from his farm). Thanks to Presley, Sun was the place to be for many aspiring musicians. Label head Sam Phillips wasn't in that day, but chief engineer Jack Clement was, and after hearing Lewis sing and play country songs, he advised Lewis to focus on rock & roll instead. On a return trip to Sun, Lewis cut a few more rocked-out songs — including the country hit "Crazy Arms" — which Phillips then heard. "Where the hell did this man come from?" Phillips recalled to Rolling Stone in 1979. In Lewis, Phillips saw a young, raw talent equal to that of his biggest star, Presley.

At the end of one of his Sun sessions, Lewis offhandedly suggested he cut a song he'd been playing on and off. With no rehearsal with the band, Lewis bashed out "Whole Lotta Shakin' Goin' On." Released in early 1957, the song exploded, and with good reason: From its barreling piano to Lewis' super-suggestive delivery, the song made Presley sound tame. Both that hit and its follow-up, Otis Blackwell's "Great Balls of Fire," weren't just dynamic, but also historic: They landed in the Top Five of the country, pop, and R&B charts simultaneously. 

Although Lewis scored another Top 10 hit, "Breathless," the following year, his ascent was over almost as soon as it began. While touring England in 1958, reporters learned that Lewis had married his third cousin, Myra Gale Brown, the daughter of his bass player. Lewis at first said she was 15 — she was actually two years younger. Lewis was unrepentant, but the scandal derailed his career. Back home, his gigs dried up, the hits stopped, and by 1963, he was gone from Sun.

Lewis kept working and recording (his Live at the Star-Club, Hamburg album, taped in 1964, is still considered one of rock's greatest concert records). He dug into blues, gospel, and country, and his lifestyle grew even wilder as his drugging and drinking escalated during this period. The rock world may have been done with him, but Nashville wasn't. Some of Lewis' Fifties hits made the country charts, and in 1968 he basically migrated to the genre. "Another Place Another Time" kick-started a string of country hits, and he was reborn as a repentant honky-tonk singer with his career restored. (He returned to the pop charts in 1972 with a cover of Kris Kristofferson's "Me and Bobby McGee.") As proof of how much he was still revered, Lewis' 1972 album The Session, cut in London, featured cameos from Peter Frampton and Alvin Lee, among others.

Lewis rarely slowed down into the Eighties: He cut a few rock-friendly albums for Elektra and continued touring and recording, burnishing his legend. He was inducted into the Rock & Roll Hall of Fame in 1986. In 1989, his life was immortalized onscreen in Great Balls of Fire, featuring Dennis Quaid in a somewhat-cartoonish version of Lewis. 
New York Times, "Jerry Lee Lewis, a Rock 'n' Roll Original, Dies at 87"
Jerry Lee Lewis, the hard-driving rockabilly artist whose pounding boogie-woogie piano and bluesy, country-influenced vocals helped define the sound of rock 'n' roll on hits like "Whole Lotta Shakin' Goin' On" and "Great Balls of Fire," and whose incendiary performing style expressed the essence of rock rebellion, died on Friday at his home in DeSoto County, Miss., south of Memphis. He was 87.

[…]

Mr. Lewis was 21 in November 1956 when he walked into Sun Studio in Memphis and, presenting himself as a country singer who could play a mean piano, demanded an audition.

His timing was impeccable. Sun Records had sold Elvis Presley's contract to RCA Records a year earlier and badly needed a new star to headline a roster that included Carl Perkins, Johnny Cash and Roy Orbison.

Mr. Lewis more than filled the bill. His first record, a juiced-up rendition of the Ray Price hit "Crazy Arms," was a regional success. With "Whole Lotta Shakin' Goin' On," released in April 1957, he gave Sun the breakout hit it was looking for.

Although initially banned by many radio stations for being too suggestive, "Whole Lotta Shakin'" reached a nationwide audience after Mr. Lewis performed it on "The Steve Allen Show." It rose to No. 3 on the pop charts and sold some six million copies worldwide, making it one of the biggest hits of the early rock 'n' roll era.

Overnight, Mr. Lewis entered into direct competition with Presley. As Mr. Lewis saw it, there was no contest.

"There's a difference between a phenomenon and a stylist," he told the record-collector magazine Goldmine in 1981. "I'm a stylist, Elvis was the phenomenon, and don't you forget it."

[…]

His scorching performing style suited his material. Mr. Lewis, sometimes called by his childhood nickname the Killer, discovered that audiences loved it when he kicked his piano bench aside and attacked the keyboard standing up. Possessed by "the Devil's music," as he called it, he writhed and howled, raked the keyboard with his right foot and tossed his wavy blond hair until it looked like a fright wig.

"Nobody had a more creative approach to the music or a more incendiary approach to performing it," Peter Guralnick, the author of the definitive two-volume Presley biography, said in an interview for this obituary. "He had the ability to put his stamp on every kind of material he recorded."

[…]

At Smash Records, which signed him in 1963, a string of failures led producers to suggest that he return to his roots and record some purely country songs.

It was a natural fit. Both of his biggest rock 'n' roll hits had topped the country charts, and his soaring, resonant voice, in the vein of Jimmie Rodgers and Hank Williams, lent itself equally to up-tempo honky-tonk numbers and cry-in-your beer laments.

His first country release, "Another Place, Another Time," reached No. 4 on the Billboard country chart in 1968, and he scored Top 10 country hits that year with "What's Made Milwaukee Famous (Has Made a Loser Out of Me)," "She Still Comes Around (to Love What's Left of Me)" and "To Make Love Sweeter for You."

His hot streak continued into the 1970s. He would eventually record nearly two dozen Top 10 country singles, ending with "39 and Holding" in 1981, and nearly as many Top 10 country albums. He even managed to creep onto the pop charts in 1972 with a recording of the Kris Kristofferson song "Me and Bobby McGee" and a cover version of the Big Bopper hit "Chantilly Lace."

Years of heavy drinking and drug abuse began to take their toll, however, and his life for much of the 1970s and '80s was a sad catalog of family catastrophes, health crises and run-ins with the I.R.S. and the police.
Variety, "Jerry Lee Lewis, Rock Pioneer and 'Great Balls of Fire' Singer, Dies at 87"
Singer-pianist Jerry Lee Lewis, the hell-raising, larger-than-life rock 'n' roll pioneer and latter-day country star, has died, according to a rep, Zach Farnum. He was 87.

His death had erroneously been reported by some outlets on Wednesday.

[…]

Lewis ultimately transcended category. With typical arrogance, he would frequently declare that there were only four real stylists in American music: Al Jolson, Jimmie Rodgers, Hank Williams and, of course, Jerry Lee Lewis.

The late journalist Nick Tosches, Lewis' great Boswell, captured some of his titanic dimensions in his book "Country," published in 1977 during his country resurgence: "Believe it: Jerry Lee Lewis is a creature of mythic essence….He was — and in a way still is — the heart of redneck rock 'n' roll, and one of the greatest country singers who ever lived.

"He is the last American wild man."

[…]

Known universally by the self-established sobriquet "the Killer," Lewis was notorious for his drinking, drugging, womanizing and pistol-waving pugnacity. The opening epigraph in Tosches' classic 1982 biography "Hellfire" is a quote from the musician: "I'm draggin' the audience to hell with me."

Yet, for all his well-documented excesses and dark, lurid history, listeners returned to embrace him over the course of seven decades.

Despite sustaining a hedonistic pace that would kill lesser men, he outlived all his '50s contemporaries, including Elvis Presley, whom he followed to fame at Memphis' Sun Records in 1957.
Rather than add videos of the Killer performing some of his great hits, which will be in heavy rotation for a few days, here's the iconic clip from 1986's Top Gun:
And the homage to that scene from this year's Top Gun: Maverick:
For a subtler reference, here's Drive-By Truckers with their 2004 hit "Carl Perkins' Cadillac"