Jerry Sandusky Re-Arrested As Two New Victims Come Forward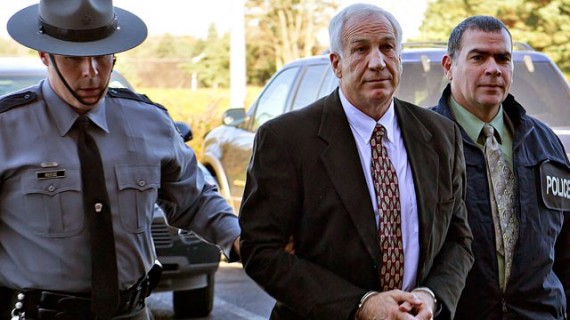 Former Penn State Assistant Coach Jerry Sandusky was arrested for a second time this morning at his home after two new men accused him of having abused them when they took part in the Second Mile program:
The Pennsylvania Attorney General's office has filed new charges against Jerry Sandusky, 67, as part of an investigation into alleged sexual assaults of children.

"Today's criminal charges were recommended by a statewide investigating grand jury, based on evidence and testimony that was received following the initial arrest of Sandusky on November 5th," Kelly said. "At that time, Sandusky was charged with sexually assaulting eight victims, all of whom first encountered Sandusky as children through The Second Mile, a organization that he founded to operate programs for disadvantaged young people."

Kelly said these latest criminal charges come following grand jury testimony from two additional young men, identified as Victim 9 and Victim 10, who were allegedly targeted by Sandusky when they were children.

"As in many of the other cases identified to date, the contact with Sandusky allegedly fit a pattern of 'grooming' victims," Kelly said, "Beginning with outings to football games and gifts; they later included physical contact that escalated to sexual assaults."
As with the previous charges, the details of these two new cases are unpleasant to say the least:
Kelly said Sandusky allegedly took the boy to numerous Penn State University football games and gave him gifts and money.

Later, the grand jury found that during overnight stays at Sandusky's home, behavior such as hugging, rubbing, cuddling and tickling – initially viewed as acts of affection – escalated to sexual assaults. Additional sex acts were allegedly performed in the swimming pool and Jacuzzi of a hotel in the State College area, at times when the pool area was not occupied.

According to the presentment, Sandusky told Victim 9 that he loved and cared for him and urged him to keep their activities secret.

In the case of Victim 10, the boy was referred to The Second Mile in 1997, when he was 10 years old, at the recommendation of a counselor because of difficulties in his home life. Sandusky allegedly approached the boy during a summer camp and later made arrangements to take the boy to several Penn State Football games where the boy played football at Holuba Hall on the Penn State campus, attended "tailgate parties" prior to the game and spent time at the Sandusky home.

According to the grand jury, "wrestling" sessions in the basement of Sandusky's home eventually escalated to incidents where Sandusky performed oral sex on the boy. Victim 10 also detailed incidents which occurred at a swimming pool on the Penn State Campus, along with an encounter in a car when Sandusky allegedly exposed himself and requested oral sex from the boy.

As in other cases, Sandusky allegedly gave the boy gifts and frequently told the boy that he loved him.

Sandusky is charged with four counts of involuntary deviate sexual intercourse and two counts of unlawful contact with a minor, all first-degree felonies which are each punishable by up to 20 years in prison and $25,000 fines.

Additionally, he is charged with one count of indecent assault and two counts of endangering the welfare of children, all third-degree felonies which are each punishable by up to seven years in prison and $15,000 fines.

Sandusky is also charged with one count of indecent assault and two counts of corruption of minors, all first-degree misdemeanors each punishable by up to five years in prison and $10,000 fines.
If you're at all interested, you can read the Grand Jury Presentment for yourself. Sandusky was arraigned earlier this afternoon and is being held pending his being able to post $250,000 cash bail. If he meets the bail requirements, then he will be subject to electronic monitoring at home pending trial. There are already rumors, though, that an 11th victim may be coming forward shortly and, if additional charges are filed, there's a pretty good chance that bail will no longer be an option.
This story just keeps getting sicker and sicker.