Jerry Sandusky Waives Preliminary Hearing At Last Minute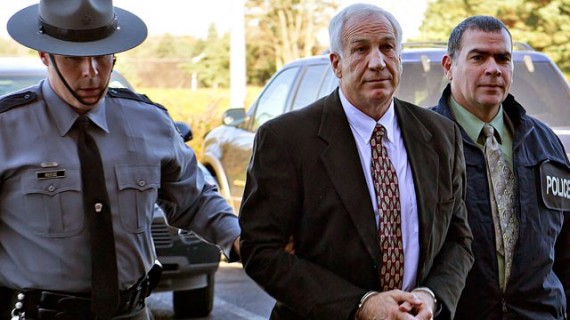 In something of a surprise move, former Penn State Assistant Coach Jerry Sandusky and his lawyers appeared at the start of what was expected to be a two-day preliminary hearing on the charges against him and exercised the right to waive the hearing:
BELLEFONTE, Pa. — Jerry Sandusky waived his preliminary hearing this morning on child sexual assault charges, meaning there will be no testimony today and the case will proceed to Common Pleas court.

The hearing began at 8:30 a.m., and Sandusky, 67, waived immediately. He said in a press conference afterward that he intends to fight the charges, but today wasn't the day to do so. There has been no talk of a plea agreement, his lawyer said.

"We fully intend to put together the best possible defense and stay the course for four full quarters," said Sandusky, a former Penn State assistant football coach.

Sandusky will be arraigned on Jan. 11. He is out on $250,000 bail, wearing an ankle monitor and is forbidden from contact with children. He has been charged with 50 counts related to the alleged sexual abuse of 10 boys.

Ken Suggs, an attorney for Victim 6, called Sandusky a coward for waiving. He said he believes Sandusky waited until the last minute to waive to see if accusers were going to show up and was afraid that they would be believed.

Victim One was ready to testify, his lawyer said, but wasn't at the courthouse because he'd expected the waiver. Attorney Slade McLaughlin said, "I have a hard time believing this decision was made at 8:30" this morning. McLaughlin said, "My gut feeling is we'll have a plea deal."

At a preliminary hearing, a judge decides if prosecutors have enough evidence to send the case to trial. Defense lawyers sometimes waive preliminary hearings to avoid more negative publicity. Sandusky's lawyer, Joe Amendola, said yesterday that he was eager to hear from the witnesses: "We plan to proceed with Jerry's hearing, and Jerry is looking forward to the opportunity to face his accusers."

(…)

The senior deputy attorney general said prosecutors had 11 witnesses on standby and were surprised by the waiver. "I would imagine (Mike McQueary) would have testified," he said. McQueary testified before a grand jury that he saw Sandusky rape a child in a Penn State bathroom, although McQueary's story has differed.

"This development we believe provides maximum protection to, most importantly, the victims in this case," said Senior Deputy Attorney General E. Marc Costanzo. "It avoids their having to testify for a second time. They will of course testify at a trial in the case."
It's at least somewhat unusual that they'd waive the hearing given the fact that it essentially gives the defense free discovery of the prosecutor's case as well, advance knowledge of what the witnesses will say at trial, and potential material for witness impeachment if testimony at trial differs from testimony at the Preliminary Hearing. Of course, it's possible that the defense determined that it would not be in Sandusky's  interest to go forward with the hearing and allow the negative publicity of specific details make it into the public domain before trial. Of course, it that was the motivation for the waiver, then it doesn't really make sense that they'd do this at the last minute, that's the kind of determination that would have, or at least should have, been made weeks ago. This may mean there are plea negotiations going on behind the scenes, but we'll have to wait to see if anything happens in that regard before knowing for sure.