Jill Biden Plans to be First First Lady with Outside Job
A rather remarkable milestone in that it's coming so late.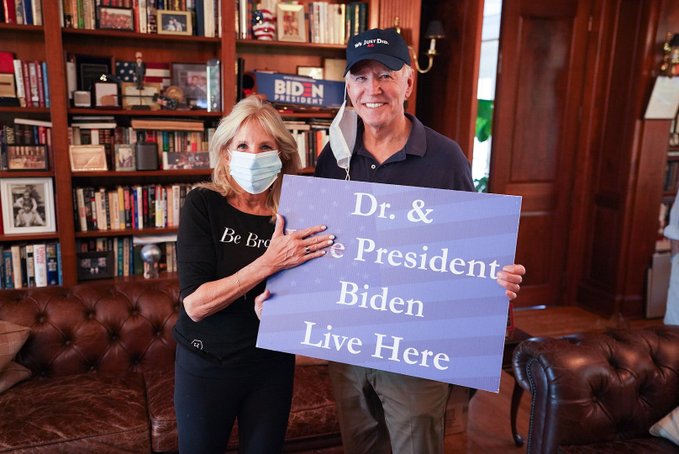 USA Today ("Jill Biden will be historic first lady: Just call her 'Professor FLOTUS'"):
The first thing to know about America's next first lady is that Jill Biden – a college English professor with four degrees, including a doctorate – is going to be a very busy FLOTUS, since she plans to keep her day job after moving into the White House.

After all, she continued teaching at Northern Virginia Community College during the eight years she served as second lady, working closely with the historic then-first lady Michelle Obama.

The latter considers Biden a "dear friend," who brings "kindness, empathy, and humor to even the most difficult of situations."

"She is going to be a terrific First Lady," Obama said in a statement to USA TODAY.

But Biden will be historic in her own way, or at least that's her plan: She intends to be the first FLOTUS in the role's 231-year history to pursue her career and keep a paying job while living in the White House and serving as first lady.

"She will really be bringing the role of first lady into the 21st century," says first-lady historian Katherine Jellison, a professor at Ohio University, noting no previous FLOTUS has been "allowed" to be like most modern American women, with both a work life and a family life.

"Americans have historically wanted their first ladies to be in the White House and at the president's side whenever possible," Jellison says. "Maybe the time has come when Americans will be more accepting of the idea that a president's wife can simultaneously be a first lady and a working professional."
It's really remarkable that others haven't had full-time jobs this far into the women's movement. After all, Hillary Clinton was a Yale-trained lawyer when Bill was elected 28 years ago. Laura Bush was a schoolteacher. Michelle Obama was a Harvard Law grad and university administrator.
Because of her professional life, you can count on education being at the top of Biden's first-lady agenda, along with advocating for military families and cancer awareness (son Beau Biden died of brain cancer in 2015), all of which she pursued as second lady.

"The beauty of (being FLOTUS) is that you can define it however you want," she told Vogue in July 2019. "And that's what I did as second lady – I defined that role the way I wanted it to be. I would still work on all the same issues. Education would be right up there, and military families. I'd travel all over this country trying to get free community college."

But first lady is a higher-level job in terms of attention and pressure – can she really do it all?

"I would love to. If we get to the White House, I'm going to continue to teach," she said in an interview with "CBS Sunday Morning" in August. "I want people to value teachers and know their contributions and to lift up the profession."
Lots of First Ladies, including Laura Bush, championed education. What better way to do it than resume her teaching career?
While I bristle at someone without a doctorate in English being called an "English Professor," she does indeed teach English composition at the community college level and has done so off and on for years.
Biden, 69, has a bachelor's degree and two master's degrees, and a doctorate of education from the University of Delaware, which she earned in 2007 under her original name, Jill Jacobs.

[…]

Biden signaled how much she values her career as an educator when she gave her national convention speech this summer while standing in the empty classroom where she taught English at Delaware's Brandywine High School in the early 1990s.

"Teaching is not what I do. It's who I am," Biden said in a pre-speech tweet.
While Biden is quite a few years older, her career somewhat parallels that of my wife. Both spread their degrees out over many years. Both started off with English degrees and spend years teaching elementary school before going on to graduate education and college teaching. Indeed, my wife was a few years behind Dr. Biden in the same doctoral program at the University of Delaware—where Biden is regarded with extreme fondness. And my stepson is in his second year at Northern Virginia Community College, where Biden last taught and is likely to return.
My initial concern about Biden going back to NoVa was the obvious one, but it's one that's been addressed before.
At least initially, most of her students were unaware of the full identity of "Dr. Biden" as either a U.S. senator's wife or as second lady, according to an interview with Vogue in March. She asked Secret Service agents to dress like college students and sit unobtrusively out in the hallway, on laptops, and it worked. As first lady, she's likely to lose this relative anonymity.
That may be less possible as FLOTUS, given how much more meaningful she would be as a target, but it's hardly insurmountable.
And this seems rather silly to me:
One first-lady expert, Betty Boyd Caroli, author of multiple White House-related books, including "First Ladies," has her doubts.

"Eleanor Roosevelt thought she could combine the two jobs but soon found out she could not, and the job of FLOTUS has grown a lot since she left the White House (in 1945)," Caroli says.
"First Lady" isn't really a job. It's not clear, for example, what it is that Melania Trump does. Biden is right: it's pretty much whatever she wants to make it.