Jim 'Pee Wee' Martin Jumps into Normandy Again 70 Years Later
On of the last surviving members of the "Band of Brothers" does it again.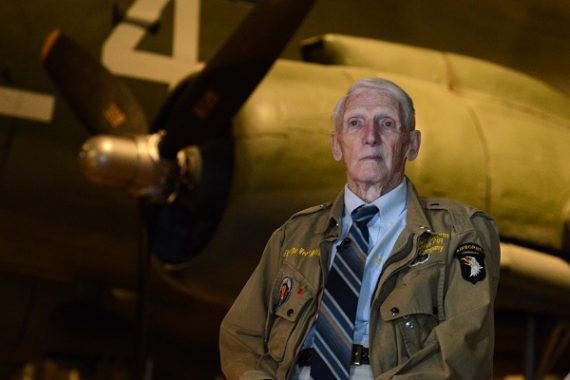 On D-Day, PFC Jim "Pee Wee" Martin jumped into Normandy with the 506th Parachute Infantry Regiment. Today, he did it again at the age of 93.
CNN ("70 years later, D-Day vet Jim 'Pee Wee' Martin jumps again"):
Jim "Pee Wee" Martin acted like he'd been here before, like jumping from a plane is as easy as falling off a log.

Maybe that's because he had — 70 years ago.

"I'm feeling fine," Martin told reporters moments after landing in a French field. "… It was wonderful, absolutely wonderful."

Martin was part of the U.S. 101st Airborne Division that parachuted down over Utah Beach in their bid to retake France and, eventually, the rest of Europe from Nazi Germany. They actually touched down in enemy-controlled territory a night before what's referred to as D-Day.

His jump Thursday in the same area was different and — despite his being 93 years old now — a whole lot easier.

"It didn't (compare)," Martin said, "because there wasn't anybody shooting at me today."

[…]

"Everybody (was) scared all the time, and if they tell you anything differently they are full of crap," the former paratrooper recalled. "But you just do what you had to do regardless of it. That's the difference."

And they didn't stop. According to a Facebook page he regularly updates, Martin fought for 43 days as part of the Normandy campaign before moving onto invade Holland, fending off Nazi fighters during the Battle of the Bulge and finishing off by taking Berchtesgaden, site of Hitler's "Eagle's Nest" redoubt in the German Alps.

None of it was easy, but Martin insists, "I don't ever have flashbacks. Never. Nothing ever bothered me."

All these years later, he has become a celebrity of sorts — as evidenced by a mob of reporters who greeted him after his parachute landing Thursday. Martin says he feels "kind of humbled and embarrassed at the adulation because I don't feel we did anything that we weren't supposed to do or anything exceptional."

He adds: "We just did what we trained to do."

[…]

Martin admitted that he was motivated by "a little bit of ego, (to show that) I'm 93 and I can still do it."

"And also I just want to show all the people that you don't have to sit and die just because you get old," he added. "Keep doing things."
Here's the video of Martin's most recent jump:
Here's Martin as a young soldier: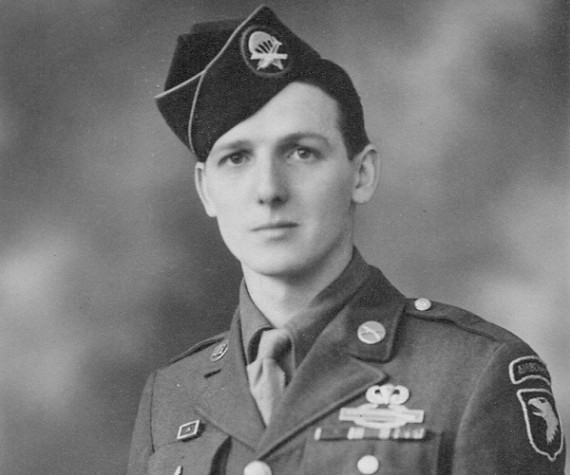 Like most of his generation, and indeed most soldiers, period, he dismisses the label "hero." Certainly, some did more. But his story is pretty remarkable.
Martin, who was a private in the 506th Parachute Infantry Regiment, was among the first Americans in combat in Europe. After Normandy, where his unit fought to capture key bridges, he parachuted into Holland in "Operation Market Garden" and fought at Bastogne during the Battle of the Bulge.

As a defense industry worker, he had a deferment from military service, but Martin said he saw that France and Britain could not win the war in Europe on their own and that men with families were joining the service and being drafted. He enlisted at age 21 and was later awarded a Purple Heart and a Bronze Star.

"The one thing I want to emphasize is that we were not heroes. A hero is someone not expected to do something," he said. "When you volunteer, and you get trained for it and get paid for it, you may be brave as hell but you are not a hero."
Currahee.