Jimmie Johnson Wins 6th NASCAR Championship
Richard Petty and Dale Earnhardt have company.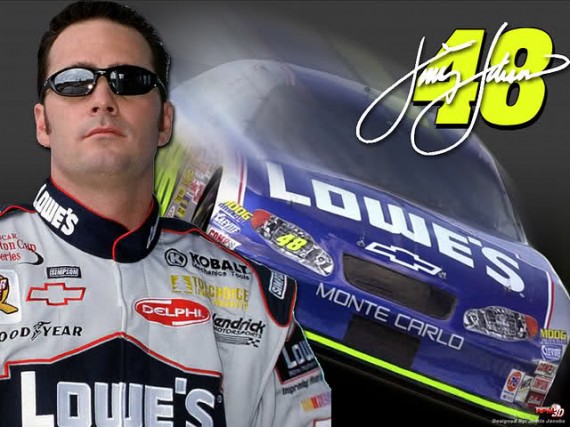 Jimmie Johnson won his sixth NASCAR championship, one short of the record held by legends Richard Petty and Dale Earnhardt.
ESPN ("Jimmie Johnson wins 6th Cup title"):
Back on top with only two NASCAR greats left to catch, Jimmie Johnson won his sixth championship in eight years Sunday and staked his claim as one of the most dominant competitors in sports history.

[…]

Now looming squarely in Johnson's windshield is the mark of seven titles held by Richard Petty and the late Dale Earnhardt.

"I have six, and we'll see if I can get seven," said Johnson, who has been asked repeatedly of late where he thinks he stands in NASCAR history.

"Time will tell. I think we need to save the argument until I hang up the helmet, then it's worth the argument. Let's wait until I hang up the helmet until we really start thinking about this."

[…]

Johnson won a record five straight titles from 2006 through 2010, was mathematically eliminated before the 2011 finale, but was back in the title hunt last season. Only he had a tire failure in the penultimate race at Phoenix and then a mechanical failure in the finale to lose the championship to Brad Keselowski.

[…]

Johnson planned to savor every moment of the celebration and his championship reign.

"This is extremely sweet. I feel like those five years were a blur. And things happen so fast," Johnson said. "It's not that I didn't enjoy it or appreciate it or respect what happened. It just went by so fast it seems like. Now, I'm really going to slow things down here and enjoy it. This is so, so sweet."
As a kid, I watched the races with my dad and rooted for Richard Petty in the #43 car.  I was a more casual fan during Darrell Waltrip's run in the 1980s and have long since drifted away from the sport, keeping up with it the way I do Major League Baseball and the NBA: interested enough not to change the channel when they're talking about it on sports talk shows but not enough to actually invest the time to watch on a regular basis. The constant changing of the formula for winning championships and the name of the championship hasn't helped. And the fact that the sport has become so expensive that it has evolved into a bizarre hybrid of a team sport—with multiple cars under single ownership working to help one another even as they compete individually—strikes me as a bastardization of racing.
Still, Johnson's accomplishment is quite remarkable. While one can lament that NASCAR has driven the "stock car" and "good ole boy" elements out over the years, they're fielding a much more competitive product.  All the top drivers have essentially unlimited resources and the rules are such that everyone is driving essentially identical cars.  Johnson's domination is a function of superior driving and race strategy, not a better car.
Petty won his last title at 42 and Earnhardt at 43.  Johnson's only 38 and certainly much more fit than Petty and Earnhardt were in their day. He's got a really good shot a breaking their record.