Jimmy Carter Longest Serving Ex-President
Jimmy Carter's ex-presidency has lasted the equivalent of 26 Iranian hostage crises.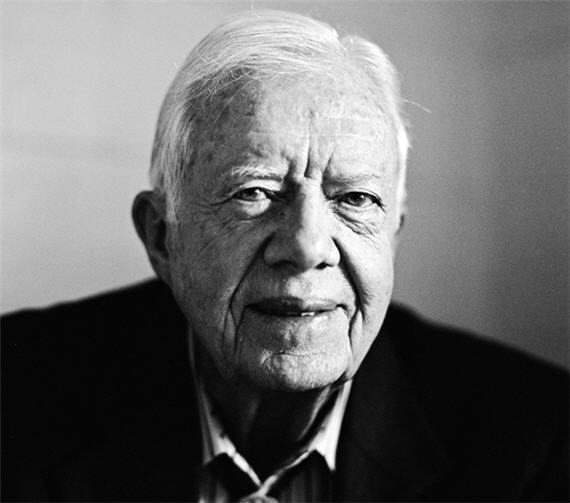 Jimmy Carter has been an ex-president longer than anyone in American history.
The Atlantic ("The Record-Setting Ex-Presidency of Jimmy Carter"):
He was tossed out of office after one term because voters saw him as a weak president in a wobbly economy. Replaced by a political movement and cast aside by his own party, he led an active retirement, doing humanitarian deeds, writing more than two dozen books, and trying to rewrite the reputation that his administration was a failure. Decades later he would address his party's convention on its opening night, drawing cheers as the elder statesman.

Herbert Hoover enjoyed the longest retirement in presidential history, but that record was broken yesterday when Jimmy Carter — a man whose circumstances echo Hoover's — marked Day 11,544 as Ex-President Carter.

There was no ceremony. "It's not something that is on our calendar," said Steven Hochman, director of research for the Carter Center, the human-rights nonprofit Carter and his wife founded in 1982. Hochman allowed that "there's some significance to this milestone," but "we're not celebrating it."

Perhaps that's no surprise. Though he is five presidencies removed from office, Carter can still be more lightning rod than elder statesman. When he addressed the Democratic National Convention by video last week, Republican nominee Mitt Romney pounced. "He chose a fitting surrogate," a Romney statement said. Twitter lit up with posts about Iran, high gas prices, and how Carter seemed incongruent with the "forward" theme of President Obama's re-election campaign.

"He remains such a controversial figure," said Julian Zelizer, a professor of history at Princeton University and a Carter biographer. "But like it or not, he re-invented the post-presidency."

[…]

Shaking off the 1980 Reagan knockout, Carter immersed himself in human-rights efforts across the globe, monitoring more than 90 elections and seeking solutions to conflicts. He and his wife Rosalynn spend a week each year building homes with Habitat for Humanity. His efforts through the Carter Center have helped bring about the near-eradication of Guinea worm disease, an infection that has afflicted Africa for centuries. He has authored books on the Bible, diplomacy, the Middle East, poetry, and even a novel set in the Revolutionary War.

Carter also turned himself into something of a diplomatic Mr. Fix-It. Sometimes he has worked at the behest of the U.S. government, sometimes independently — and sometimes both on the same trip. When President Clinton sent him to North Korea in 1994 to deliver a message to Kim Il Sung, Carter announced that he had brokered a deal, leaving the Clinton Administration slack-jawed. For his efforts, he won the Nobel Peace Prize in 2002, the only ex-President so honored.
Carter was a relatively young president and, at 87, he's lived an extraordinarily long time.
Great line buried in the piece: "his ex-presidency has lasted the equivalent of 26 Iranian hostage crises."