Jimmy Carter: U.S. Under Obama Is A "Widespread Violator Of Human Rights"
From one Nobel Peace Prize winner to another.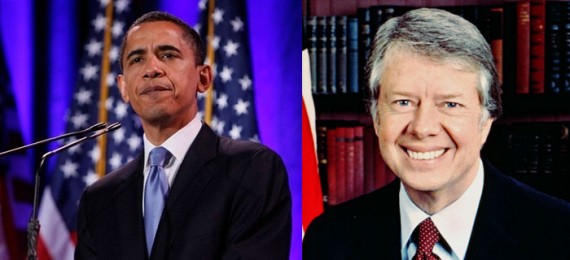 No doubt further cementing his reputation as the least popular former President among former Presidents, Jimmy Carter is gaining attention now for a New York Times Op-Ed  in which he accuses the United States under President Obama of persistently violating human rights in the name of the War On Terror:
A former U.S. president is accusing the current president of sanctioning the "widespread abuse of human rights" by authorizing drone strikes to kill suspected terrorists.

Jimmy Carter, America's 39 th president, denounced the Obama administration for "clearly violating" 10 of the 30 articles of the Universal Declaration of Human Rights, writing in a New York Times op-ed on Monday that the "United States is abandoning its role as the global champion of human rights."

"Instead of making the world safer, America's violation of international human rights abets our enemies and alienates our friends," Carter wrote.
In the Op-Ed itself, Carter makes a case that we have heard before:
The United States is abandoning its role as the global champion of human rights.

Revelations that top officials are targeting people to be assassinated abroad, including American citizens, are only the most recent, disturbing proof of how far our nation's violation of human rights has extended. This development began after the terrorist attacks of Sept. 11, 2001, and has been sanctioned and escalated by bipartisan executive and legislative actions, without dissent from the general public. As a result, our country can no longer speak with moral authority on these critical issues.

While the country has made mistakes in the past, the widespread abuse of human rights over the last decade has been a dramatic change from the past.

(…)

In addition to American citizens' being targeted for assassination or indefinite detention, recent laws have canceled the restraints in the Foreign Intelligence Surveillance Act of 1978 to allow unprecedented violations of our rights to privacy through warrantless wiretapping and government mining of our electronic communications. Popular state laws permit detaining individuals because of their appearance, where they worship or with whom they associate.

Despite an arbitrary rule that any man killed by drones is declared an enemy terrorist, the death of nearby innocent women and children is accepted as inevitable. After more than 30 airstrikes on civilian homes this year in Afghanistan, President Hamid Karzai has demanded that such attacks end, but the practice continues in areas of Pakistan, Somalia and Yemen that are not in any war zone. We don't know how many hundreds of innocent civilians have been killed in these attacks, each one approved by the highest authorities in Washington. This would have been unthinkable in previous times.

These policies clearly affect American foreign policy. Top intelligence and military officials, as well as rights defenders in targeted areas, affirm that the great escalation in drone attacks has turned aggrieved families toward terrorist organizations, aroused civilian populations against us and permitted repressive governments to cite such actions to justify their own despotic behavior.

(…)

As concerned citizens, we must persuade Washington to reverse course and regain moral leadership according to international human rights norms that we had officially adopted as our own and cherished throughout the years.
Leaving aside Carter's invocation of the Universal Declaration On Human Rights and his claptrap about "making the world safer," there is a good point here that I doubt many will pay attention to, and that's a comment coming from someone who is most definitely not a fan of James Earl Carter. Thanks to drone wars that end up killing civilians, or soldiers of ostensible allies, targeted assassinations of American citizens, warrantless wiretaps both legal and illegal, and a policy of rendition and detention that seems to stand for the proposition that we have the right to hold someone indefinitely just by labeling them a "terrorist" we've strayed quite far from the ideals that Republican and Democratic Presidents alike once said this nation adhered. In the process, we've arguably made it more difficult for us to stand as a credible critic of nations that actually do violate the rights of their citizens or the citizens of other nations. Moreover, as Jonathan Turley points out, in the name of the War On Terror we are now committing acts that would have been considered acts of war in a different time, and arguably still are. Perhaps some of these actions are necessary, maybe even wise, but for the most part they've been implemented without any real consideration of the consequences that might result from them further down the road.
There is, of course, another issues that these policies raise which Carter doesn't touch upon, which is possibly even more important than the "international reputation" issue that concerns him so greatly. Over the past decade, the adoption of these policies has led to the amalgamation of even more power in the hands of the Executive Branch in general and the Presidency in particular. We now have a President who personally authorizes the targeting of people who will be killed by drone strikes using a list that he keeps to himself and on criteria that is disclosed to nobody. We have a President who has authorized the assassination of American citizens based on the determination by him and a few other people that said citizens are terrorists, and then acted in Court to deny any effort to subject that decision to judicial review. And, we have a President who authorizes actions that arguably acts of war against foreign powers with no public discussion as the Constitution would seem to require. This started under the Bush Administration, it's been expanded under the Obama Administration, and you can guarantee that it will expand even further in the Administration that succeeds Obama, whether that happens in 2013 or 2017.
Interestingly enough, Carter never mentions Obama by name, or Bush for that matter, but it's fairly obvious who he's talking about. Unfortunately, he has been, as James Joyner described it, "a giant pain in the ass for his successors" often enough in the past that he'll probably just be ignored this time.