Jimmy Carter's Rennaissance?
Some 2020 Democratic hopefuls are turning to a surprising source for counsel.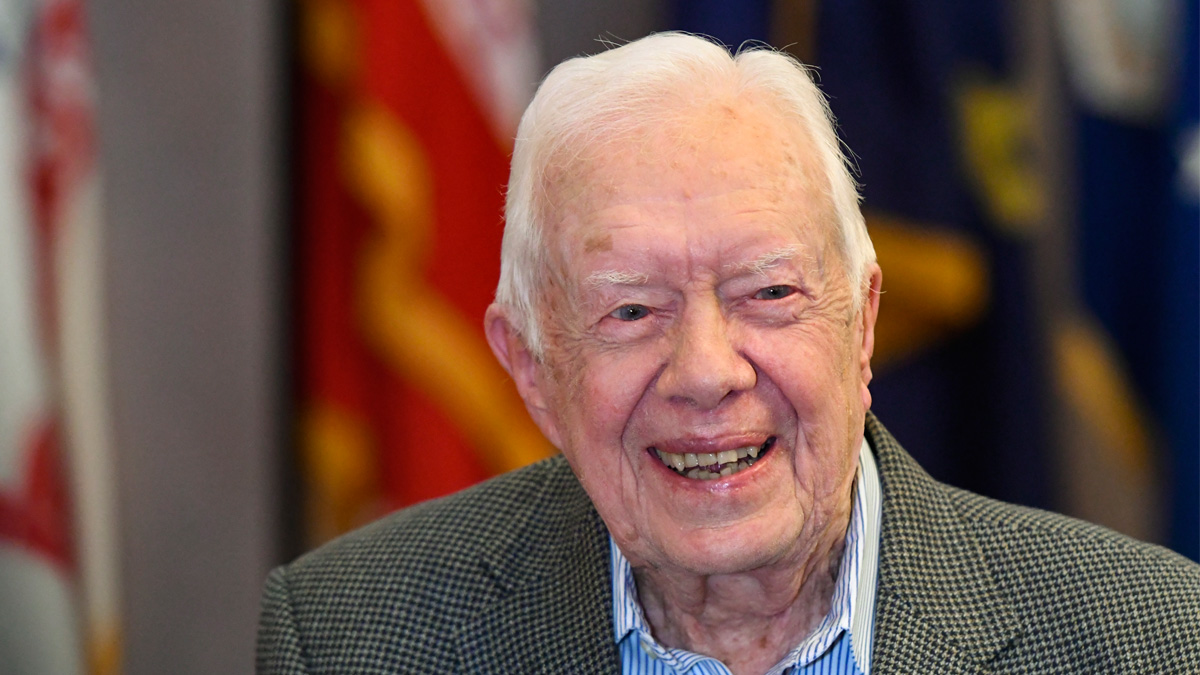 The 39th President was a rare one-termer long better known for his post-presidential good works than his accomplishments in office. That may be starting to change. AP's Bill Barrow:
Jimmy Carter carved an unlikely path to the White House in 1976 and endured humbling defeat after one term. Now, six administrations later, the longest-living chief executive in American history is re-emerging from political obscurity at age 94 to win over his fellow Democrats once again.


A peanut farmer turned politician then worldwide humanitarian, Carter is taking on a special role as several Democratic candidates look to his family-run campaign after the Watergate scandal as the road map for toppling President Donald Trump in 2020.

— "Jimmy Carter finds a renaissance in 2020 Democratic scramble"
Carter's would be an odd map to follow, in that he only narrowly beat an unpopular, unelected Republican in the wake of the Watergate scandal. And was arguably more conservative than said Republican.
"Jimmy Carter is a decent, well-meaning person, someone who people are talking about again given the time that we are in," Minnesota Sen. Amy Klobuchar said in an interview. "He won because he worked so hard, and he had a message of truth and honesty. I think about him all the time."

Now, Carter's character and decency would indeed be a wonderful example to follow.
Klobuchar is one of at least three presidential hopefuls who've ventured to the tiny town of Plains, Georgia, to meet with Carter and his wife, Rosalynn, who is 91. New Jersey Sen. Cory Booker and Mayor Pete Buttigieg of South Bend, Indiana, also have visited with the Carters and attended the former president's Sunday School lesson in Plains.


Carter had planned to teach at Maranatha Baptist Church again Sunday, but he is still recuperating at home days after hip replacement surgery following a fall as he was preparing for a turkey hunt.


"An extraordinary person," Buttigieg told reporters after meeting Carter. "A guiding light and inspiration," Booker said in a statement. Klobuchar has attended Carter's church lesson, as well, and says she emails with him occasionally. "He signs them 'JC,'" she said with a laugh.


It's quite a turnabout for a man who largely receded from party politics after his presidency, often without being missed by his party's leaders in Washington, where he was an outsider even as a White House resident.
To be sure, more 2020 candidates have quietly sought counsel from Trump's predecessor, Barack Obama. Several have talked with Bill Clinton, who left office in 2001. But those huddles have been more hush-hush, disclosed through aides dishing anonymously. Sessions with Carter, on the other hand, are trumpeted on social media and discussed freely, suggesting an appeal that Obama and Clinton may not have.


Unlike Clinton, impeached after an affair with a White House intern, Carter has no #MeToo demerits; he and Rosalynn, married since the end of World War II, didn't even like to dance with other people at state dinners. And unlike Obama, popular among Democrats but polarizing for conservatives and GOP-leaning independents, Carter is difficult to define by current political fault lines.

He's an outspoken evangelical Christian who criticizes Trump's serial falsehoods, yet praises Trump for attempting a relationship with North Korean leader Kim Jong Un. Carter touts his own personal relationship with Russian President Vladimir Putin, another Trump favorite. "I have his email address," Carter said in September.


For years, Carter has irked the foreign policy establishment with forthright criticism of Israel and its treatment of Palestinians.


He confirms that he voted for Vermont Sen. Bernie Sanders, a democratic socialist, over Hillary Clinton in Georgia's 2016 presidential primary. In 2017, Carter welcomed Sanders, who's running again this year, to the Carter Center for a program in which the two men lambasted money in politics. Carter called the United States "an oligarchy."


Yet Carter has since warned Democrats against "too liberal a program," lest they ensure Trump's re-election.


Klobuchar credited Carter with being "ahead of his time" on several issues, including the environment and climate change (he put solar panels on the White House), health care (a major step toward universal coverage failed mostly because party liberals thought it didn't go far enough) and government streamlining (an effort that angered some Democrats at the time). But she also alluded to how his presidency ended: a landslide loss after gas lines, inflation-then-unemployment, and a 14-month-long hostage crisis in Iran. "Their administration was not perfect," she said.
Indeed. In fairness, though, Carter inherited a lousy economy. We endured gas lines under Richard Nixon during the first OPEC embargo and then runaway stagflation under Gerald Ford. Among other things, Carter campaigned in 1976 citing Arthur Okun's "Misery Index"—obtained by adding together the inflation and unemployment rates. It was 17.01 at the end of Nixon's term and still 12.66 by the time Carter took office. Alas, it was up to 19.72 at the end of Carter's single term.
The hostage crisis, and especially the sense that Carter's response was tepid and undercut American national pride, was certainly a big contributor to Reagan's win in 1980. But it's far enough into the past that those under 50—maybe even under 60—weren't shaped by it.
Carter is enough of an enigma that he is the only living president not to draw Trump's ire or mockery, even if Republicans have caricatured Carter for decades as a failure. Trump and Carter chatted by phone this spring after Carter sent Trump a letter on China and trade. Both men said they had an amiable conversation.


Buttigieg said he and Carter "talked about being viewed as coming out of nowhere" and how Carter ran two general election campaigns entirely on the public financing system that now sits unused as candidates collectively raise money into the billions.


Klobuchar recalled Carter telling her that "family members would disperse to different states and then they would all come back on Friday, go back through the questions they had gotten." Then "he would talk about how he would answer them" so they'd all be prepared on their next trips, she said.


It was "a different era," Klobuchar added, recalling that Carter said he felt "high-tech because they had a fax machine on his plane." Indeed, Klobuchar, born in 1960, wasn't old enough to vote for Carter until he sought a second term. Booker, 50, recalls voting for Carter, but in a grade-school mock election. Buttigieg, 37, wasn't even born when Carter left office.


Nonetheless, Klobuchar said she regularly meets Iowans who remember Carter and his family members campaigning in 1975 before his rivals and national media recognized his strength. She said sometimes refers in the campaign to how her fellow Minnesotan and Carter's vice president, Walter Mondale, remembers their term: "We obeyed the law. We told the truth. We kept the peace."

Those are low bars but, alas, none of Carter's successors have cleared it so easily.
Whatever the reasons for the renewed attention, Carter allies say they hope the 2020 campaign is part of bolstering his reputation as a president.


"People are tired of hearing that he was a better ex-president than president," said DuBose Porter, a former Georgia Democratic chairman who has known the Carters for decades. "Of course he's done amazing things at the Carter Center, but he did great things for the country, and we're proud of it."
I'm a little younger than Klobuchar and a lot older than Buttigieg. Carter's is the first Presidency I remember in its entirely, but I was 11 when he was elected and 15 when he handed the reins to Reagan so hardly viewed him through a mature lens.
The Iran Hostage Crisis and the 1980 elections were the formative events in shaping my interest in foreign and domestic politics and I was a huge Reagan fan and thus looked on Carter unfavorably.
Over time, though, I've come to reassess Carter more favorably. Even while occasionally rolling my eyes at his interventions in politics during Republican administrations, I've come to appreciate the integrity with which he conducted himself in office and, certainly, since.
As I've often noted, he gets too little credit and Reagan too much for the transformation of our military toward the end of the Cold War. Because he vetoed some expensive defense programs, Carter was often painted as anti-military. But he was a Naval Academy graduate who was a rising star in Rickover's nuclear Navy before he resigned to take over the family business after his father's death. The so-called Offset Strategy, which invested massive amounts of money into high-tech weapons systems to offset the Soviet advantages in sheer numbers, was the invention of Harold Brown and William Perry; Reagan merely doubled down on it.
And, certainly, his Camp David Accords between Israel and Egypt went a long way to making the region more peaceful. We've had lots of terrorism and minor conflicts since but he ended the string of big wars that had been going on since Israel's 1948 creation.
Historians give him mixed reviews.
Here's the summary from UVA's Miller Center:
Jimmy Carter's one-term presidency is remembered for the events that overwhelmed it—inflation, energy crisis, war in Afghanistan, and hostages in Iran. After one term in office, voters strongly rejected Jimmy Carter's honest but gloomy outlook in favor of Ronald Reagan's telegenic optimism. In the past two decades, however, there has been wider recognition that Carter, despite a lack of experience, confronted several huge problems with steadiness, courage, and idealism. Along with his predecessor Gerald Ford, Carter must be given credit for restoring the balance to the constitutional system after the excesses of the Johnson and Nixon "imperial presidency."
And this is from the History Channel:
As the 39th president of the United States, Jimmy Carter struggled to respond to formidable challenges, including a major energy crisis as well as high inflation and unemployment. In the foreign affairs arena, he reopened U.S. relations with China and made headway with efforts to broker peace in the historic Arab-Israeli conflict, but was damaged late in his term by a hostage crisis in Iran. Carter's diagnosis of the nation's "crisis of confidence" did little to boost his sagging popularity, and in 1980 he was soundly defeated in the general election by Ronald Reagan. Over the next decades, Carter built a distinguished career as a diplomat, humanitarian and author, pursuing conflict resolution in countries around the globe.

These reviews are still tainted by the lens of domestic politics. We'll see how Carter fares in the longer view and personal remembrance fades and the archives are fully declassified and examined. If nothing else, scandal and war under his successors will put his character in a different spotlight.