Joan Rivers Ditches Michelle Obama "Blackie O" Joke
Comedienne Joan Rivers tells Howard Stern why she ditched a joke calling Michelle Obama "Backie O."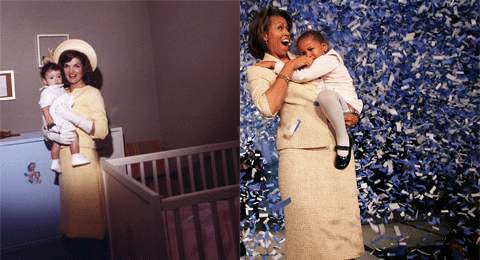 They say that if you have to explain a joke, it's not funny. Case in point:
Comedienne Joan Rivers revealed she once ditched a joke about First Lady Michelle Obama from her stand-up routine – because she feared she'd be accused of racism.

Recalling the wisecrack to shock Jock Howard Stern, the comedy legend said: "We used to have Jackie O now we have Blackie O!"

[…]Rivers wrote the quip about President Barack Obama's wife in reference to her fashionable dress sense and comparing her to former First Lady Jackie Kennedy Onassis.

"I thought it was a funny complimentary joke when she first came (to the White House)," the 77-year-old comedienne told Stern.  "I think it's an adorable joke… I thought it was a compliment!"

In the interview, Stern and his sidekick Robyn Quivers laughed yet questioned whether Rivers' joke was racially-motivated.   "Where's the compliment in that? I'm looking and looking, I'm trying to find it," Quivers asked Joan.

"They said you can't say that," Joan admitted.
It's a joke that would have been funnier when Rivers was in her prime.   Even now, it would be hilarious if a 6-year-old came up with it.   Otherwise, it's mild cuteness is overcome by the uncomfortable undertones.
While I'm sure Rivers meant it as a compliment, Quivers, who is black, is probably right:  being compared to Jackie Onassis is overshadowed by the use of the slur, regardless of intention.
Apparently, the larger meme is not original, either.  There were a spate of stories two years ago:  "Michelle O: Suited to be Jackie's successor" (Politico), "Very Little in Common But That 'O'" (Newsweek), and "Michelle And Jackie O: Twins Separated At Birth?" (Jezebel).